Bellabox June 2012 - Hits and misses!
Thursday, June 28, 2012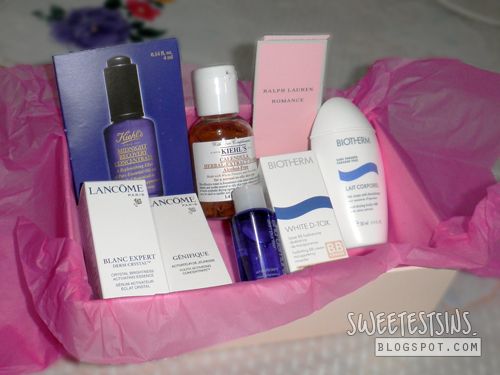 Many of you would probably have caught a sneak peek of Bellabox June 2012 since I posted it on
Instagram
,
Facebook
and
Twitter
.
This time round, Bellabox is back with even more awesome and interesting products such as Lancôme Blanc Expert Derm-Crystal, Shu Uemura White Efficient Gentle Cleansing Oil and Biotherm White D-Tox BB Cream which I have been wanting to try since I always see them in beauty and lifestyle magazines!
Read on more to find out which products are my hits and misses!
First up, we have got -
Kiehl's Calendula Herbal-Extract Toner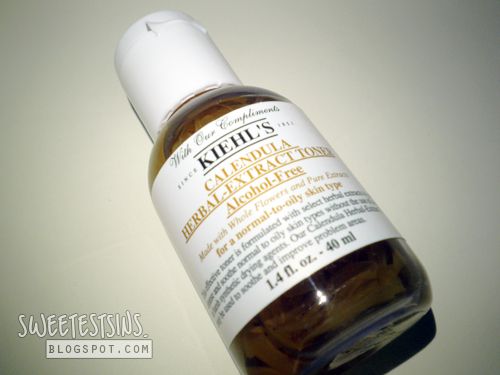 Description:
Made with real Marigold whole flowers and still to this day, hand-picked and placed in each bottle by hand, the Calendula toner remains a customer favorite 5 decades since it was first formulated.
My thoughts:
I quite like the scent of Kiehl's Calendula Herbal-Extract Toner. Love the fact that it doesn't contain alcohol which makes it ultra gentle for my skin!
*HIT*
Kiehl's Midnight Recovery Concentrate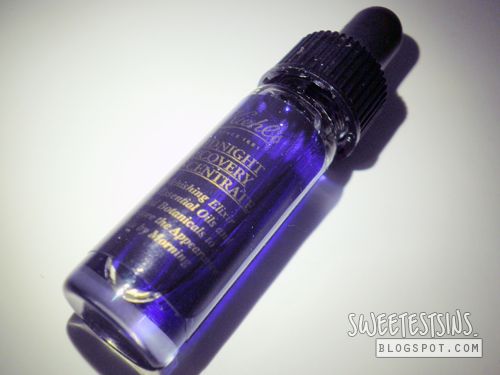 Description:
This multi-award winning, 99.8% naturally derived botanical elixir was formulated to biologically replicate kin's natural lipids for optimal skin repair during the night, so you wake up to healthier and younger-looking skin.
My thoughts:
I wasn't really expecting this to be that rich. I thought that it would come in the form of serum-like instead of oil. I can't really see much effects on my skin when I use this but I think it would work better on mature or dry skin since my Mom's face doesn't look as dry when she uses this.
Lancôme Genifique Youth Activator and Lancôme Blanc Expert Derm-Crystal
Lancôme Genifique Youth Activator:
Genifique is the first Lancôme skincare that revives genes' activity and stimulates the production of youth proteins. It is now clinically proven that the more you use Genifique, the better the results. All it takes is just 7 days to see the results.
Lancôme Blanc Expert Derm-Crystal:
Empowered with Dermactyl complex, dermal cells are stimulated to produce bright new collagen, preventing darkening and reducing melanin production. Skin is more translucent, luminous and brighter from within.
I haven't tried these two products out yet but I will definitely update you girls when I do!
Biotherm White D-Tox BB Cream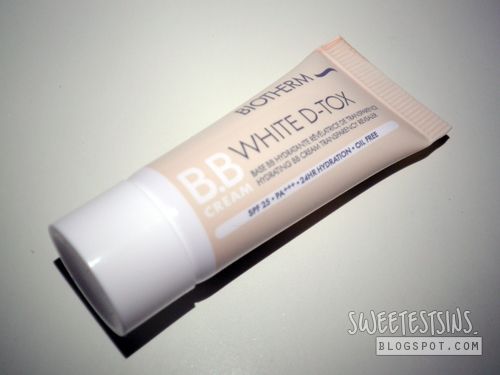 Description:
This BB cream gives you 24-hour coverage, unified skin tone, maintains hydration all day long and lets the natural pink undertones of the skin shine. With repeated use, dark spots fade and skin simply radiates. Suitable for all skin tones.
My thoughts:
Biotherm White D-Tox BB Cream is easy to blend. The only thing is that the shade is a little light for me. I thought that I was overreacting when I saw that it made my face and neck looked like they were two different colors. But I thought that I would give it a try to see if it would oxidize throughout the day. My thoughts were confirmed by my colleague when she said, "Patricia, your face looks ashy today. What happened?" That's it. End of story. I'm not gonna use this ever. Probably gonna pass it to someone whom is fairer or chuck it aside.
*MISS*
Biotherm Lait Corporel Body Moisturizer
Description:
Achieve soft, supple skin with high quality ingredients that prevent dryness and hydrate your skin. Glycerin, olive oil, vitamin E and Pure Thermal Plankton combine for outstanding results.
Ralph Lauren Romance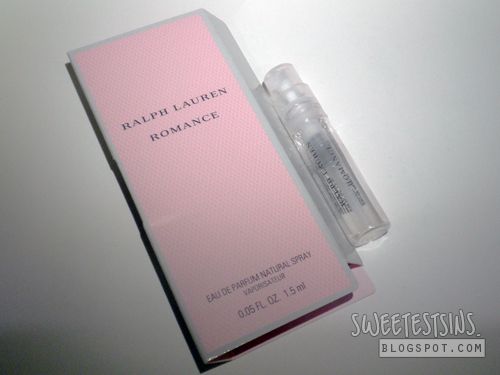 Description:
A timeless interpretation of the classic love story. Romance embodies the pure and refined feelings of a woman in love.
My thoughts:
Fragrances preferences are very subjective. For me, I prefer flora ones or refreshing scent.
Ralph Lauren Romance is a little disappointing. It didn't smell as good as I thought/imagined it to be. Its not your typical feminine sweet fragrance. Its just too strong for my liking.
*MISS*
Shu Uemura White Efficient Gentle Cleansing Oil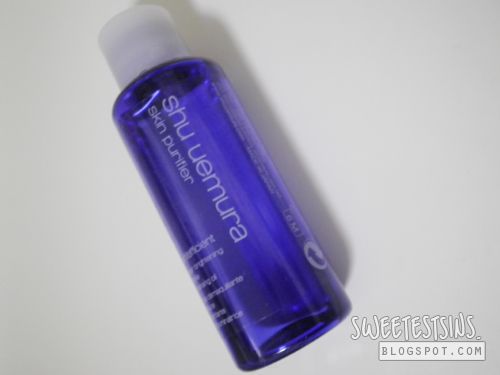 Description:
New cult, best seller, wash away dullness. Contain natural mito-white complex and vitamin C to help prevent the accumulation of melanin deep within. Use daily for clear and translucent skin.
My thoughts:
I really like the smell of Shu Uemura White Efficient Gentle Cleansing Oil, not to mention that it removes heavy duty high coverage liquid foundation and waterproof eye makeup really well with ease. Yes, you heard me right! Now I finally get why there are so many ravings about Shu Uemura's cleansing oils and the countless awards that it has won till date!
*HIT*
I hope that you lovelies like this post! Thanks for reading.
Love,
Patricia
Note: Bellabox's monthly subscription will be $19.95 from 21st June onwards.
Disclaimer: Bellabox was provided to me for consideration.
To be notified of the latest beauty news, launches or events, follow me on


or like SweetestSins on