SKII Empower Me Campaign Launch Event with Sheila Sim
Sunday, January 13, 2013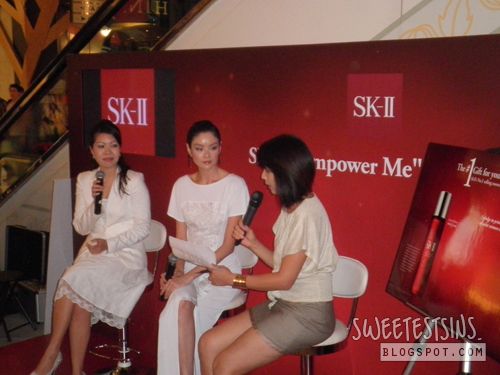 With over 35 years of transforming women with skin and life miracles, empowering women has always been at the heart of SK-II's heritage and vision. SK-II unveils its first-ever EMPOWER ME Campaign in Singapore, in collaboration with Singapore Committee for UN Women (UN Women Singapore) and established image styling consultancy, Image Flair, to bring the gift of empowerment to young at-risk women by equipping them with social knowledge and enhanced image styling skills to secure better employment opportunities and career advancement.


SK-II's widely anticipated campaign was launched at Robinsons Raffles City on 20th December to an audience of more than 100 guests, including SK-II's retail and charity partners, SK-II's elite Crystal Club members, media representatives and graced by SK-II Brand Ambassador and renowned international model, Sheila Sim.
To celebrate this milestone, SK-II will be unveiling pledges collected from members of the public who have pledged their commitment to make empowerment for women a priority in Singapore, helping local young at-risk women gain access to career advancement and greater economic security. These pledges build upon SK-II's continued commitment to transform lives through skin and life miracles.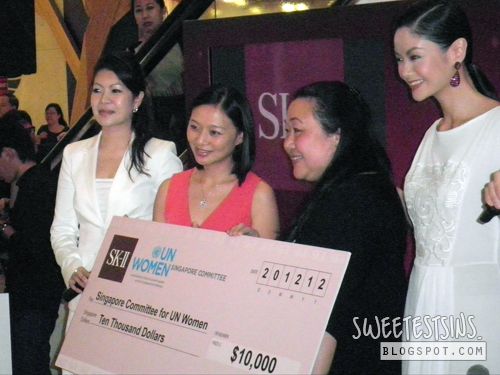 As part of this campaign, SK-II donated SGD 10,000 to UN Women Singapore to fund a series of 'The Empowerment Effect' Workshops in January 2013 for young at-risk women. Co-created by UN Women Singapore and Image Flair, the workshops will bring together image styling experts, power speakers and SK-II's skincare and beauty counselors to equip young at-risk women with a holistic beauty and life-transforming skill-set, opening greater opportunities for women to be economically valued.
- Extracted from press release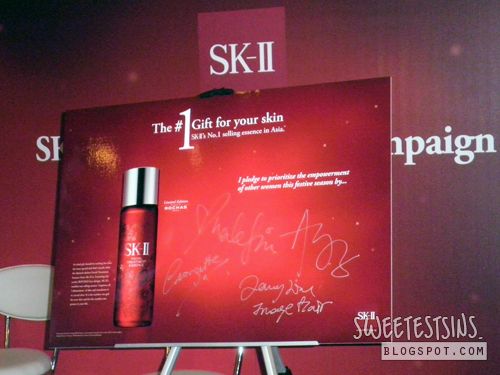 SK-II Empower Pledge Wall
As a beauty blogger and a skincare addict, how can I not check out and find out more about SKII products while I'm there? If you were to ask me, its skincare over makeup anytime, really. I mean, if you have got great skin, you can do without make up for sure but certainly not the other way.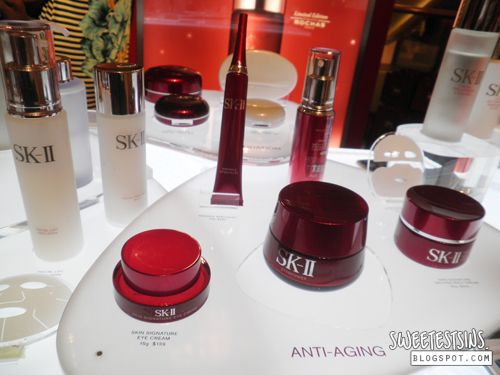 My favourite moisturizer, SKII Stempower!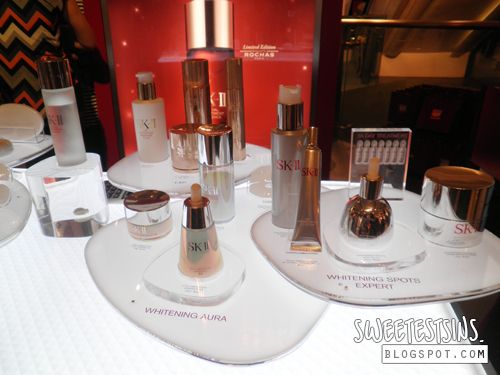 SKII Cellumination Essence
This is yet another favourite product of mine. I used up a sample of SKII Cellumination Essence and I was really impressed by the results. So gonna get this the next time I head to their counters, it really helps to brighten up my complexion! In terms of radiance, it improved by 23% after two weeks of usage. To read more on my experience with SKII products, head over to http://sweetestsins.blogspot.sg/2012/11/skii-10-day-stempower-challenge.html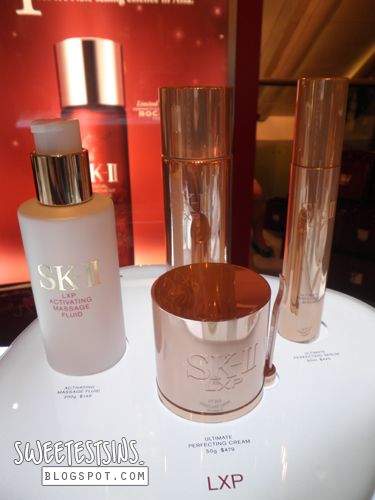 SKII LXP range for matured skin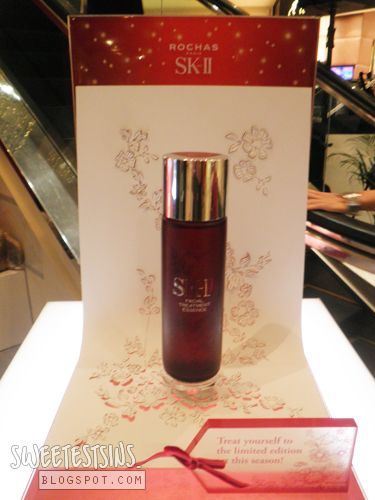 Limited Edition SKII Facial Treatment Essence -
This is so pretty! Love the packaging!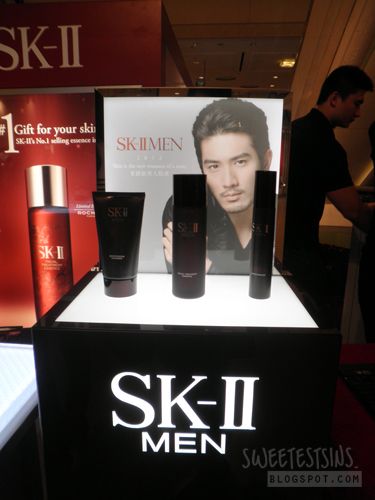 Godfrey Gao for SKII Men
I saw Godfrey Gao in real life before and he's really tall and dashing! Fans of The Queen of SOP / SOP Queen (勝女的代價) will agree. I mean, quite a number of my friends are fans of Godfrey Gao and even my colleagues in their 40s were drooling over him.
Here are some photos of the event taken from my iPhone. If you're following me on Instagram, you would probably have seen them before.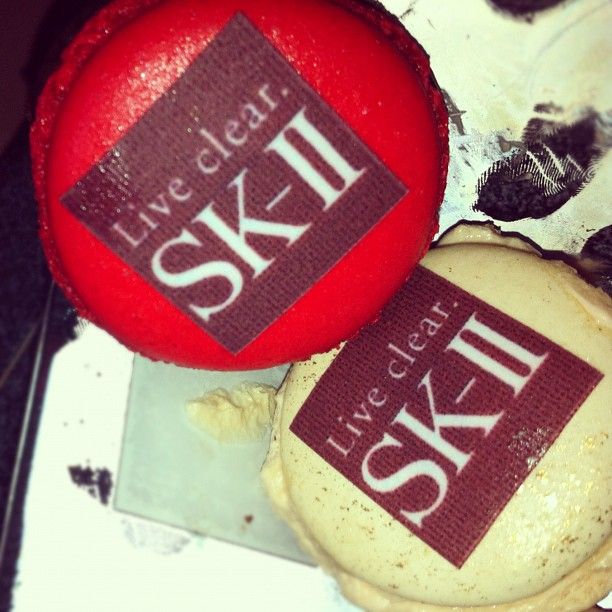 Super cute SKII macaroons!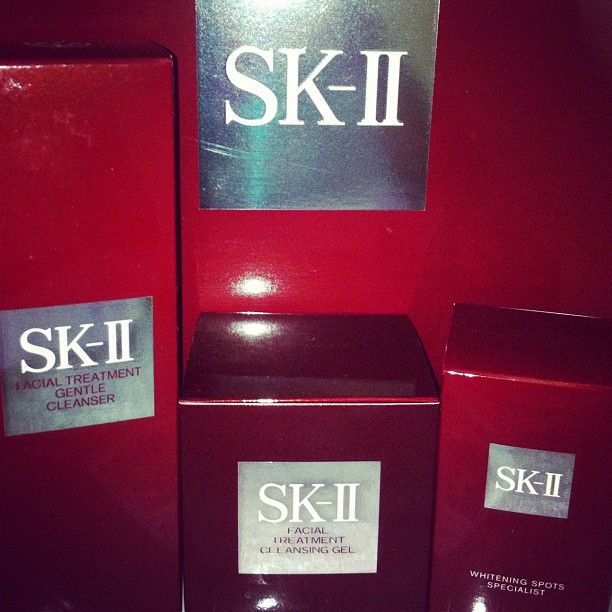 More SKII products to try out!

- Facial Treatment Gentle Cleanser (which is my Aunt's favourite!)
- Facial Treatment Cleansing Gel
- Whitening Spots Specialist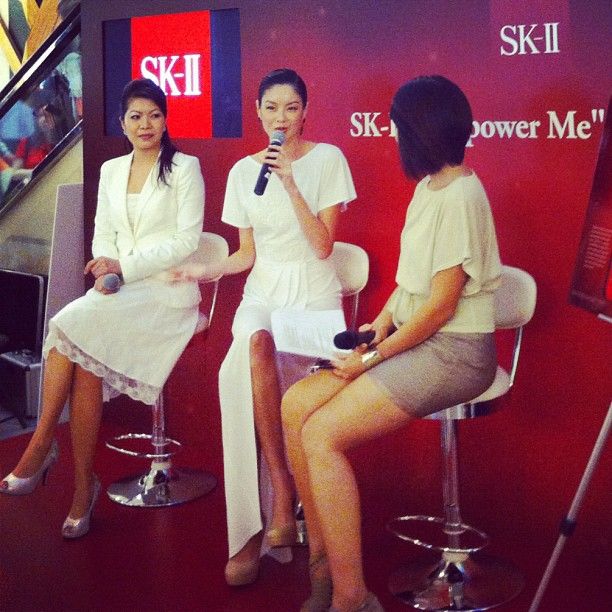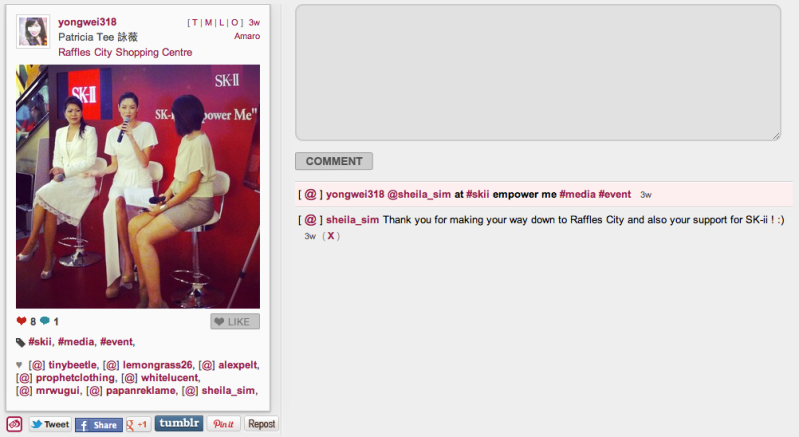 I posted the picture above and Sheila actually commented on it. In fact, she's quite approachable unlike other models whom put on airs. She's very tall and graceful in real life.
You might be interested in these posts:
☮
SK-II Cellumination Blogger Challenge
☮
SK-II Empower Me Campaign Launch Event with Sheila Sim
☮
SK-II 10 day Stempower Challenge
☮
My experience with SK-II Facial Treatment Essence
☮
[New] SK-II Stempower
☮
SK-II Stempower Essence review
☮
Brand New Year, Brand New Skin
☮
The SK-II Magic Ring Test and SK-II Whitening Spots Specialist
☮
Using the SK-II Whitening Spots Specialist
☮
How to take care of your skin Post-CNY
Hope you like this post. Thanks for reading!
Love,
Patricia