Loccitane: Wild Rose Collection
Wednesday, September 12, 2012
Eau de toilette
What is it:
Like a bouquet of freshly picked wild flowers, the Rose des Champs Eau de Toiletee is a green floral fragrance.
Top notes:
Like a stroll through the fields of Provence, the first steps reveal green notes of fresh grass, accompanied by a dash of lemon and pear.
Heart notes:
In the middle of the fields, a wild rose blends harmoniously with small meadow flowers, in a floral display bursting with color.
Base notes:
Soft and lingering notes of cedar and tonka bean lie at the end of this pastoral journey.
My thoughts:
I thought that this scent wouldn't differ too much from
Pivoine Délicate Eau de Toilette
but boy, I was wrong. I had it on this morning and I sprayed a bit more than usual because I wanted the scent to last longer. On my way out, I thought that I smelled something citrus. To confirm my suspicion, I read through the press release and indeed there's lemon as one of the top notes. I really like this perfume. Its floral without being too overly feminine. I say its definitely my to go perfume for work days or even on casual weekends!
Solid perfume charm
What is it:
The essence of the Eau de Toilette held in a charmingly decorated tin, allowing you to refresh your scent anytime, anywhere. A limited-edition fragrant delight to seize while you can!

My thoughts:

With this, who needs to worry about miniature perfume spilling in our clutches or handbags? Plus the fact that it comes in a balm form makes it so convenient to apply when one is out.
Silky body gel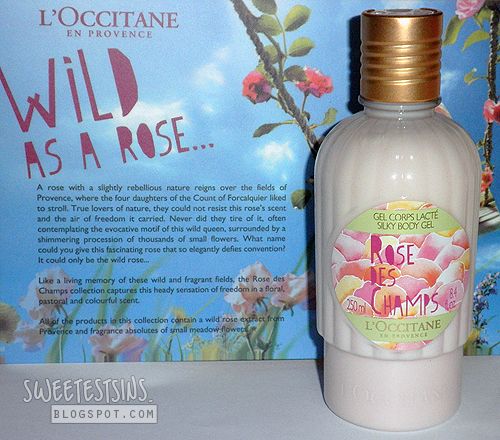 What is it:
Enriched with rose-bush oil, this milky gel moisturises the skin, leaving it silky soft and delicately perfumed.
My thoughts:
At first, I had my reservations about this body gel. I didn't thought that it would live up to its claim of feeling silky upon application.
Texture-wise, its more runny compared to usual body lotions. It absorbs into the skin rather quickly and leaves the skin feeling silky smooth and smelling nice after that. Moisturizing-wise, I think it does a fair job.
Pearl hand cream
What is it:
This cream contains tiny pearls of rose-bush oil, which melt into the skin upon application, for better moisturizer and softly scented hands.
My thoughts:
I think the hand cream needs no further elaboration. My mom, aunt, cousin and myself are all fans of Loccitane hand cream. Though I have yet to try this out but I'm sure it won't disappoint me.
Price list
Eau de Toilette 75ml $78
Solid Perfume Charm 7g $22
Silky Body Gel 250ml $48
Pearl Hand Cream 30ml $15.50
I hope you like this post. Thanks for reading!
Disclaimer: Products were sent to me for consideration.