MAKE UP FOR EVER: Black Tango Collection
Sunday, September 09, 2012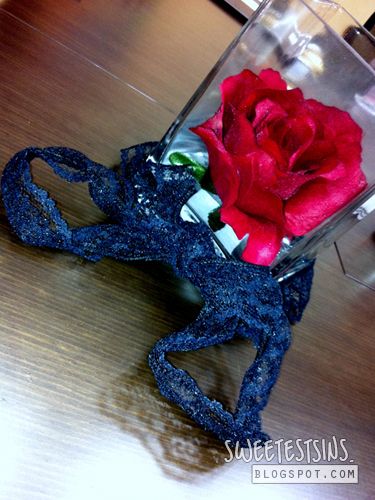 What comes to mind when you see black lace and red rose? Hot, sexy, sensual? Well, you bet Make Up For Ever's latest collection - Black Tango sure is!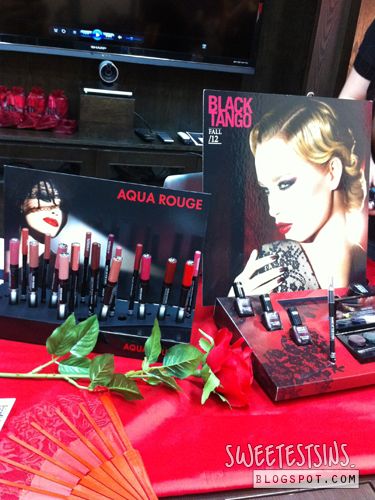 I don't know why but to me, red lipstick always reminds me very much of French ladies. Very classy and effortlessly elegant.
At the event, we were treated to a makeup demonstration by trainer, Lisa. The model is a dancer and we were also treated to a dance performance after that!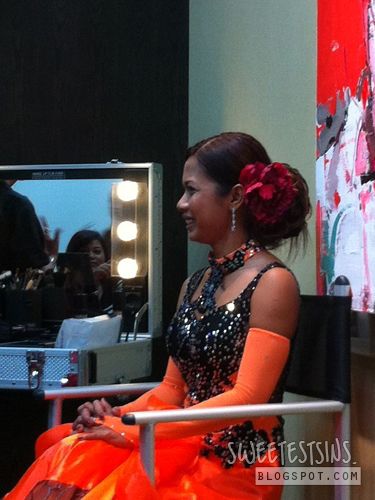 Lisa used the Aqua cream shadow palette on the model's eyes.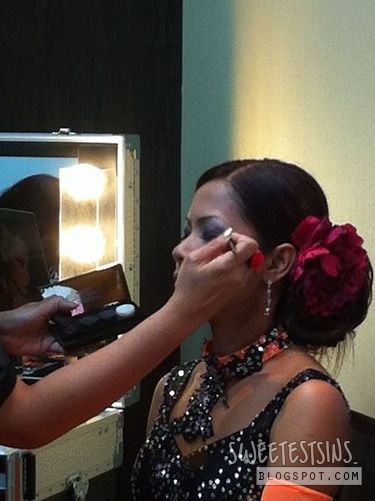 Here's the final look that Lisa did!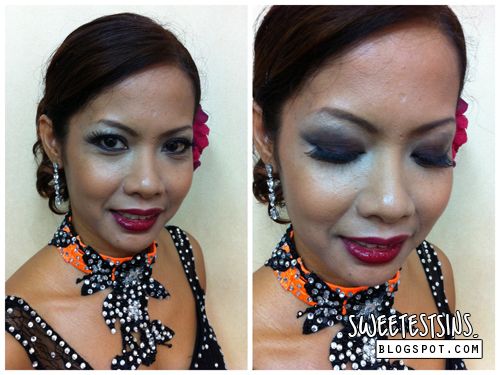 Now, moving on to the products in Make Up For Ever Black Tango Collection.
First up, we have got -
Aqua shadow palette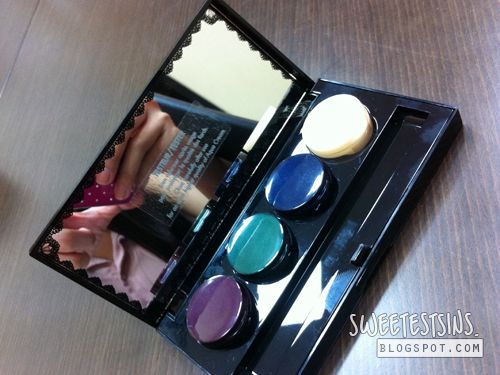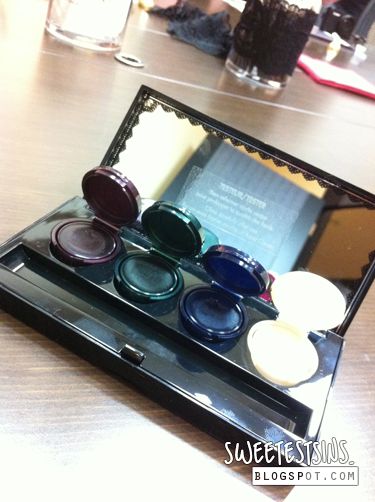 What is it:
1. Intense and luminous color due to high concentration of pigments and pearlescent particles
2. Long-lasting hold, waterproof.
3. Easy application and silky feel.
Swatches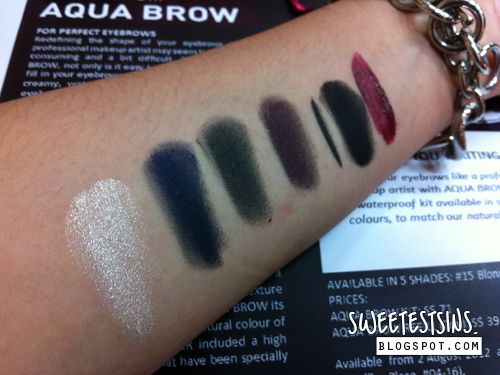 Left to right: Aqua shadow, aqua cream matte black and aqua rouge
Aqua rouge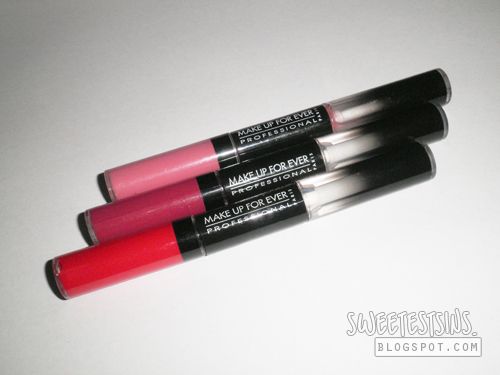 Top to bottom: 15, 10 and 8
What is it:
Long-lasting waterproof lipstick with a dazzling color result.
Highly glossy, concentrated lipstick with an innovative element that combines two applications in one.
Step 1: The liquid lipstick delivers intense, matte color.
Step 2: The top coat provides a vinyl finish and protects the color.
Nail polish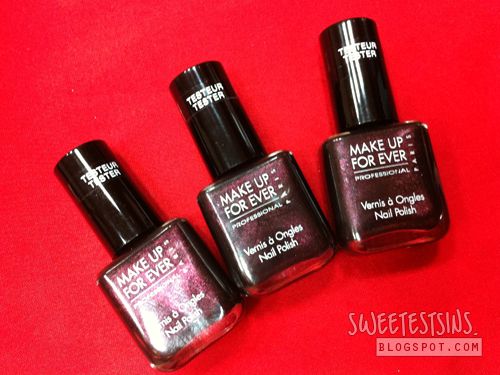 Aqua Brow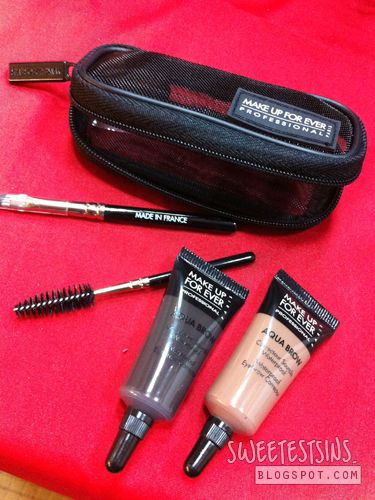 What is it:
Rich, creamy, waterproof gel that blends in instantly with eyebrows.
Comes with two tiny brushes, angled brush to define eyebrows and a round brush.
Here's the press kit.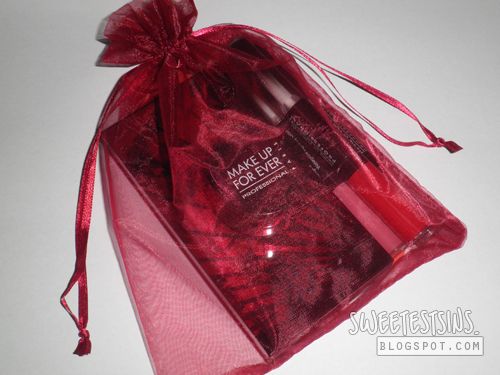 Aqua cream Matte Black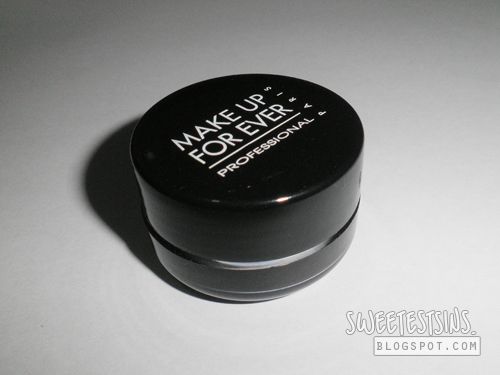 What is it:
Has the same formula as current Aqua Cream range except that it has a matte result.
It is a waterproof cream color that stays put, does not run, crease or transfer to the upper lid.
My thoughts:
Prior to using Make Up For Ever Aqua Cream Matte Black, my favourite gel liner is Kate Gel Liner. But now, its Aqua Cream Matte Black. Why is that so?
One, its glides on to my eyelid very smoothly. Two, it dries up quickly after application. What I like best about it is that it doesn't smudge on my oily eyelids. Best of all - its an intense black!
The two liquid rouge from the collection that I have been using very frequently are -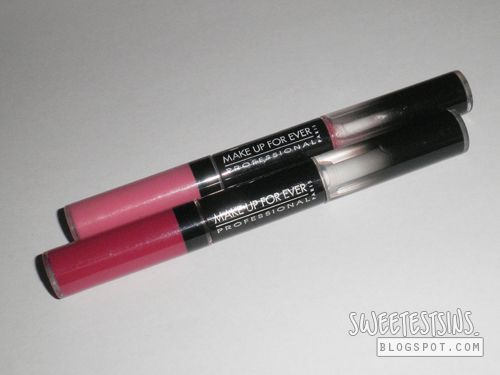 Top to bottom: 15, 10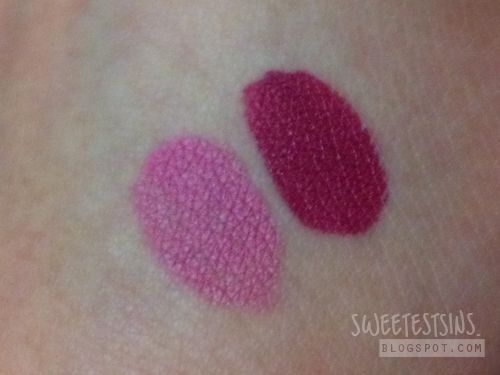 Swatches left to right: 15, 10
15 is a very nice pink, its something more pink that what I usually wear yet its not anything near fuchsia pink. I usually wear this to work by applying a thin layer at the centre of my lips and then spread them evenly on my lips. On days that I go out after work for events or meet up with friends, I usually apply a thicker layer.
Initially, I wasn't quite used to the bright pink. But over time, I grew to love it because it makes me look so much fairer! No wonder make up artists love using bright pinks on me!
10 is a very classic red, not too bright. Something that you will spot on French ladies.
Make Up For Ever Rouge has got to be the longest lasting lipstick among my collection. Most lipsticks fade or transfer to your cup/bottle when you drink but Make Up For Ever Rouge. At the most, it fades a little when I wear something oily.
I have received a lot of compliments whenever I wear Make Up For Ever rouge. Both my blogger and non-blogger friends and colleagues have asked what's the brand of my lippy whenever I wear it!
Here's pictures of me wearing Aqua rouge 10 and Aqua cream black matte.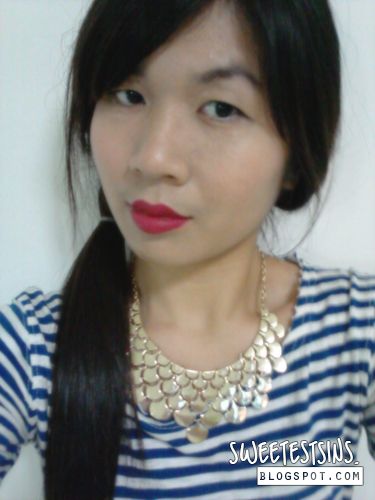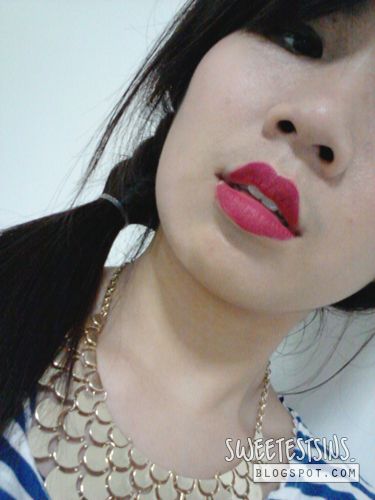 Aqua cream matte black: $39
Aqua brow refill: $39
I hope you like this post! Thanks for reading!
Make Up For Ever is available at all Sephora stores and Make Up For Ever Academy.
Disclaimer: Press kit was provided to me for consideration.