Bellabox February 2012
Wednesday, February 29, 2012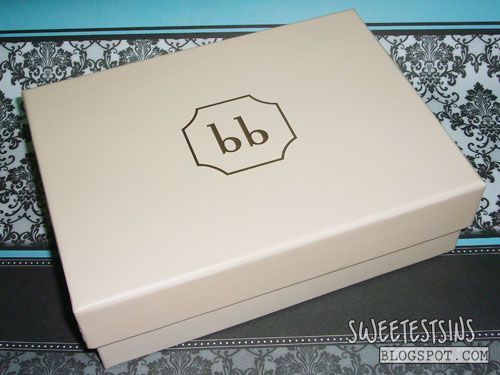 With beauty subscription box being in trend now, I'm sure that most of you aren't unfamiliar with them.

For those whom are unfamiliar with beauty subscription boxes, it works in such a way that you pay a sum of money each month and you receive about 5 products, both-retail sized as well as sample-sized. The good thing is that you can try out more products as well as get to know more about other beauty brands out there in the market. The only downside would be - you will never know exactly what you'll get until you receive it as there will be some variations according to your skin type, concerns or preferences when you first sign up with subscription boxes.
While I received Bellabox February 2012 in mid-February, I only got down to blogging about it now as I have been tied down with work commitments lately. Really miss those times when I'm still studying and I can simply blog during lectures or upon reaching home etc. Nowadays, I will simply take photos of the products first, plan and draft my post on my way to work using my iPhone and then finalize it and type it out back I'm back at home. That why I haven't been updating regularly these days.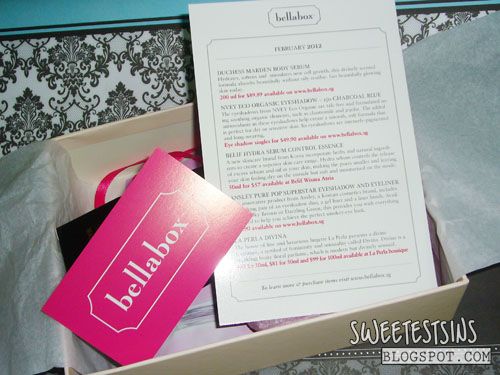 Prior to receiving Bellabox February 2012, I was very excited to check out Bellabox because I have heard so much about it from my non-blogger friends. Plus, I love trying out new products!
As in any case, over-expectation usually end up in either less-than satifisation or dissatisfaction. I was actually expecting more retail-sized products and not just one.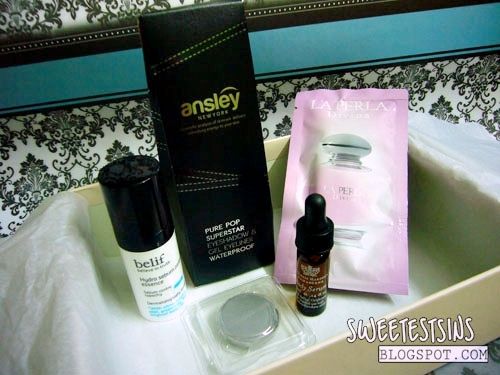 Not sure if its me, but Bellabox this month doesn't seem to excite me much.
I haven't got down to trying all of the products in Bellabox February 2012, but two of the products in Bellabox February 2012 that is worth mentioning are -
Belief Hydra Sebum Control Essence
and
Ansley Pure Pop Superstar Eyeshadow and Eyeliner
.
Let's check out the products one by one.
First we have got -
Duchess Marden Body Serum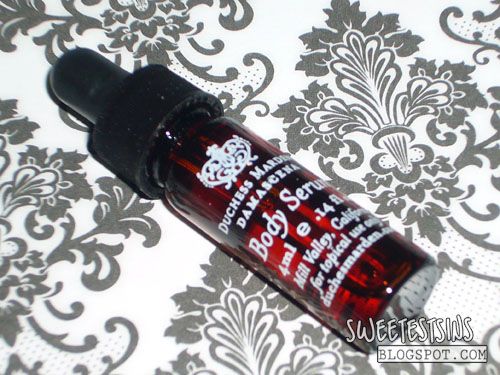 Description:
Hydrates, softens and stimulates new cell growth, this divinely scented formula absorbs beautifully without oily residue.
Nvey Eco Organic Eyeshadow - 150 Charcoal blue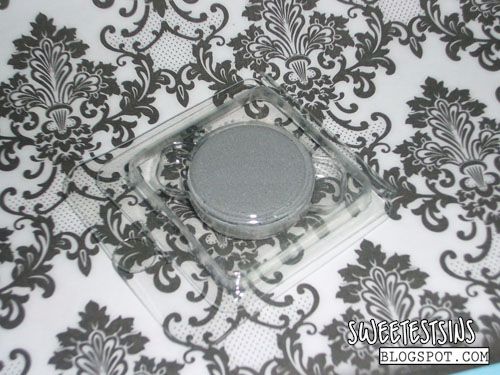 Description
:
Talc-free and formulated using soothing organic elements such as chamomile and jojoba. The added antioxidants in these eyeshadows help create a smooth, soft formula that is perfect for dry or sensitive skin. Its eyeshadows are intensely-pigmented and long-wearing.
My thoughts:
While this is not really my usual kind of color, I guess I would use it as a base color if I were to do a smokey eye look.
Belif Hydra Sebum Control Essence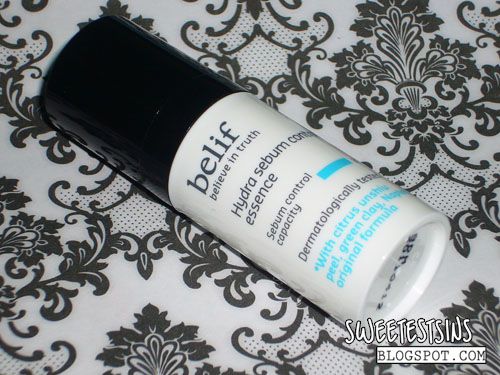 Description:
Hydra sebum controls the release of excess sebum and oil in your skin, making the pores smaller and leaving your skin feeling dry on the outside but soft and moisturizer on the inside.
My thoughts:

I just checked out the newly-open belif store over at Wisma Atria which has taken over Holika Holika's spot with Joanna and Minru the other day after the Maybelline event, and I must say that belif store reminds me very much of Jurlique counters and Kiehl's stores! The sales assistant from belif introduced me to belif's the true cream - moisturizing bomb. I tested it out and the texture is rather similiar to that of Laneige Water Sleeping Pack. While belif isn't your typically cutesy Korean brand that has got fancy packaging, I would still like to try out some of it products even though they ain't exactly pocket-friendly as the price range is about $56 to $70+ for a moisturizer?

While I don't deny the fact that I was rather excited when I see Ansley Pure Pop Superstar Eyeshadow and Eyeliner in my Bellabox February 2012, my excitement level dropped when I realised that its in dazzling green smokey because I don't use green eyeshadows. Somehow, I think that they don't look good on me.
Ansley Pure Pop Superstar Eyeshadow and Eyeliner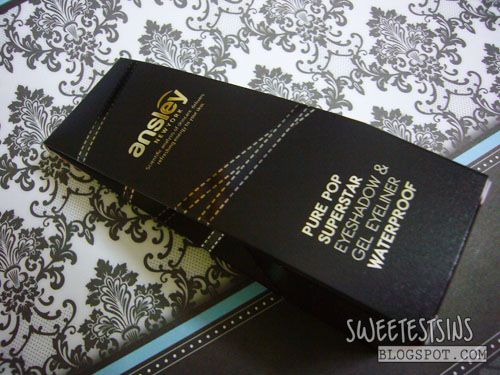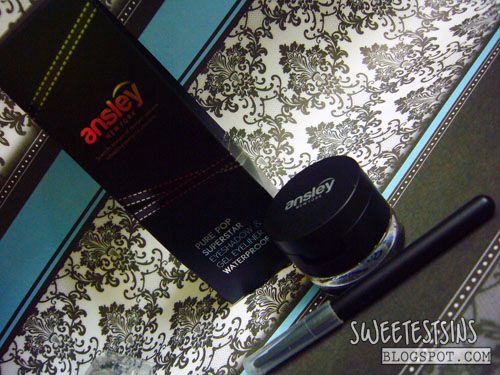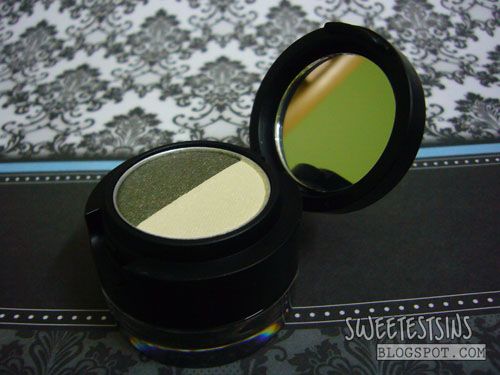 Description:

An innovative product from Ansley that includes matching eyeshadow duo, gel liner and eye liner brush.
My thoughts:
I know Ansley Pure Pop Superstar Eyeshadow and Eyeliner has got quite a fair bit of attention on the cyberspace lately, but do you all know that Tony Moly actually has something similiar called Tony Moly Backstage Self Smokey Eye Collection and it was already available since Tony Moly first came to Singapore?
La Perla Divina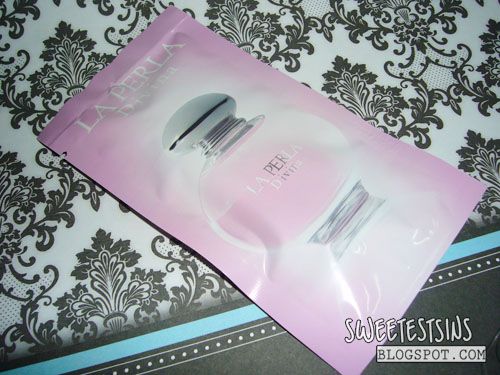 Description:
Divina is a symbol of feminity and sensuality. It is a sparking fruity floral parfume, which is modern but divinely sensual.
Top notes: Garden of the Hesperides Calabria, Wild Strawberry, Pear Granita and Champagne Accord
Mid notes: Rose Bouquet, Orange Blossom Cream and Water Jasmine
Dry: Musk Serenolide, Amber Crystas, Blond Wood and Vanilla

My thoughts:
Tested this perfume on the back of my hand and its a little too strong for my liking. When it comes to scents, I think that its very subjective. For me, I can't take overbearing scents if not I will squeeze like crazy.
Hope you like this post! Thanks for reading. I will try to blog more.
Till then, take care and stay tuned!
Love,
Patricia
Disclaimer: Bellabox was sent to me for consideration. Rest assure that I only give my honest opinions, as always!