Bellabox After Work Party
Saturday, July 21, 2012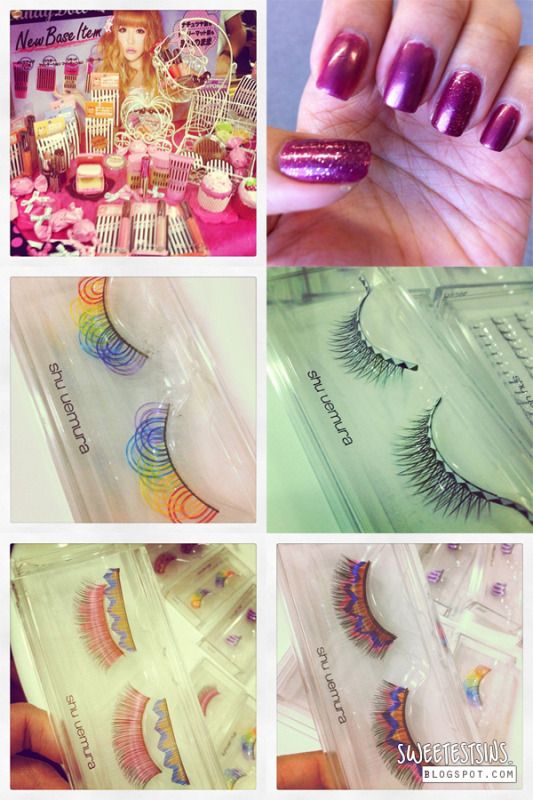 For those of you whom are following me on
Instagram
, you would have seen the photos above that I posted from Bellabox After Work Party.
It was an awesome night with fluttery false eyelashes with Shu Uemura, makeover by a Japanese make up artist (of whom I didn't managed to get his name) who taught me a lot about shading/contouring and highlight. I was also treated to an express manicure by Sally Hansen!


First up -
Candydoll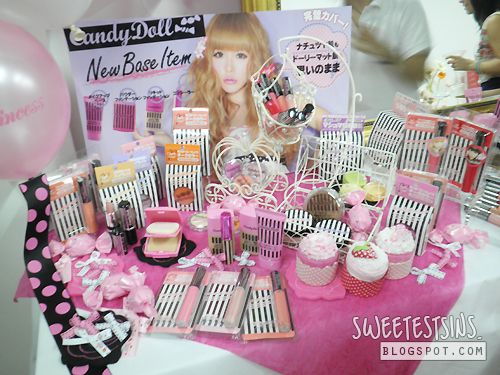 A brand that I'm sure all gyaru lovers are familiar with. What's more Candydoll is always featured in Japanese magazines like Popteen and ViVi.
The Japanese make up artist whom gave me a makeover on that day taught me a lot about shading/contouring and highlighting. He was commenting that I have got nice cheekbones which I should accentuate it and that I have got good skin except that I must drink more water as so to hydrate it. I was telling him that it can't be helped because I work in an air-conditioned environment for almost 9 hours, 5 days a week. He said that cutting down on tea and coffee helps.

Here's two pictures of me after the makeover. You can see that my nose bridge is slightly higher with the shading/contouring.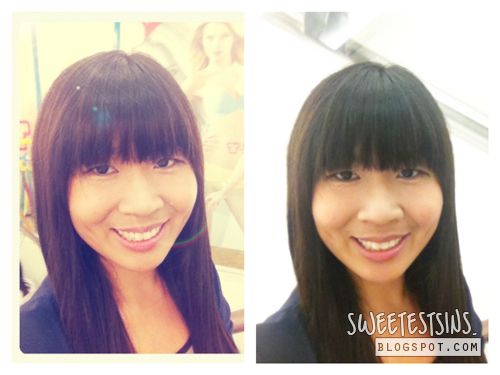 Thought that I will post close up pictures of the Shu Uemura lashes. Yes I'm wearing those lashes in the pictures above too. It looks really natural huh?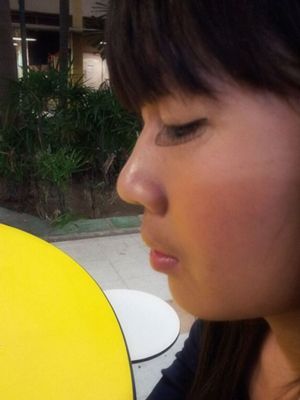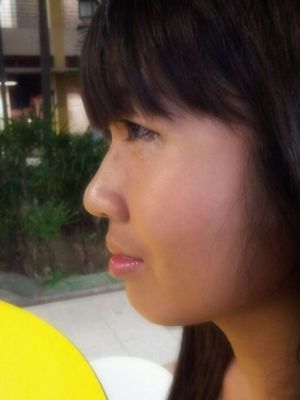 Express manicure service was provided by Sally Hansen. We were pampered with the latest range - Sally Hansen Diamond Strength colors.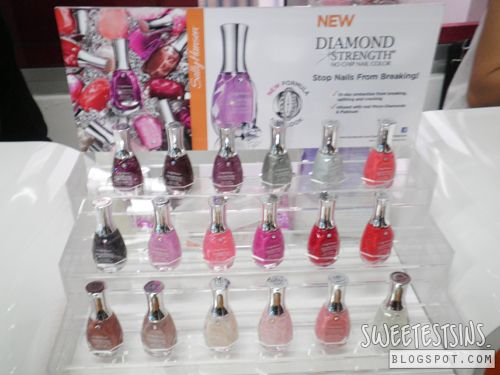 Yes they are the from the same range that I posted up on my
Instagram
(see below) previously.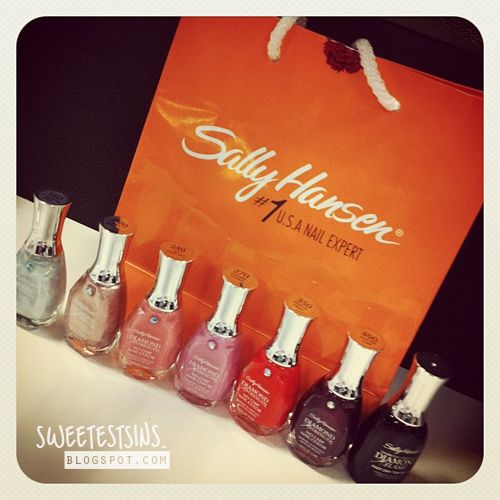 Because OPI, China Glaze and Essie ain't readily available in drugstores over here in Singapore, I always buy Sally Hansen nail polishes. In fact, I have got various Sally Hansen nail polish ranging from Sally Hansen Hard As Nails Xtreme Wear and Insta-Dri Fast Dry Nail Color. I even have their top coat and nail polish remover. Before Sally Hansen sent me the press kit above, I bought all of my Sally Hansen products myself. Sally Hansen addict? You bet I am!
Expect Sally Hansen Diamond Strength swatches and review coming your way soon!
I couldn't make up my mind as to which color so I was recommended - Royal Romance from Sally Hansen Diamond Strength collection. I requested for the glitters only to be on two fingers so as to achieve a mismatched look.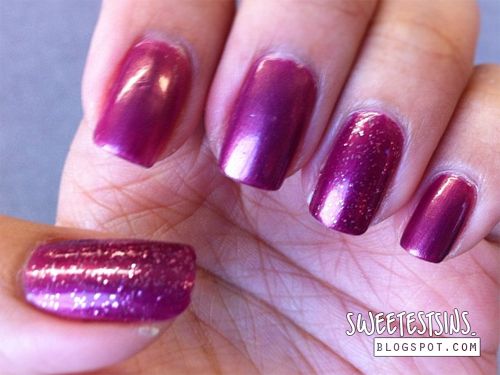 Sally Hansen Diamond Strength Royal Romance swatch
Not sure if you can see that my cuticles are a little dry. My manicurist shared a tip with me on countering that.
#Tip from my manicurist:
Massage hand cream in tiny circular motions around your cuticles daily to counter peeling.
After that, we made our very own Bellabox by choosing any 5 items and packing them ourselves!
Here are some of the items that we could pick from:
Clio Gelpresso Waterproof Pencil Gel Liner
Sally Hansen Hard as Nails Xtreme Wear Nail Polish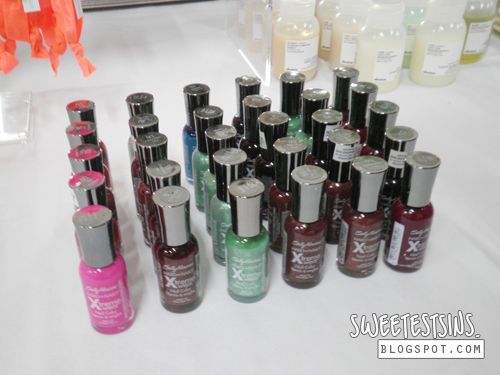 Davines shampoo and conditioner
Twistbands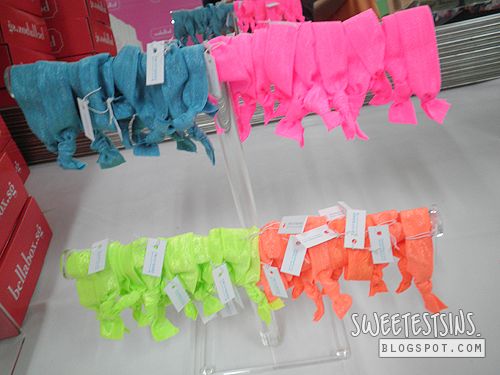 Here's my Bellabox containing the products that I picked!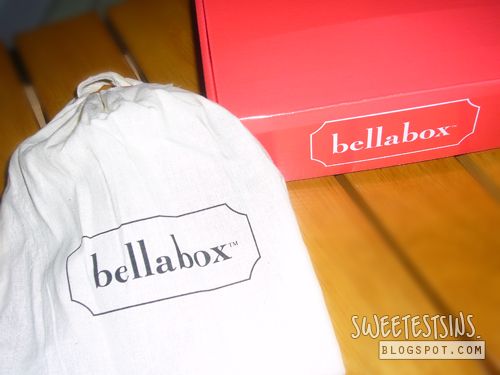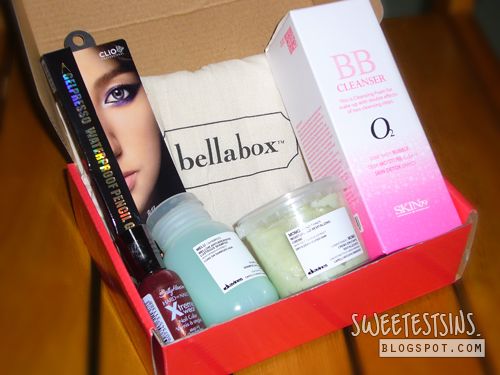 - Clio Gelpresso Waterproof Pencil in Navy
- Momo Moisturizing Revitalizing Creme Conditioner
- Melu Shampoo Mellow Anti-Breakage Lustrous Shampoo
- Sally Hansen Hard as Nails Xtreme Nail Color in Chocolate Nut #93
- Skin79 BB Cleanser
I already have the Skin79 BB Cleanser as it was provided to me by Luxasia for review previously so I gave this bottle to my cousin.
Click here
to read my review on Skin79 BB Cleanser.
I hope you like this post! Thanks for reading!
Love,
Patricia