Leaders Insolution: Pore Clinic Care 2Step Kit, Hydrogel Eye Therapy Patch and Aquaringer Skin Clinic Mask [Review]
Wednesday, July 25, 2012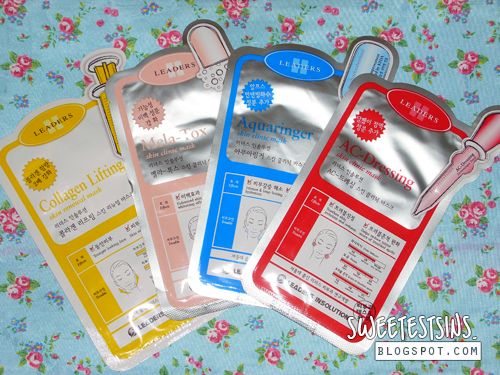 Hydrogel Eye Therapy Patch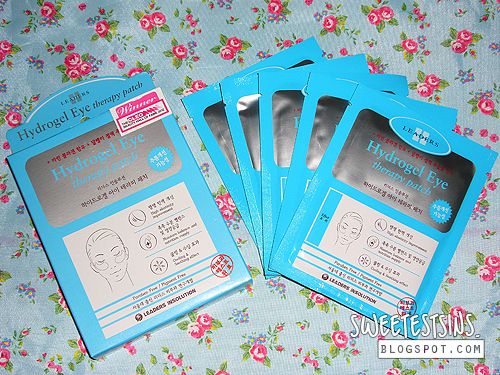 My thoughts:
These gel eye pads are very sanitary because they have got an extra flap of packaging both front and back which you have to tear off before using it.
It feels cooling when I had the eye masks on. I think that it fits well around my undereye area.
I find that Leaders Insolution Hydrogel Eye Therapy Patch helps to reduce my undereye puffiness. The result is rather obvious. Even my Mom is a fan of these eye masks! Best of all, Leaders Insolution Hydrogel Eye Therapy Patch doesn't aggravate my syringoma as it isn't too rich (in terms of the ingredients used) to begin with.
Leaders Insolution Pore Clinic Care 2Step Kit:
Black Head Clinic Sheet & Pore Tightening Serum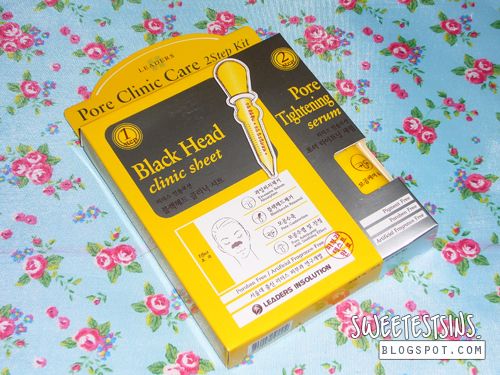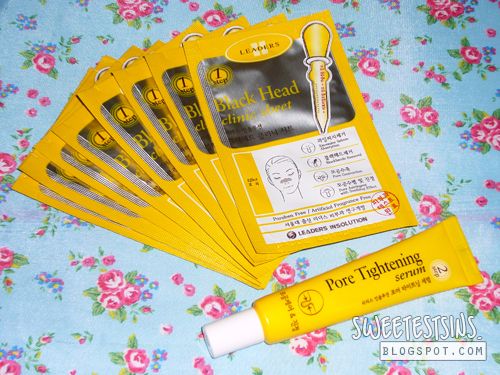 My thoughts:
Although the nose strip didn't smell the best, I thought that the pore tightening serum was rather good in the sense that I won't get that tight feeling upon application unlike the previous pore tightening serum that I have tried. In terms of the effectiveness of the nose strip in removing impurities, I would give it 3 stars out of 5 stars. As for the Pore Tightening Serum, it deserves at least 4 stars because it reduces my pore size slightly and doesn't give the tight feeling after application.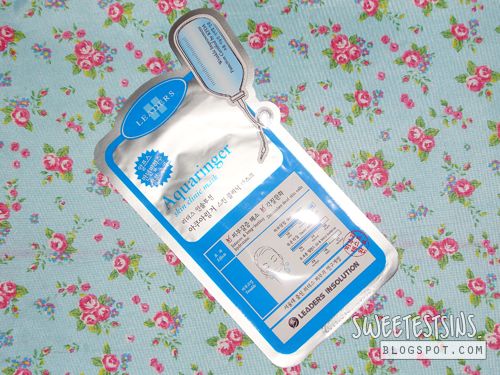 Product claim:
Intense & long-lasting hydration, diminishes dead skin cells, promote skin turnover
My thoughts:
Leaders Insolution masks are very thin and they fit rather well. There is no leftover essence in the pack after removing the mask. Not that I don't love the other facial masks, but my favourite of the lot has got to be - Leaders Insolution Aquaringer Skin Clinic mask.
Leaders Insolution Aquaringer Skin Clinic mask is very moisturizing. After masking, I find that my skin became more plump and it looked a lil' translucent. I love this mask!
GIVEAWAY!
Want to try Leaders Insolution Hydrogel Eye Therapy Patch for yourself? If your answer is yes, stay tuned because I will be releasing the details on the giveaway on
SweetestSins Facebook
very soon! (;
Leaders Insolution is exclusively available at the following Watsons outlets from 5th July – 1st Aug:
- United Square
- Center Point- Forum Galleria
- Marina Bay Financial Centre
- Telok Ayer Street- City Square Mall
- Anchorpoint
- Sun Plaza
- Beauty World Centre
- West Mall Plaza
- Choa Chu Kang Lot 1
- Yew Tee Point
- Serangoon Garden
- Bedok Poin
- Tampines Mart