Nailspiration: New nail column on SweetestSins!
Monday, March 05, 2012

Hi lovelies, how's your weekend so far? Mine was great and insightful. Had a haircut over at Far East Plaza (FEP) yesterday. And yes, FEP is still very much a favourite shopping mall of mine. I mean, there's cheap food and my haircut only cost me $35!

Went to JB with my Mom today, bought a bunch of random stuffs and I finally got Green Tea Latte in satchet form! Yays to that. Mommy bought ginger foot spa packs.

Back to Nailspiration, I thought that I would put up a new column on SweetestSins just to showcase nail swatches, nail art or even nail polish that I bought since I love to DIY my nails, not to mention buying nail polishes! Speaking of which, I just saw swatches of OPI Nicki Minaj online and already, I'm tempted to get Metallic 4 Life! Fly and Pink Friday looks good too! Plus, what's better to call my new nail column than Nailspiration - made up of nails + inspiration?

For a start, I'm going to introduce you to - Blaze and Megan Miller nail polishes. You can expect more nail polish swatches and reviews coming up because I bought a whole bunch of Zoya and China Glaze nail polishes from Beautyasia.

Blaze Product Claim:

- Creamy Nail Lacquer That Changes Color in the Sun!
Blaze Baseball Blue to Field of Green


This is the first bottle of Blaze sun-activated coor change nail laquer that I tried out. However, as you can see in the following pictures, the color change is not very drastic.
Indoors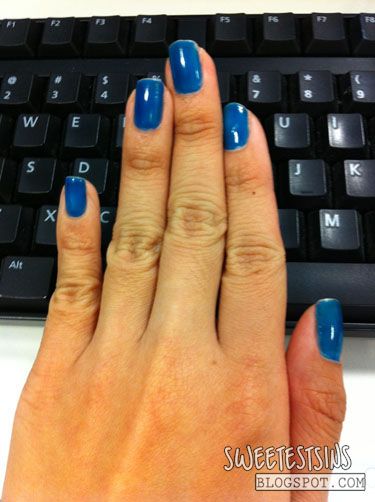 Outdoors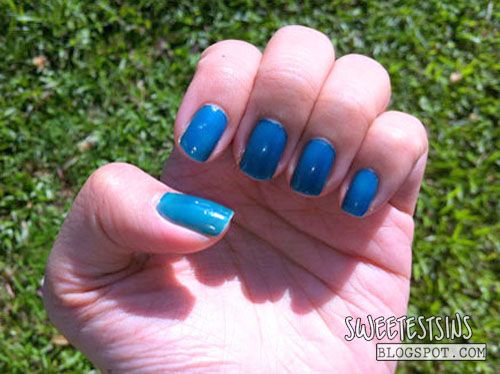 Despite trying out Blaze Baseball Blue to Field of Green a couple of times, with or without base coat/top coat as well as alternating the number of coats, it still doesn't turn green like it should as shown its official website.
If I were to purchase nail polish by myself, I would never have picked up this teal-blue color but surprisingly, it makes my hand look fairer.
The second bottle of Blaze sent to me is:
Blaze Pulsating Blue to Festive Green


Not wanting to look too over-the-top (OTT), especially in a conservative environment, I decided to do gradient nails with Blaze Pulsating Blue to Festive Green. Did I mention how easy it is to create gradient nails with glitter nail polish instead of shimmery and matte ones? You don't even need any other tools apart from your nail polish brush! Check out the mini tutorial below to find out more!
1. After applying base coat, apply glitter nail polish starting from about 1/4 of the nail tip and it should look like picture 2.
2. Picture of nail before blending. Remember to blend so that it will look more natural.

3. Using whatever leftover nail polish on your nail polish brush, work upwards from 1/2 of the nail tip and follow up with top coat and you're done! Isn't that easy?

Here's how Blaze Pulsating Blue to Festive Green looks like both indoors and outdoors.
Indoors




Outdoors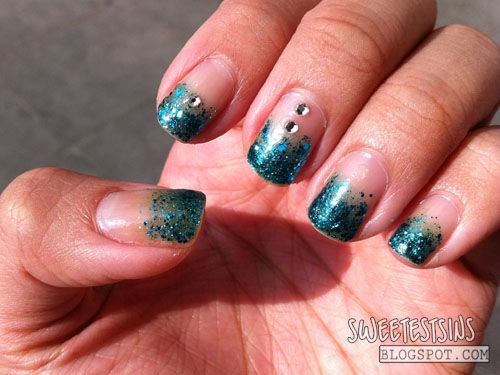 As you can see, compared to Blaze Baseball Blue to Field of Green, the color change of Blaze Pulsating Blue to Festive Green is more obvious under sunlight. However, it still doesn't depict the color change shown on its website (see below).
The last nail polish swatch of the day would be:
Megan Miller Collection Velvet Lounge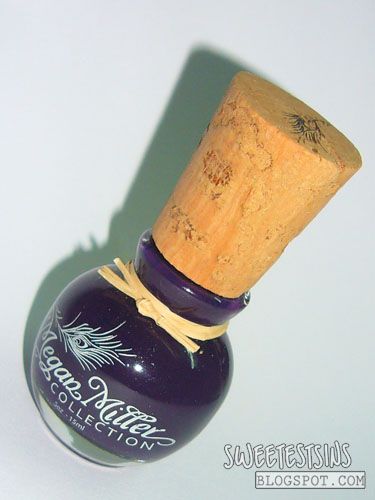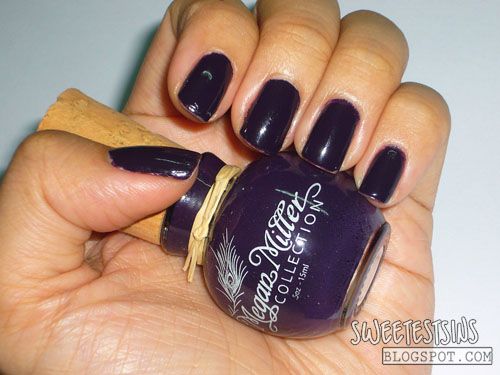 About Megan Miller Collection (taken from its website):
The Megan Miller Collection is a collection of fine nail polish. It started as a vision of a rustic, natural elegance which utilizes the finest materials to provide that experience. The idea grew from the style and design infused into the product by our founder Megan. We've set out to develop a line which empowers and inspires confidence to 'Be Colorful', look good, feel good and be at your best!
My thoughts:
The packaging of Megan Miller reminds me very much of champagne because of its cork top. At the same time, it is very environmental-friendly.

Megan Miller nail polish brush is very thin. I don't fancy thin nail polish brushes usually but because Megan Miller nail polish is rather thick so it makes application easier! ♥ it!

Disclaimer: Products (nail polishes) were provided by Mei Mei's Signatures for consideration. Rest assure that I only provide my honest opinion as always!