A Closet of Surprises
Wednesday, October 05, 2011
A few weeks ago, I was invited to Lace Boutique to check out what they have in store.
Situated at Raffles Place, its pretty convenient, especially for ladies working around the area to come by during lunch hour to get a quick shopping fix.
Have you girls ever experienced times whereby you NEED to get a dress for that special event that you are going to but you ALWAYS can't seem to find it? I always face that you know. I always can't find dresses when I need them hence I usually buy when I see something that I like and not wait till the last minute.
Our in-house stylist for the day was Donna. She's really good and I learnt a few tips from her regarding styling.
After trying out so many different kind of tops and dresses, I have decided to present them according to different themes or rather, what kind of occasion would I wear them to.
1) WORK/CORPORATE FUNCTIONS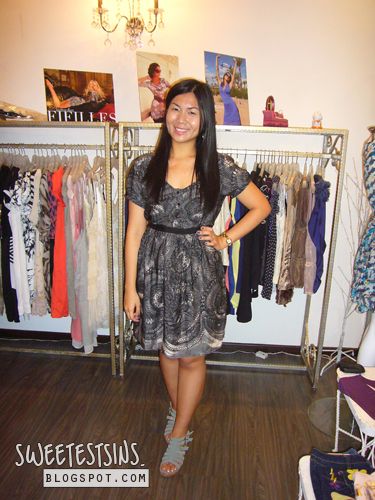 The material of this is super comfy and silky!
Donna said that this would look good on ladies with a bigger chest.
How will I wear this: on work days, I would wear this with pointed heels and with evening/party shoes to that corporate function. Pretty versatile, ain't it?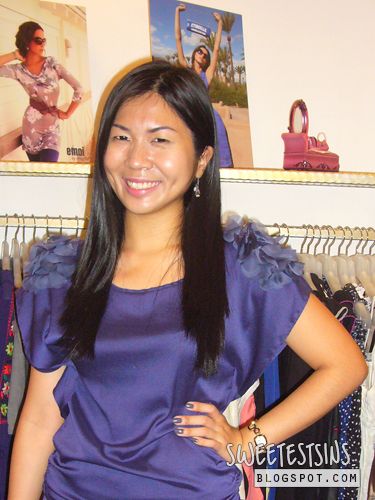 Don't you girlies love ruffles or have an eye for detail?
I think that this top looks very Korean!
Random, but did you see how my nail color seem to blend in with the top? Its brown with a purple base though.
How will I wear this: For work days meaning Mon - Thurs, I would pair this with a black skirt or black pants. On Fridays (because its dress down day), I would wear this with either a bandage skirt or faux leather pants.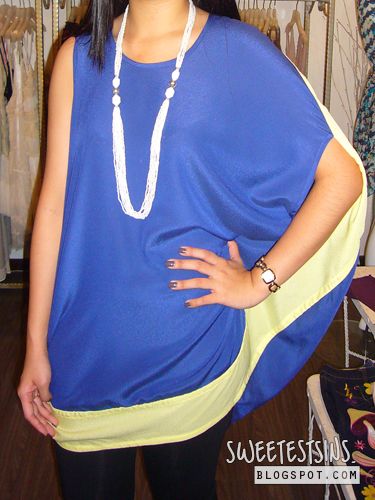 I hope that I didn't scare you off by cropping away my head. I was rather tired that day as I was rushing to and fro between different places, hence at times, my facial expression looked rather awkward when I try to smile.
This is very Korean too. I like the fact that its very flowy, very comfortable too!
How will I wear this: Pair it up with leggings on Fridays. Make sure that they aren't too sheer though cuz you are going to work which means you will see your colleagues and boss and you wouldn't want to risk leaving them a bad impression.
Tip from Donna: Pair it with accessories (long necklace) of a contrasting color so that it doesn't look too bare at the front.
2) WEEKENDS/CASUAL MEET-UPS/OUTINGS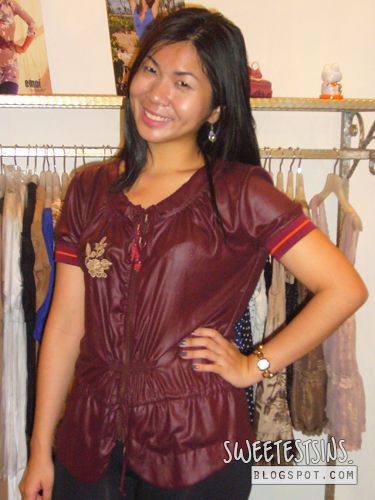 Doesn't this piece reminds you of Harley Davidson? Its like when the east meets the west, especially the combination of leather and Chinese embroidery.
Its rather figure flattering I must say.
How will I wear this: Faux leather leggings with dark brown fringe boots to portray the biker-meet-bohemian look.
The dress below and the top below are also European designs which are rather unique.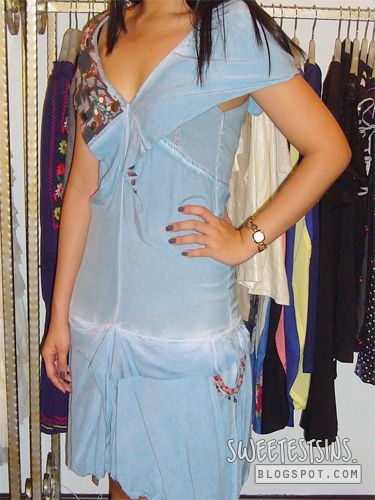 This actually reminds of me something that Japanese girls would wear.
How will I wear this: During summer, I would wear this with a straw hat and straw espadrilles. During Autumn, I would pair this with fringe boots and a vest.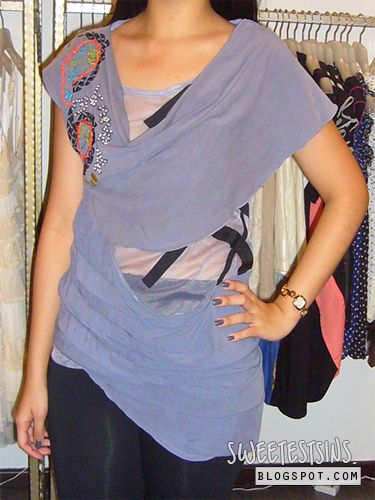 This top actually reveals part of your midriff. It has got 3 layers which I found it challenging to put on. I eventually did with the help of Donna.
How will I wear this: I think this would go well with either leggings or jeggings. For shoes, black ballet flats would go, Dr Martens boots would be a good choice as well.
The last theme would be...
3) SPECIAL EVENTS/OCCASIONS/PARTIES
Its almost the end of the year and that means, more events and parties coming along your way!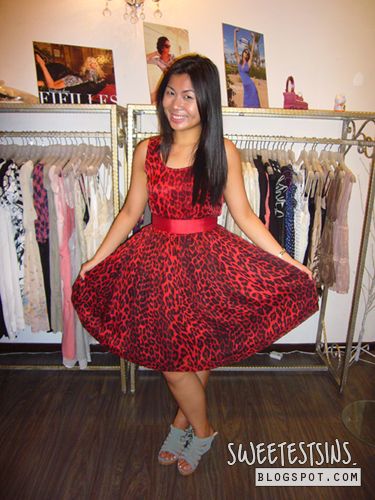 Did I hear you screaming, "LEOPARD PRINTS?!"
Leopard prints are a personal favourite of mine. However, I normally stick to the usual brown and beige or black and grey combinations. I never knew that I could carry off red until I tried this dress out.
How will I wear this: Pair it with an evening chain bag and black pumps.
Tip from Donna: Pair it with a thick black belt to look even slimmer.
Last but not least, my favourite dress!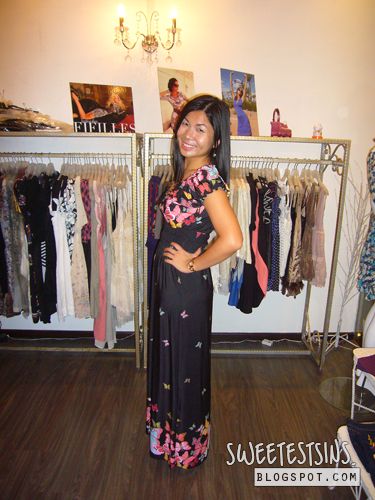 I swear that if I never tried this out, I would never had know that I would look good in maxi dresses.
As you all know, my height is just average and I am bigger than most Asian girls. So, I particularly liked the fact how this maxi dress make me look taller and elongate my silhouette.
How will I wear this: I would pair this with a simple clutch and party/evening shoes.
Tip from Donna: Bun up hair to achiever a slimmer look by showing more neck.
Bet you are spoilt for choices already, no?
Lace Boutique carries a huge range of International brands from Korea, Hong Kong and Europe. What's more is that they carry limited pieces for each merchandise. So you don't have to worry about wearing the same dress or top at that dinner or party you're going to!
Plus, prices are very reasonable, starting from $29.90 to $199.
Fret not if you can't find anything that you like over at Lace Boutique because they go an extra mile by offering personal shopping! You just have to pick up any European fashion catalogs over at Lace Boutique and let them know which dress/top/pants/skirt you like and they will do the shopping for you in Europe! So convenient isn't it?
I know most of you are wondering where exactly is Lace Boutique, so here is their address!
Lace Boutique
Clifford Centre
24 Raffles Place
#01-15

Opening hours:
Mon - Fri: 10:30am - 7:30pm
Sat: 10:30am - 3pm
Closed on Sun & PH