Coordinates #6: Day to night
Friday, January 06, 2012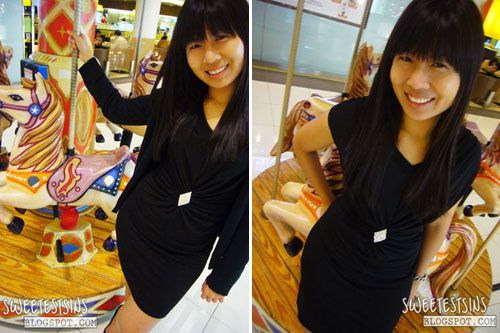 Don't you girlies love carousels? I have a thing for it since young and I would go ROUNDS on them whenever I am in amusement parks. As I got older, of course I stopped going to amusement parks that often but I would stop by specialty gift shops that sells miniature carousels figurines. They don't come cheap, averaging about SGD$100+ because they are so nicely crafted.
DAY: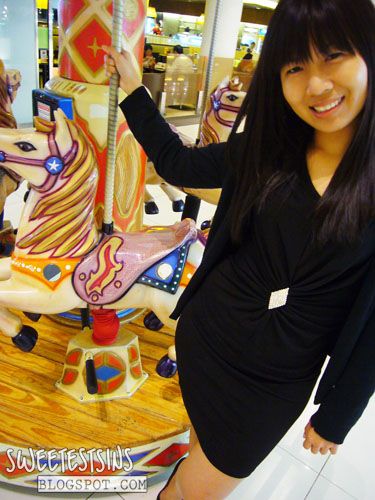 During the day, I would wear the dress with a cardigan because its so cold in my office. Plus, it looks much more formal than wearing it without.

By the way, that's my trusty cardigan from Zara which I had it for years, since 2006?
In my opinion, there's no need to accessorize as the diamante should be the focal point. Wearing a necklace will only take the limelight away from the diamante. But if you really insist, try pairing it with a short necklace that has got a small pendant that ends just below your collarbone. A pearl necklace would be ideal too.
NIGHT: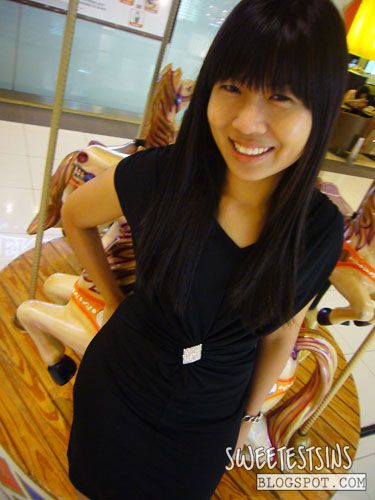 I'm pretty sure that you girls meet up with your girlfriends, have that hot date, gatherings or events to attend after work. And sometimes, its just so hard to think about what to wear in the morning because your outfit has got to be decent enough for work yet something that's not too formal or even maybe exude a hint of glamour or sexiness.
One thing that I like about Lisette Diamante dress is that it is very versatile. The length of the dress is just nice for work. You won't want to be caught in a situation whereby you bend over, only to realise that your colleagues have seen your Victoria's Secret cheekies.
After work, I just have to take off my cardigan and I'm good to go for either a dinner with my girlfriends or a gathering by adding a bangle or even a formal dinner/event by throwing on a black shawl.
I have also decided to put up some pictures that my BFF, Orca took for me on her iPhone and also have painstakingly edited them via various apps before sending it to me.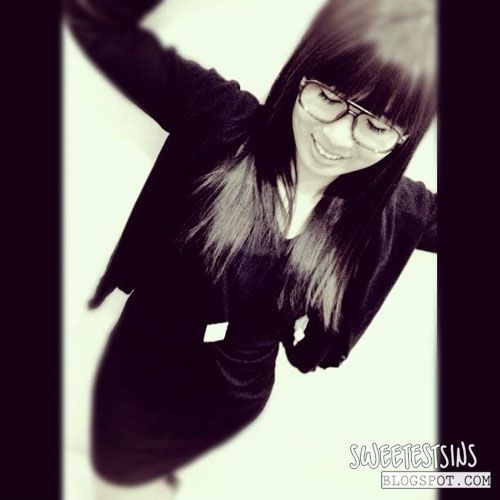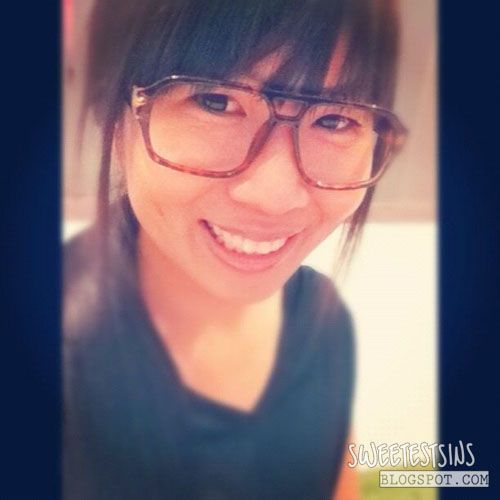 1. Lisette Diamante dress, Dressabelle
2. Knitted Cardigan, Zara
3. Geek Spectacles, Orca's
4. Watch, A|X
5. Black Heels, Hush Puppies (not pictured)
Before I end this post, I want to give a big shout out to Orca, my BFF whom directed and took all the shots that you see above in this post. Thank you for being so patient with me. We were just talking about how time flies that day when we met up the other day. It was just like yesterday when we first met and before we know it, 5 years plus just passed like that.
I came across a picture of Orca and I taken in 2006 while sorting out pictures in Picasa earlier and I thought it was really hilarious and that I should share it.
2006: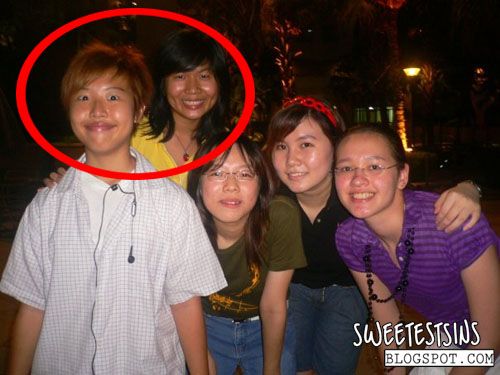 2012: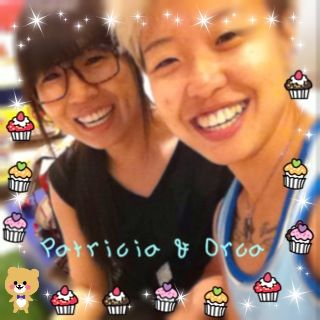 Look at how much we have both changed physically! And we're talking about a mere 6 years. Gosh. Time flies and that reminds me that I'm getting older each day.

I hope you enjoy this post and the styling tips that I have shared. Thanks for reading!

Disclaimer: Lisette Diamante dress was provided by Dressabelle.

Quote "patricia255" to get free shipping off any items purchased in Dressabelle collection #255!

To be notified of the latest beauty news, launches or events, follow me on


or like SweetestSins on