Vanity area + Accessories & Nail Supplies Collection
Thursday, February 03, 2011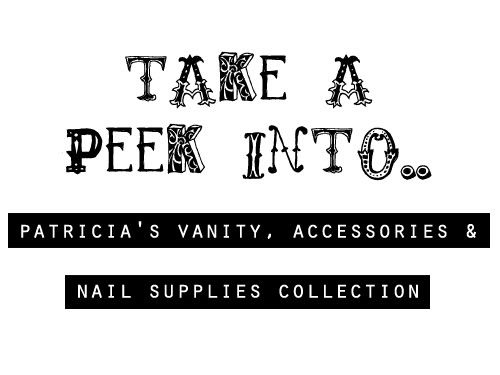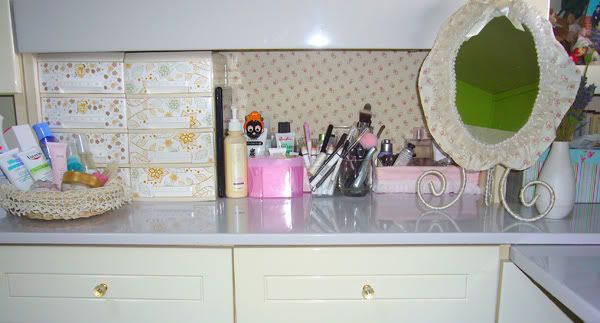 Since you asked for it, here it is! My vanity area at the moment. Ask and you shall be given! You would probably realised that I have gotten much more stuffs and also added another stack of mini drawers as well as holders for my brushes and jumbo pencils. Here is the link to how my vanity looked like last year in case you are interested. I seriously think that it used to be way neater last year. Probably its because I haven't accumulated that much stuffs yet. What do you girlies think? Any ideas to make my current vanity look neater? Tell me for I would love to hear from you!

I know, one picture alone of my vanity ain't gonna satisfy most of my readers, so here are a few close-ups just for you lovelies! ♥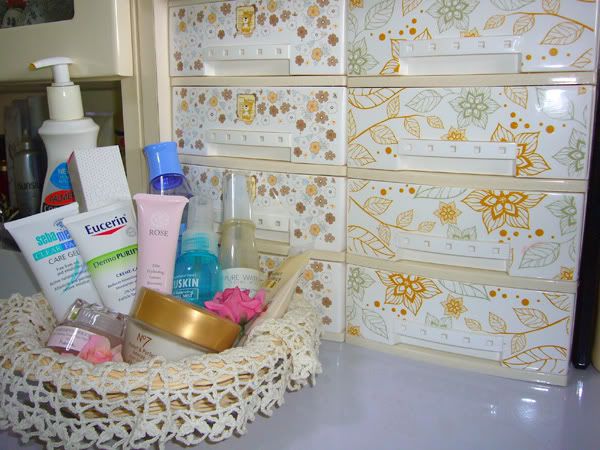 I actually bought the rattan basket to put my Jill Stuart items so that I could have a mini Jill Stuart corner in my vanity area. However, I couldn't fit in products that I use frequently into the pink lacey baskets anymore so I simply placed a crochet table cloth which my mom made over it and used it instead.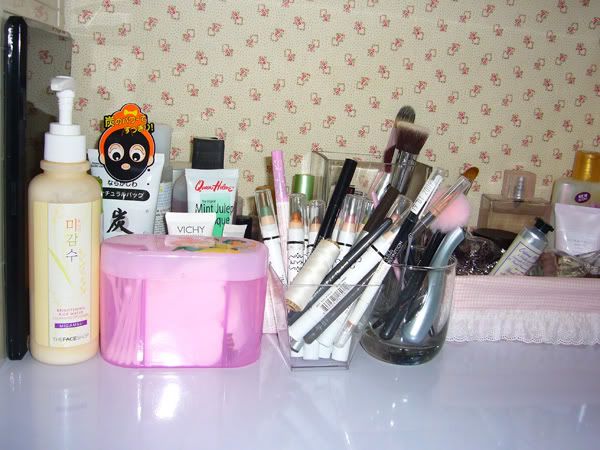 How come it seems like my brushes are toppling over in this picture? Laughs.
Guess what's the thread for?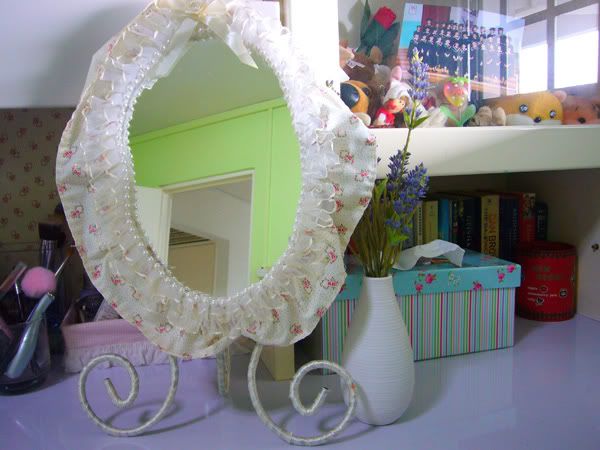 And lastly, my mirror which I DIY.
---
Next, I will be showcasing my accessories collection. Accessories are a girl's best friend, no? I like to throw on a simple outfit on lazy days and accessorize to glam it up.
I decided to dedicate an area just for them so as to make it more convenient for me to locate the items that I need easily.
Here you go...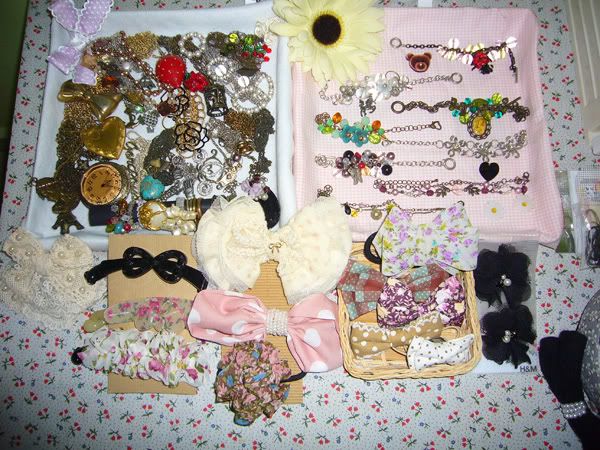 Bows &bows and still bows! I can't emphasize enough how much I ♥ them!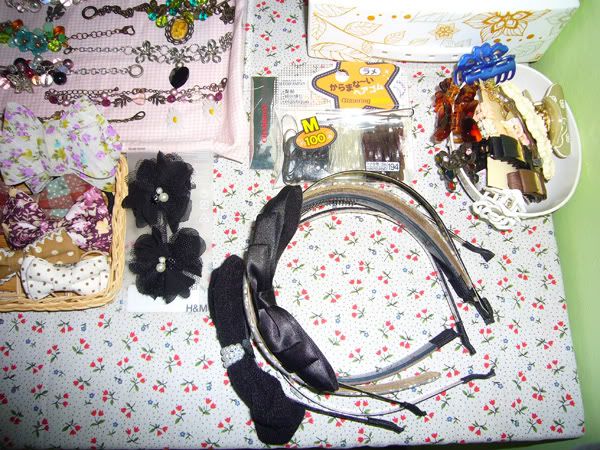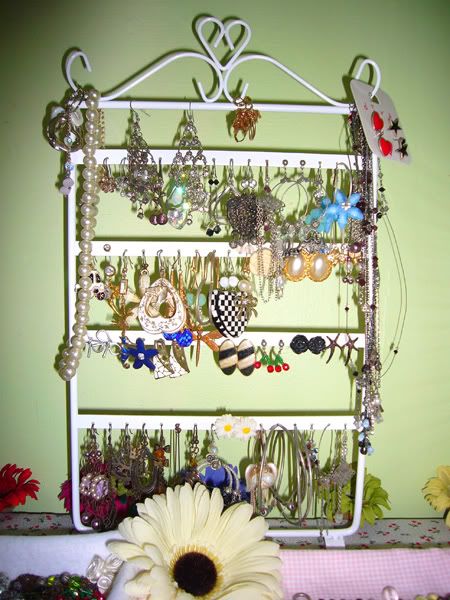 I know you girlies must be dying to find out what's inside the mini drawers at the side of the table which contains my accessories collection right?
Well, it is...
My nail supplies collection!
Here is what it contains.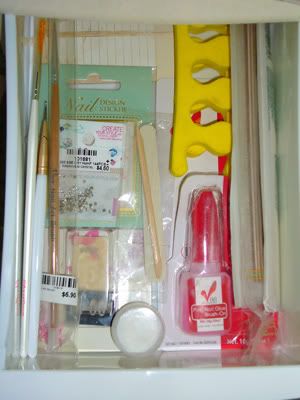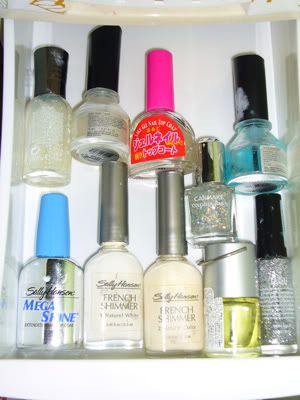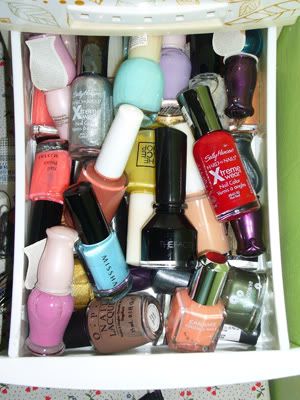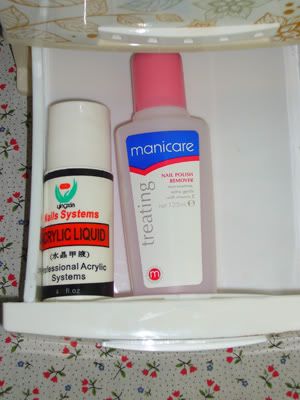 1) Nail tools and accessories
Nail art brushes, dotting tool, french tip stickers, nail art stickers, flat-back Swarovski crystals, acrylic powder, nail glue, nail files and toe separators.
2) Base Coats & Top Coats etc
Cuticle oil, glitter top coats, gel top coat, glitter stripping nail art and french manicure polish.
3) Nail Polishes

In the above picture, you could probably tell that I was trying to arrange them by brands. I realised that I own a lot of nail polishes from Korean brands. They are just so affordable and pocket-friendly on occasions when I do not want to spulrge on Sally Hansen or Canmake nail polishes.
At last count, these are the nail polishes that I own.
Daiso - 2
Sally Hansen - 3
Canmake - 1
Missha - 3
Sasatinne - 2
OPI - 1
Arezia - 1
Etude House - 5
Nature Republic - 3
The Face Shop - 9
Skin Food - 3
Elianto - 1
33 bottles excluding my base and top coats.
4) Acrylic Liquid & Nail Polish Remover
My favourite nail polish remover! Read my review here.
I hope you girlies like this entry. No, you better like it for I spent so much time taking pictures and putting this post together! Haha.

Happy Chinese New Year!

♥
Patricia