My Vanity
Tuesday, March 02, 2010
I was supposed to get this up much sooner. But well, as you know, I am very much of a procrastinator. I have so many things not done. I know it sucks. I filmed a basic makeup tutorial but I have not had the time to edit it. The duration is way too long to be uploaded to YouTube and the video is not good clear enough for me to just take pictures from the video. But I promise it would be up as soon as I can. Moreover, it does not help that I have a full time job which takes up most of my time, sadly.

A part of my room went through a major makeover. Meaning, I embarked on a huge mission - which is to sew. Why do I say that? Because yours truly cannot sew very well.
As I love those country-style and Victorian-looking baskets, I bought some cloth to sew covers for my baskets for a more personalized touch because I want something that truly represents me. To cut things short, here it is..




I used to add white and black lace around my mirror but I got so tired of the look that I took it down.
I did not have any inspiration for days. I wanted something that looks girlie and at the same time sophisticated. Initially, my plan was to put white lace, followed by ribbon roses in cream and lastly, top it off with pearls. But I decided that it would be too much.
Hence after much brainstorming, I used the same fabric which I used for the background of my vanity for the base, followed by chiffon lace (which is really pretty) and I sewed on pearls one by one. Not wanting to give up my idea of ribbon roses, I sewed a rose on a bow to be the centerpiece.
Enough of words, I shall show you how it looks like.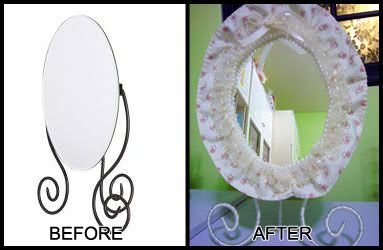 Last but not least, a full view of my vanity! (: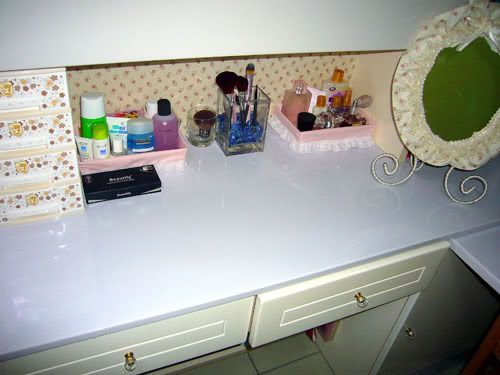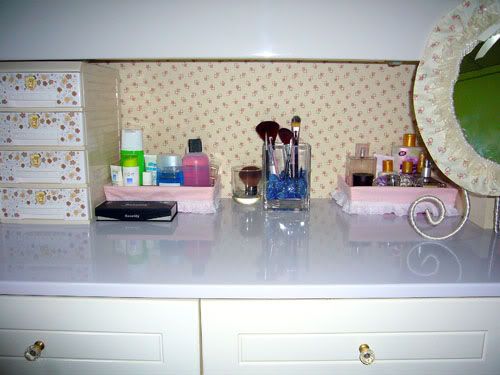 I hope you guys love it as much as I do.

Total damage for vanity makeover: SGD$64

More than half of the amount spent went to the fabric. I still have some leftover fabric though.