Bow Nails
Monday, April 26, 2010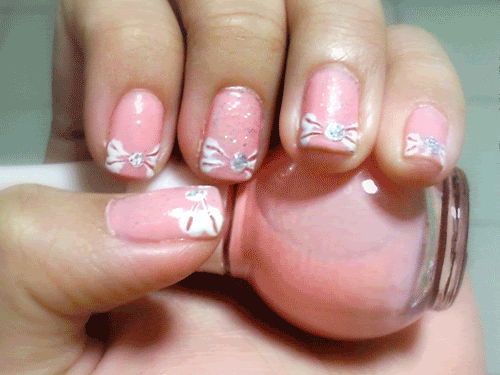 I was looking for a baby pink nail polish to make this set of bow nails &I chanced upon this lovely shade of pink which had a little peachy tone to it at Nature Republic. For those of you whom are unfamiliar with Nature Republic, it is a Korean skincare and makeup brand. I first came across this brand in Junction 8 while I was looking for a black eyeshadow &was reminded of it when my cousin told me that their facial foam is really good. Anyway, back to the Nature Republic Nail Polish. Firstly, its really cheap considering that it is merely SGD$1.90. Secondly, the packaging is so nice! For all of you whom know me, Patricia cannot resist nice packaging!
Here is my completed nails. Aint they lovely? Okay, this is random, but.. I always paint my nails while watching dramas. If not it would be so boring because I have to wait for each layer to dry. Well, probably I am just impatient, or rather should I say that I am good at multi-tasking? Haha.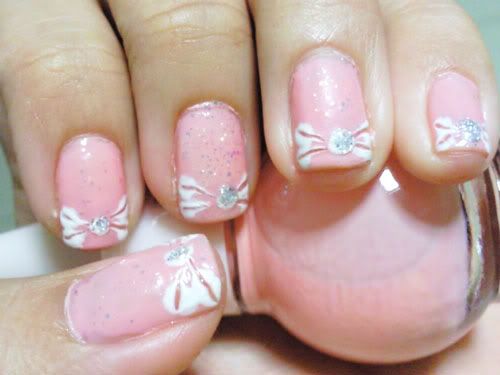 Bow Nails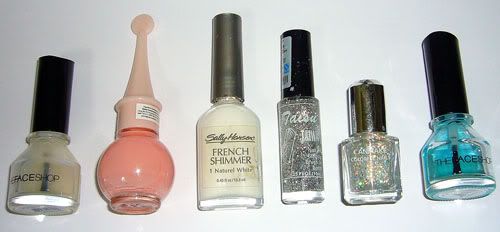 Products Used:

1) The Face Shop Nail Base Coat
2) Nature Republic OR801 (Whole Nail)
3) Sally Hansen French Shimmer in Naturel White (Bow)
4) Taisu Nail Art Striping Brush in Bottle (Dot)
5) Canmake Colorful Nails 17 (Whole Nail)
6) The Face Shop Nail Top Coat
After choosing the nail color, I still had time to spare hence I checked out the rest of the products which Nature Republic has to offer and I got myself another lipstick! Its really pretty, creamy and glossy! I liked the texture and of course the color which is very much of peachy-orange. What's more - its only SGD$16.80 which is very affordable! I can foresee that I will be using it often due to its natural tone especially for work. The look which it creates is in between gloss and lipstick.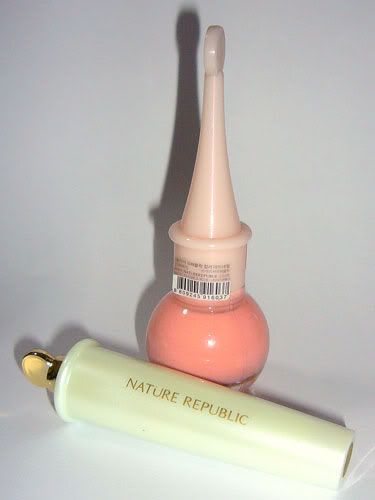 Check out the lovely packaging!
Lastly, not forgetting... a swatch of


Nature Republic Soft Glossy Lipstick in OR2

I love Korean skincare/makeup brands and would love to try out more of them. What about you? I have heard ravings of Beauty Credit's sleeping mask pack and BB Cream, Skin79 BB Cream (which was just launched in Watsons). And, I am so tempted to get them all!

It doesnt really help that Revlon just launched Revlon ColorBurst Lipstick in Guardian. I was so so so surprised and excited when I saw it during lunch time over at Jurong Point with my colleagues. I really like the packaging. It reminds me so much of Chanel. So pretty! I swatched them and I really like Mauve (natural skintone skin which looks like something which I already have), Soft Nude (which is a nude beige) and Peach (which is my favourite among all)! I dont know but I seem to have a thing for anything peachy, orange or coral nowadays.

How to curb my spending on cosmetics and skincare especially when I just received my paycheck? Ah, blame the cosmetics industry for coming up with excellent marketing strategies and constantly filling the shelves of counters of departmental stores and drugstores with new products.
Anyway, I hope you enjoyed this post! If you have any questions or suggestions, just leave a comment and I will get back to you shortly!

XOXO,
Patricia