My Holy Grail Mascara
Monday, February 22, 2010
Being an Asian girl, I have small eyes, single eyelid (or should I say hidden double eyelids) and super short eyelashes. I have tried all kinds of mascaras, lengthening or volume but.. it just doesnt show any difference to my lashes.

Some of the mascaras which I have tried:

1) Loreal Double Extension Mascara
2) Fasio Mascara Base and Hyper Stay Mascara Shock Free Curl
3) Maybelline Unstoppable Mascara
and even the latest one which I bought from Rimmel failed to show me results.
4) Rimmel Sexy Curves Mascara

Of the four, I would say I like the Maybelline and Rimmel ones the most because the Maybelline one can separate each lashes beautifully and its easy to remove but it smudges easily. The Rimmel one gives the most volume and curl among all and I liked the fact that the brushes are curved for easy application. However, it smudges easily too. As for the Fasio and Loreal ones, I didnt liked it because it makes eyelashes look clumpy which equates to a heavy look so they are definitely a no-no.

Alright, back to my Holy Grail Mascara, Beautify Transplanting gel and natural fibre.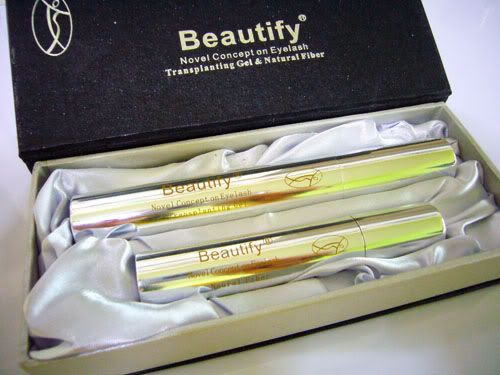 Why do I call it my Holy Grail Mascara? Because..

1) It does not clump
2) It really lengthens my short eyelashes
3) It gives volume
4) It doesnt smudge any all when I was out for the entire day!
5) Its easy to remove (just use warm water)!

I first discovered this when my cousin, Ebony asked me to do her makeup for Chinese New Year &my Aunt passed me her Dior makeup palette and Beautify Transplanting gel and natural fibre. And I was sold because the effects could be seen and its really pretty. Dont believe me? Check out the pictures below.



Check out those long lashes on the middle of her left eye and sides of the right eye.


I love the way I did her eyes.
Products used:
1) Dior palette
2) Beautify Transplanting Gel and Natural Fibre
3) Maybelline's Pink Please Lipstick (my all-time favourite)!
4) NYX Round Lipgloss in Whipped (A nude color which I apply on top of lipstick everytime)
FYI, she's only 14 years old. A real beauty in the making!

I knew I had to get it so I went online to search for it but to my disappointment, its not available in Singapore.

To my surprise, my Aunt surprised my cousins and I with one each on my Grandpa's birthday! Oh my, I absolutely love it! Thank you Aunt. (:

And so.. I did my makeup today using it. Here are the pictures. I only did my left eye so that you would be able to see the difference and compare.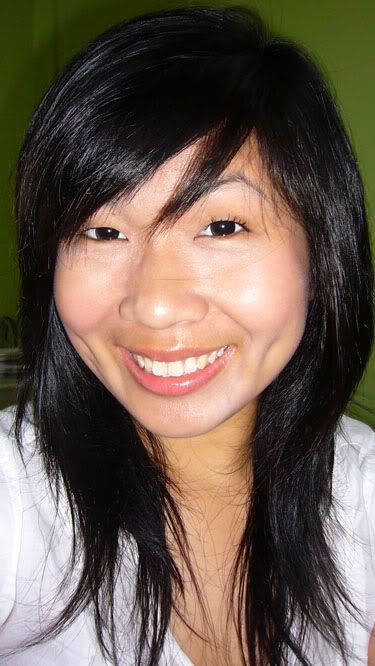 Pardon me for my messy and stray hair for I just came out from a bath.



Close up.

Those eyebags. ): How to get rid of them?
And finally. Face of the day (FOTD).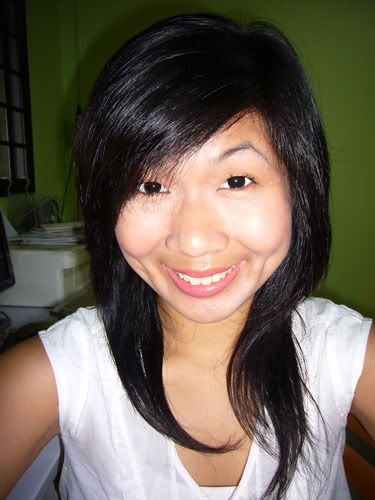 Arghs. The lighting makes the color of my upper lip looks different from the rest of my face. ):
Products used:
1) Lancome Teint Idole Ultra
2) Lancome Mat Finish
3) Too Faced Shadow Insurance
4) Coastal Scents 72 Palette
Highlight #1 Entire Lid #2 Crease #3 (as shown in the picture below)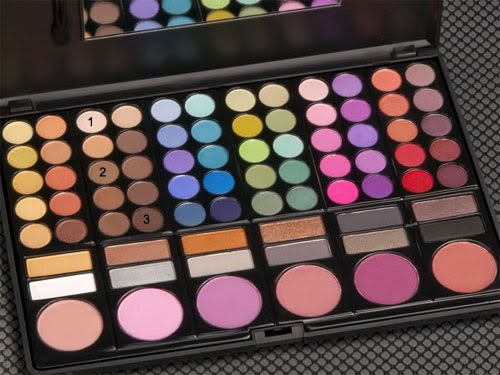 5) Beautify Transplating Gel and Natural Fibre (One coat)
6) Lancome Blush Subtil
7) Palgantong powder (For highlight)
8) NYX Round Lipstick in Indian Pink
9) NYX Round Lipgloss in Peach
So that's all for today. Stay tuned for my first video tutorial on how to clean your makeup brushes!

Till then!