Makeup Storage + Collection 1
Friday, December 18, 2009
So you guys havent heard from me lately. Yea its my holidays now but there seems to be endless things to be done. Think FYP, SIP report and individual assignments. And, I havent finished my SIP report YET. Shrugs. I have got no motivation.

Anyway, I couldnt stand it anymore and I finally packed my 'beauty' corner. My mom got me this tray of mini drawers which she said is for my makeup stash. I didnt believe her at first but I realised what it could do for me. It meant emitting clutter and mess.

SEE!

First the nail polishes.. I didnt know I had so many of them. So off they went into the last drawer.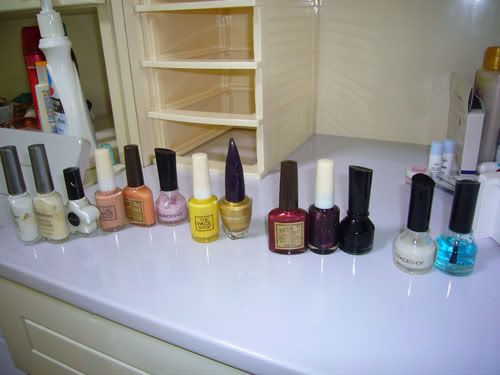 From L to R: Sally Hansen, Missha, TheFaceShop, Skin Food etc.
Next, its everything for the eyes. The picture explains all.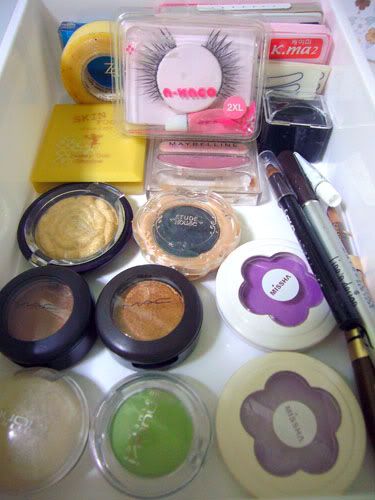 Eyeshadow from I Nuovi, MAC, Missha, TheFaceShop, Etude House, SkinFood and Maybelline, Loreal Eyeliner, Revlon Eyebrow pencil, eyeliner sharperner, false eyelash from everywhere and double eyelid tape
Next its my makeup. I used to have them all in my makeup pouch but not anymore. Off they go in the second drawer. Note that there is eyeliner here too because these are my favorites and items that I use frequently.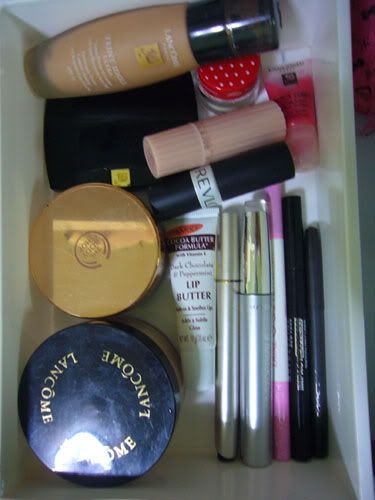 Liquid foundation, loose powder, concealer, blusher and lip gloss from Lancome, Lipstick from Paul and Joe and Revlon, Eyeliner from MAC, Maybelline and O2 skin and mascara from Maybelline.
I am serious when I mean that I want my table to look neat. So I fully utilised the drawers by putting my skincare products and samples in the last drawer.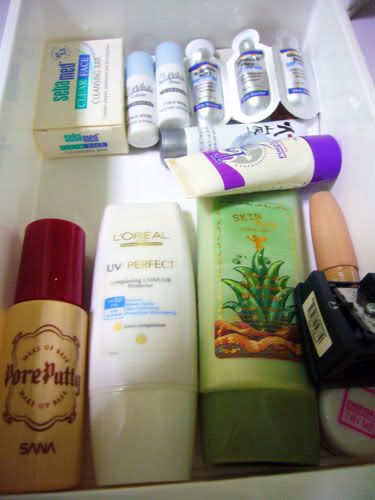 Make up base, Suncreen, BB Cream, face mask, facial soap etc.
And to be really neat. I kept all of these in a box. The box that I previously used to store all my make up.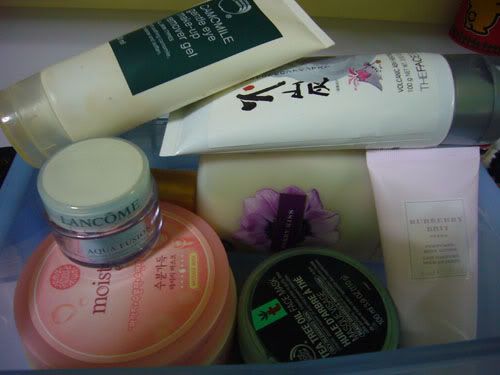 Face mask, lotions, moisturizer, make up remover etc
Last but not least, what is a girl w/o fragrance?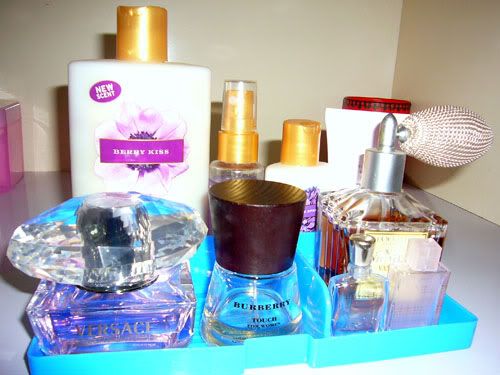 Victoria Secrets Berry Kiss lotion, Victoria Secrets Love Spell series, Burberry Brit Sheer Lotion, Versace Crystal Perfume, Burberry Touch Perfume, L'occitance Vanilla, Lancome Miracle Miniature and Burberry Brit Sheer Miniature.
And while clearing my table.. I found that I do have a lot of make up pouches as well. So here they are.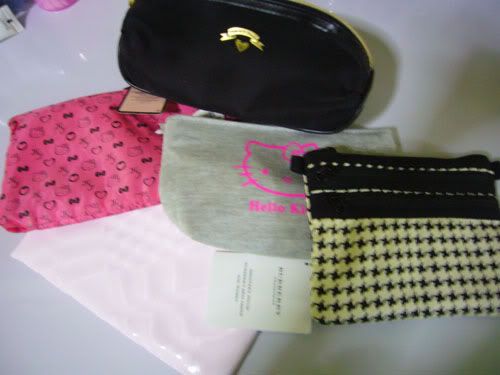 Hello Kitty pouch from Daiso and H&M, Burberry Pouch, Houndstooth Pouch from Naraya and Victoria Secret Pouch
Lastly, I shall end with a picture of my nails which I just did recently! Enjoy!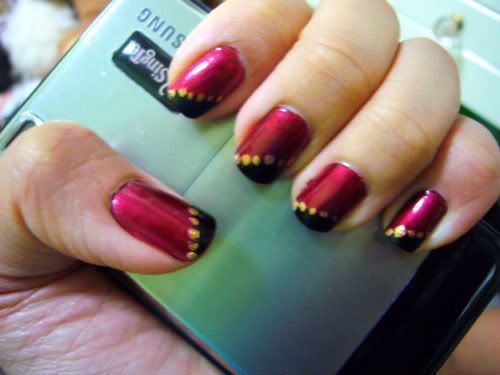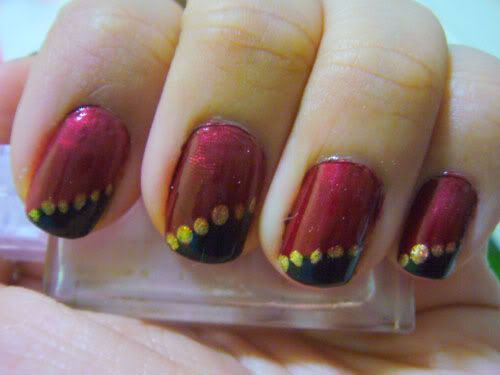 I think its fun making beauty related posts like this. What say you? (: