P&G The Beauty Debate - Super Model Me
Sunday, January 29, 2012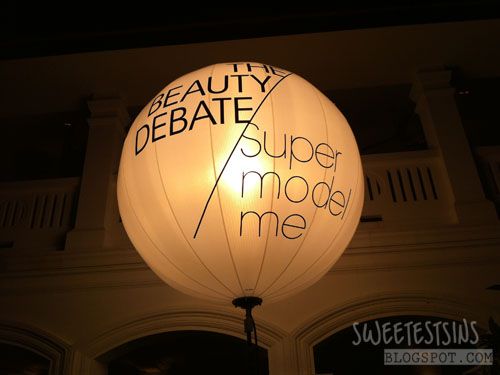 Last Tuesday, I met up with my bestie, Carissa before heading to P&G Beauty Debate - Super Model Me held over at Capella Singapore.

As I went there straight from work, I was in a work dress and the first thing that Carissa said to me when she met me was, "Gosh, did you like lose weight or something?" And I was like, "No I didn't. It must the dress that I am wearing because a few of my colleagues complimented on it earlier in the day."

I used to struggle with weight issues when I was younger and even when I managed to lose some weight, I am still very bottom heavy. My figure is pear-shaped and it is rather hard to find clothes that would enhance my pear-shaped figure as most of the clothes out there are made for girls whom are more well-proportioned.
Remember girls, you should always choose clothes that fits you and not the other way round.
Patricia's Tip of the day (for pear-shaped ladies):

1) Go for skirts or dresses with slight A-line cut.
2) Choose a pair of heels that are not stilettos.
3) Avoid tight skirts and trousers.
4) Avoid clinging and light fabrics.
Couldn't help but to take a few touristy shots since both of us are seldom at Sentosa during night time.
Coordinates #8: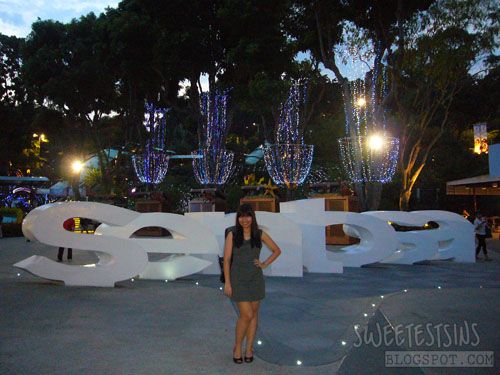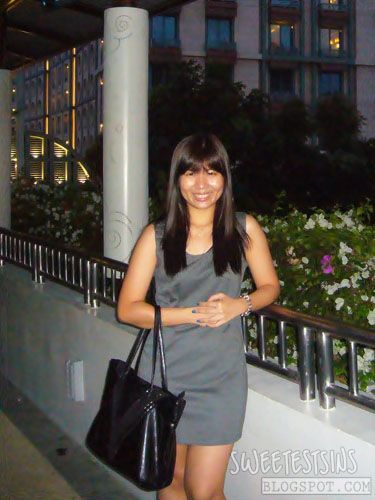 1. Ladder Strap Dress,
Dressabelle

2. Bag, JB
3. Peep toe heels, Hush Puppies
4. Watch, AX
Since Carissa was there that day, I thought that I would share her outfit of the day as well.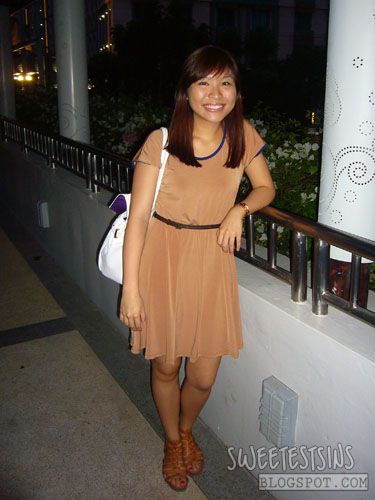 1. Short-sleeved Skater Dress, Sis
2. Bag, Mischa Button
3. Sandals, Taiwan
Took this picture to show you how scary the Merlion looks at night.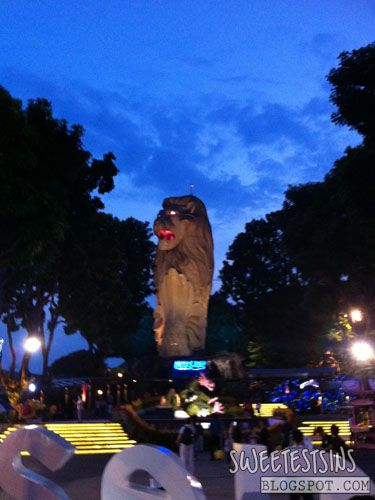 Check out the color of its eyes and mouth.
After a long walk, we finally reached Capella Singapore.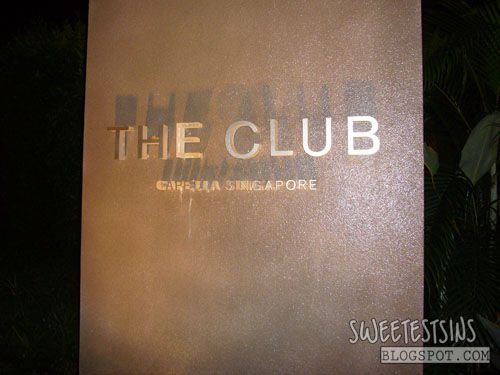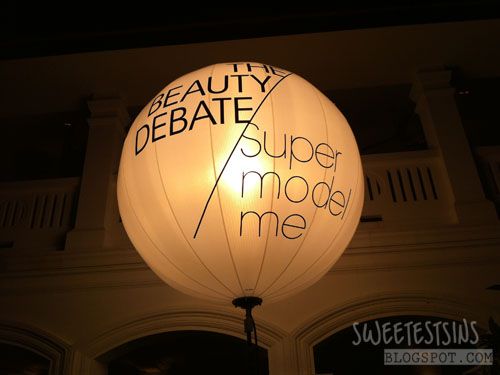 The dinner show was held over at Bob's Bar.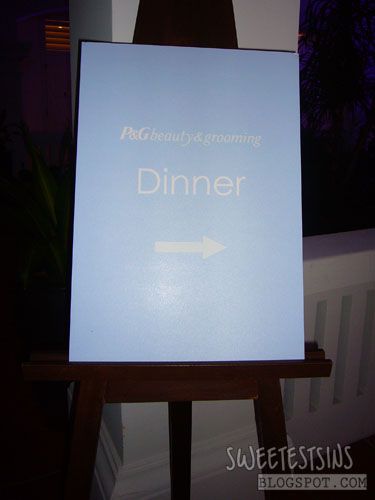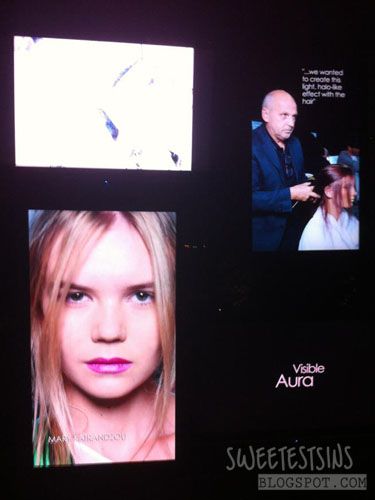 Visible aura featuring Mary Katrandzou
"...we wanted to create this light, halo-like effect with the hair."
These are the only food pictures that I managed to take. Was busy catching up with the girls and enjoying the food. We also had caviar that night but sadly I didn't have any pictures of it.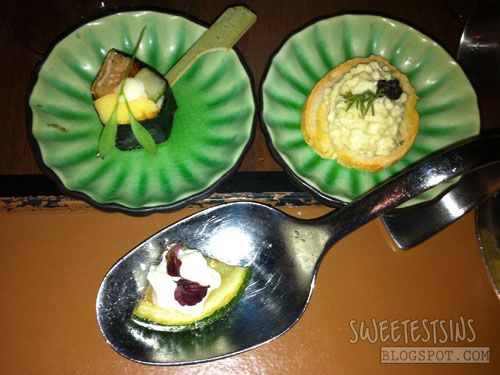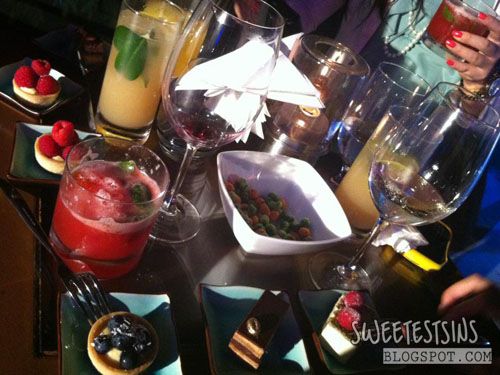 Love the raspberry!
After filling our stomachs, we went to check out Asian stylists' interpretation on Spring / Summer 12 trends directed by Daniel Boey.
They had different styles. Some are more fun and vibrant while the others are more sweet-looking etc.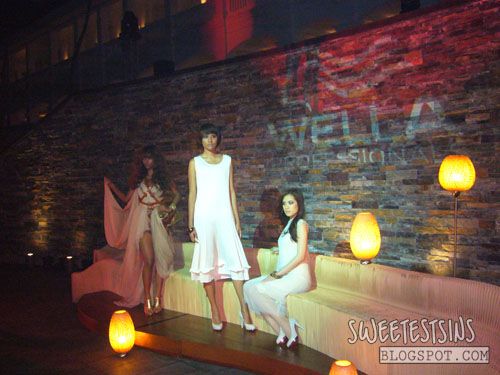 The model on the far left-hand side reminds me very much of a Grecian Goddess, perhaps a sexier version of it?

I would say that the style (both fashion and hairstyle) of the other two models on the right is very wearable. Lovin' the bob cut of the center model!
Ah, this is very interesting. Did you know that there were artists painting the backdrop on the spot at the event itself? We were behind the backdrop grabbing small bites hence I couldn't snap a picture of it but boy, they were quick!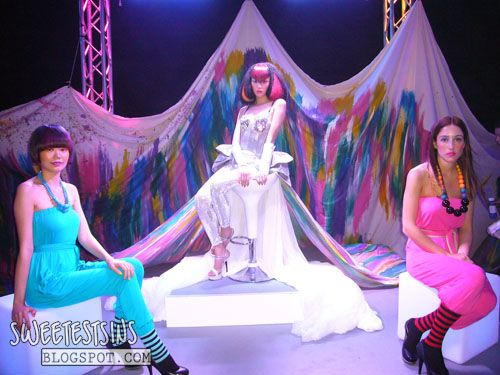 This particular style is more colorful, vibrant and fun. The style of model in the center reminds me very much of Lady Gaga. Her outfit is so futuristic!
And the other two models at the side reminds me of Jack in the box!
Here's a group shot of all of us, me, Roseanne, Carissa and Jenny with the models!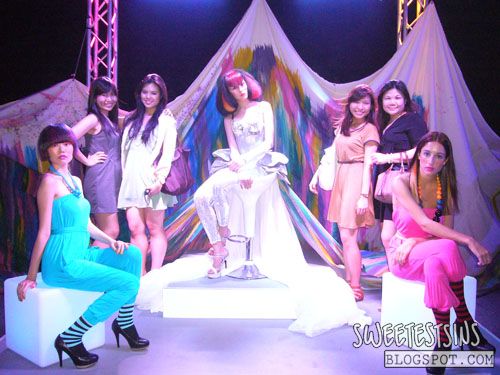 Lovin' how the model in the center tilts her head, which makes it more Gaga-fied!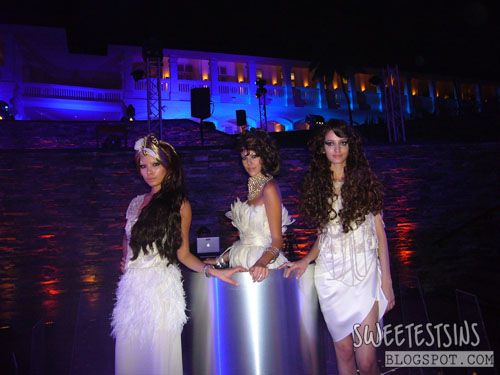 The Angels
The Angels focuses very much on the theme of birds and feathers. I'm lovin' the hair fascinator (Gossip Girl - Blair's term for head dress) on the model at the extreme left, the heavily-detailed neckpiece on the model in the center and the voluminous hair of the model at the right as well as the strand of pearls that she have on!
Here's another group picture of us, this time round with The Angels!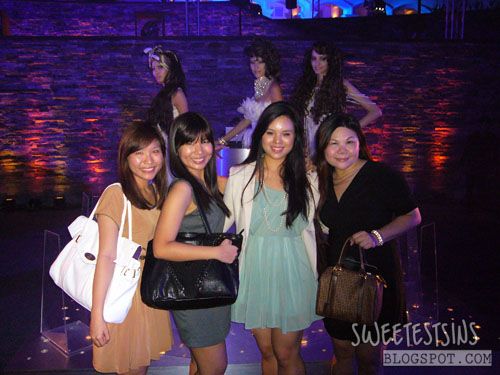 The next style is very baroque, sophisticated and elegant and it focuses on lace. I find that lace is elegant when worn, provided that you pick out the right piece.
Don't you love the model's head dress?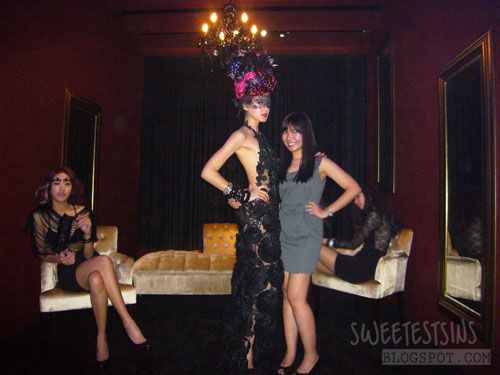 She's a hot favourite that night. A lot of people were waiting to get photos with her because she's really hot. I mean, look at how tall and slender she is! I look like I'm thrice her size! Love how she can carry off the red lipstick look.
This booth is so pretty that Carissa and I couldn't help but to take a few pictures in it!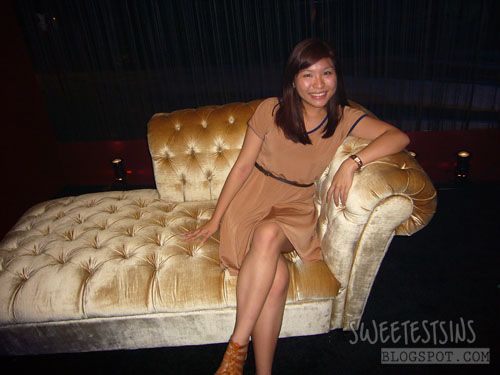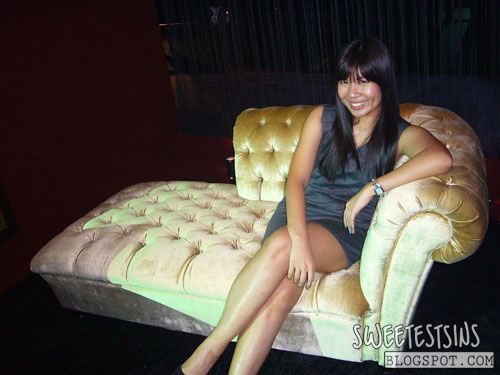 Here's a picture of all of the models.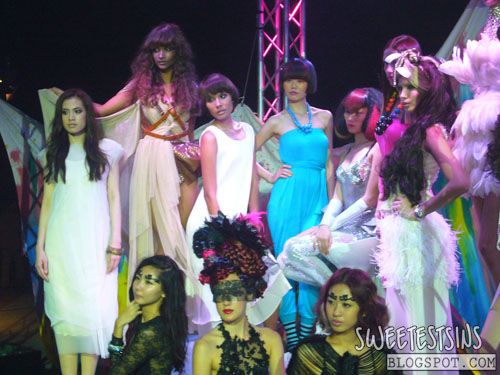 Before we left, we went to collect the photos that the event photographers took for us that night.
Here are some of them. I didn't scan all because some of them are repeats, meaning that I have them in my digital camera and I have posted those pictures above.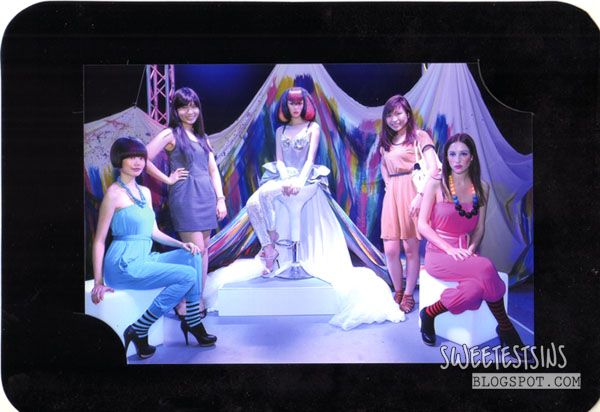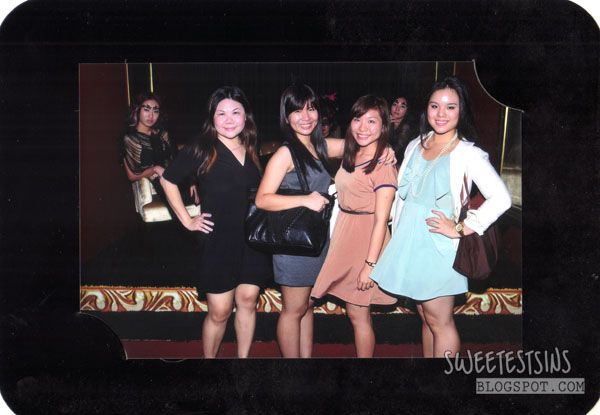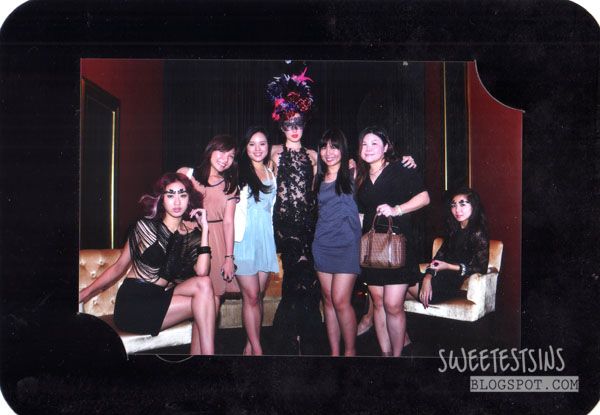 Unlike usual blog posts, today we have got Carissa as a guest blogger on SweetestSins to share her thoughts on P&G The Beauty Debate - Super Model Me event.
Read her thoughts below!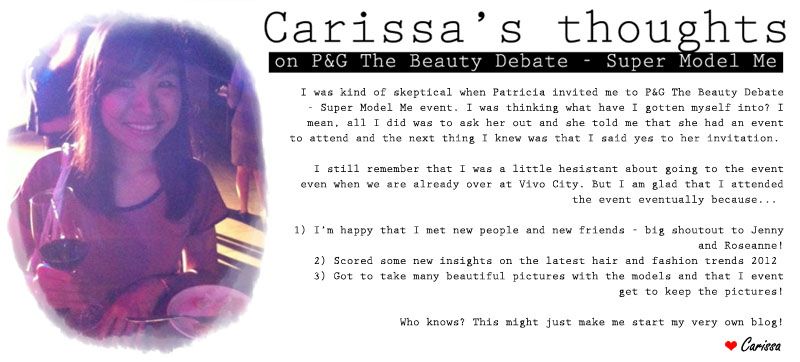 I hope you like this post. Thanks for reading!
To be notified of the latest beauty news, launches or events, follow me on


or like SweetestSins on