Allure Beauty Saloon: The Wonder Lash Experience
Saturday, January 28, 2012
Sometime ago, I went over to Allure Beauty Saloon to get eyelash extensions done.
My beauty therapist is Elaine. She's very nice and she commented that I have got rather long eyelashes actually. But the thing is - even though I have got long lashes, they are straight and they face downwards so the only way to make them appear bigger would be to apply mascara or use false eyelashes. Now, who has got time to put on false eyelashes everyday? Well, certainly not me because the last thing that I want would be to wake up earlier just to make sure that I have got time to apply false eyelashes. I mean, that's because every minute of beauty sleep counts, doesn't it?
The Wonder Lash is developed by a Korean veteran in the beauty industry. It combines 2 – 3 strands of synthetic hairs and only fills in the empty parts of one's eyelashes. This ensures that the eyelash extension would be firm, yet comfortable at the same time. The extensions would be customised according to the length and thickness of your own real eyelashes so as to make it look more natural.
The eyelash extension took about an hour in total. Elaine was very conscientious in the sense that she kept asking me every now and then if my eyes felt uncomfortable.
Before I go on and on, here's an 'after' picture of the eyelash extension.


I chose the end/sides to be longer because I am very used to that look. Normally when I use false eyelashes, I would normally stick them a little lower like how Popteen models usually would. According to Elaine, it protrays a sexier look if your eyelashes is longer at the sides and that Kawaii or dolly look if your eyelashes are longer in the middle.
Oh yes, did you realised that my double eyelid popped out from nowhere? And no I didn't had any double eyelid stickers on, but yet it looks like I have them on.
I normally get a lot of questions such as what brand, what color is my contact lens, where did I get them and how much is it etc. So, I thought that I would share the answers here.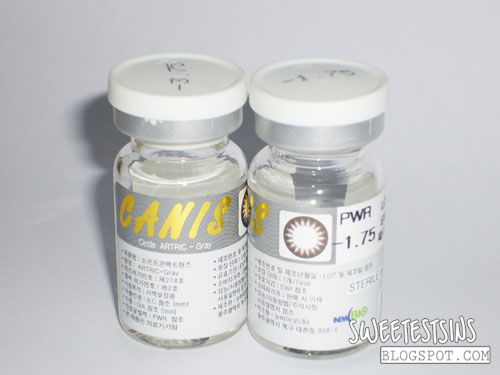 The current contact lens that I'm wearing is - Canis Circle Artic in Gray which my cousin got it for me from an optical shop in Korea (I have no idea where is it because I have never been there personally). Its probably less than SGD$10 per pair if I didn't remember it wrongly. They are monthly disposables.
Here's a picture of me right away the eyelash extension.
There wasn't any discomfort. Thank God for that! Allure Wonder Lash is very light-weight compared to my previous eyelash extension and I can open my eyes without the extensions pricking my eyes.

Here are some tips which Elaine shared on preserving the lifespan of eyelash extensions:

1) Don't rub ur eyes
2) Use cotton bud to remove eyeliner
3) Be careful when shampooing and washing your face. Try not to let water get into contact with your eyelash extensions.
4) Dry eyelash extensions immediately when it comes into contact with water by gently dabbing on it.
5) After washing face, pat dry water on eyelash extensions first so that they won't feel so heavy.
As I believe that most of you would be keen to know more about the longevity of the eyelash extension, so I went the extra mile by recording down the strands of eyelash extensions that dropped on a daily basis and here's the table that I compiled.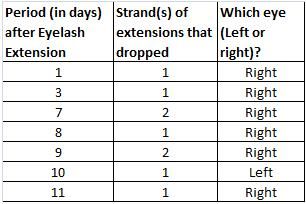 I noticed that the eyelash extensions on my right eye drops more. Hence, there were gaps in between my right eye while the eyelash extensions on my left were still pretty much intact.
On Day 12, I went for a touch-up and it lasted me for about another 3-4 days before the extensions start to drop again. I did check with Elaine as to why is it that the eyelash extensions on my right eye falls more freqently than the ones on my left eye and she said that its probably because I sleep sideways.
The best part about Allure Beauty Saloon The Wonder Lash is that it looks so much more natural as compared to the one that I have done previously. Most of my friends thought that I had false eyelashes on. Its only the beauty bloggers and my friend, Orca that could tell that I had eyelash extensions done because they won't see the lash band and that she has accompanied me for my previous eyelash extension respectively.

I hope you like this post. Thanks for reading!

Love,
Patricia

To be notified of the latest beauty news, launches or events, follow me on


or like SweetestSins on