Angelface Oxygenating Skin Therapy review
Friday, March 11, 2011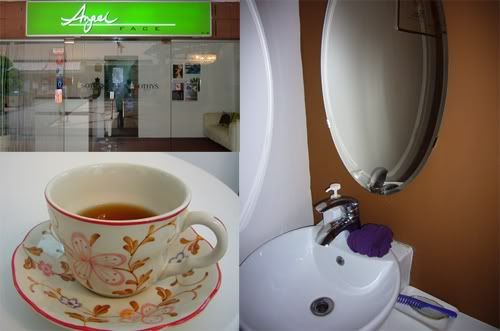 Last week, I was invited to Angelface, Tanjong Pajar Plaza to experience Oxygenating Skin Therapy.
What is Oxygenating Skin Therapy?
It is alternative to injection, a needle-free Mesotherapy treatment. Pressure Injection Technology is a cutting edge biotechnoloy that delivers natural, safe and effective treatment to activate skin cells at the celluar level.
Oxygen is the mediym and active ingredient of Oxygenating Skin Therapy which is responsible for the energy of all body and skin cells, cell regeneration, healthy skin appearance and stimulator of the cell immune system. It rejuvenates and improves the blood circulation of the face, revealing healthier skin after the treatment.
My thoughts:
My therapist, Joanne started with a short skin analysis. Next, I was ushered into the facial room where I changed into the tube wrap provided.
As I had light makeup on (BB cream, blusher and lip gloss), Joanne started off my removing my makeup before double cleansing my face. She mentioned to me that double cleansing is very important, especially if you want to have flawless and supple skin. When I mentioned that I knew and practice that because I read somewhere that the secret to Japanese girls' having flawless skin is to double cleanse, she told me that double cleansing is in fact becoming more popular in Asia, not just in Japan alone.
Following which, she continued with an exfoliation and started with extraction. What amazed me was that instead of using a steamer to 'open' up my pores, she applied a softener instead. Joanne told me that using a softener is better as it would not result in huge pores for the former would result in the pores not being able to shrink back to its original size. While waiting for the softener to penetrate into my skin, she tidied up my brows for me. My brows have been rather messy because I have been trying to grow them so that I can get them trimmed akin to Korean girls' eyebrows. Before I forget to mention, I rarely go for facials because I am so afraid of the aftermath - ugly scars and redness. But Joanne is really good at extraction. She made extraction feel less painful. Well, almost painless I would say, given my low tolerance for pain.
After which, she gave me a facial massage using aroma essential oil where really made me feel super relaxed. Did I mentioned that I almost fell asleep? Haha. I only woke up when Joanne told me that she was going to begin the oxygen treatment. After applying the oxygen serum onto my face, she pumped oxygen onto my face using the nozzle that was attached to the machine. The process felt rather cooling and it didn't sting contratry to what I thought. Following which, Joanne applied a multivitamin power recovery mask and eye relaxing thermal mask on me before giving me a hand and arm massage. By then, I was feeling so relaxed that I was close to falling asleep again. Then Joanne surprised me with a foot massage. Wow, I wasn't really expecting that. The foot massage did hurt a little though, but it was still bearable.
She finished off the facial by cleansing my face and applying toner, skin smoothering cream and sunblock. By then, my back and neck was aching after lying down for more than an hour. But before I could react to it, Joanne give me a short back and neck massage to allow me to return to my normal state. This is what I call prompt service and reacting to individual customer's needs. I think that it is very important for the therapist to build a relationship with their customers especially for intangible services like facials and spa. The most fundamental thing to do is to make their customer feel comfortable. Just imagine, if an individual doesn't trust that his/her assigned therapist is going to do a good job, he/she wouldn't feel relaxed at all. In fact he/she would probably be wondering and doubting the therapist's skills during the session.
I like the fact that Joanne wasn't super chatty and that she shared helpful skincare information pertaining to my skin type with me. She also told me the skincare products that would be suitable for me as well as those that I should avoid. And she didn't try to hard sell me products like how some facial salons that I visited previously would. However, she did mention a scrub which is suitable for my skin type and she even gave me some samples to try out.
I really didn't want to walk out of the facial room. During that 90 minutes, I felt that I was away from the cities. In short, I felt peace. I could just relax and think of and do nothing. To me, that was bliss.
On the overall, I had a wonderful time over at Angelface. I would definitely bring my Mom and my Aunt there in future on special occasions to give them a pampering treat.
Oxygenating Skin Therapy is available at Angelface salons at S$288 per session for 90 minutes. For
SweetestSins
readers, Angelface is offering S$98 for the first trial. Valid for one month till 11 April 2011.
Don't like the idea of going for facials alone? Fret not because Angelface has couple rooms where you can bring your Mom, sis, girlfriend or boyfriend along.
Special thanks to Mistical for the invitation.
I will be sharing on double cleansing and facial massage in one of my upcoming posts. So do stay tuned!
Love,
Patricia
You might also like:
♥
Atache Soft Derm Facial Therapy review
♥
Mordecai Skin Blemish Clearance Renewal Treatment review
♥
Phillip Wain Nano Facial review
♥
Origins Mega Bright Mini Facial review
♥
Kimia Life Cycle Facial review
♥
Face Refresh Treatment review
♥
Angelface Oxygenating Skin Therapy review