Day 1: Macau - The Venetian, Restaurante Vela Latina, Ruins of St. Paul's, New Yaohan and The Grand Canal Shoppes
Saturday, November 20, 2010
After the 3-hour flight from Singapore, we finally reached Macau airport at about 10am in the morning.
The first thing we did was to take a shuttle bus to our hotel to check-in.
I really like how magnificent The Venetian looked, especially when they have a lot of chandeliers which is my favourite!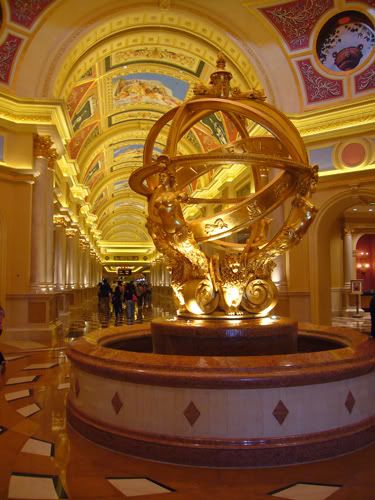 I like the high ceilings! Somehow it reminds me of Resort World Singapore. Lol



Check out the lovely mural!



They even had intricate sculptures on the ceilings.

A peek of the bathroom. Can I have the vanity table please?
Double queen-sized beds!
After unpacking and taking a short rest, we went down to the South wing of our hotel intending to take a cab down to Avenida de Almeida Ribeiro, Sao Lourenco.

While we were walking to the taxi stand, I took some scenic shots which I thought I would share with you lovelies.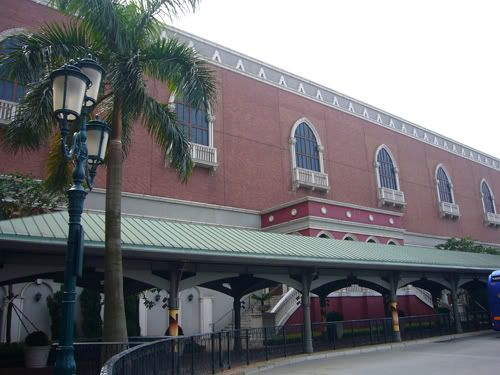 The hotel staffs were really friendly. Most of them could speak English. When I was enquiring about whether HK$ is accepted in Macau, the staff was like, "They would be happy to accept HK$". Apparently, the exchange rate is SGD$1:HK$6 and SGD$1:6.2MOP. No wonder they would be happy to receive HK$ instead.
And he told me that its really easy to get around Macau by either public bus, taxi or even the shuttle bus provided by various hotels. Most hotels have got shuttle bus to bring you to their hotel from various hotels as well as hotels and ferry terminals. By providing this convenience, they are actually encouraging you to visit their hotel's casino to gamble. A really well-thought out marketing strategy I would say.

And so, we took a taxi down to Restaurante Vela Latina. It took approximately 10 minutes to reach there.
The decór kinda reminds me of a restaurant setting which I saw from a Korean drama.
Interesting cutlery.
I know, this is what you guys have been waiting for!
FOOD PICTURES!

Sausage
Cod fish curry.

The bread is super fluffy yet crispy! And the fish is very fresh.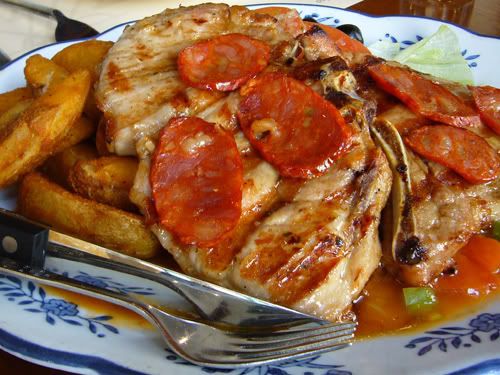 Pork Chop
Olive rice served in pineapple shell.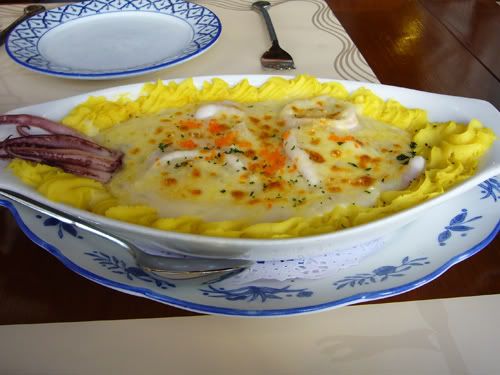 Squid in creamy sauce with mashed potato.
Crispy Chicken

They are really good, so crispy that I had quite a bit.
After lunch, we went for sightseeing and I took a lot of pictures.
Guess what is this building?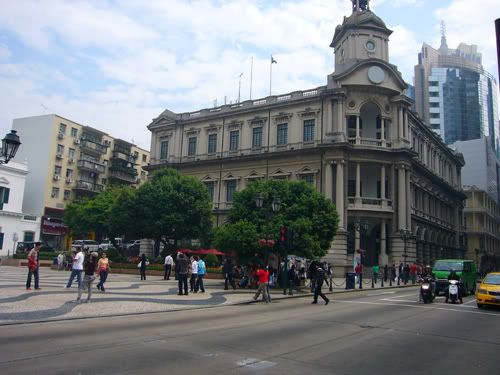 Macau General Post Office Building
If only post offices in Singapore look like that.
Random pictures which I took on the streets.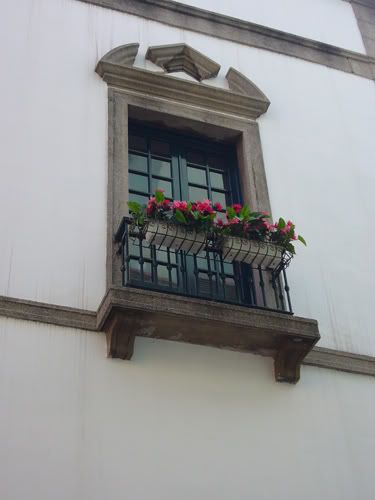 Pretty blooms.
Flowers make me happy! ♥

Next, we walked over to Largo do Senado street where I was overwhelmed by various colorful buildings. You know, I have a thing for pretty buildings and nice architecture. I even contemplated about taking a Diploma in Architecture back then when I was younger.
Guess what I spotted?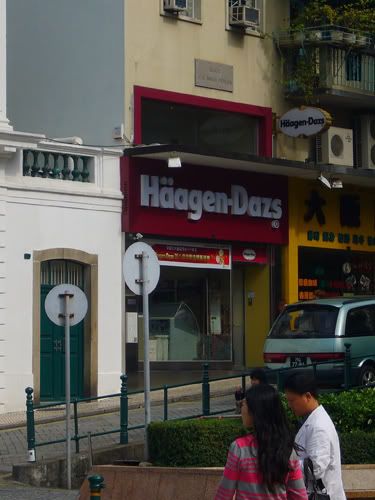 Häagen Dazs!
More pretty buildings.
Seriously, fanciful buildings can be found everywhere in Macau. But why aren't they found in Singapore instead? Sobs.
Roadside fruit stall.
Roadside Chestnut stall.

The lady selling chestnut is wearing boots!
Where else can you find such a hip chestnut lady?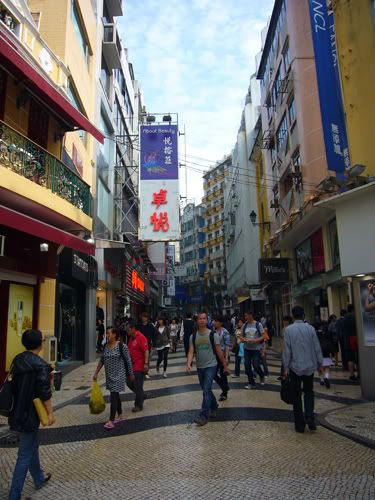 Beauty stores are found everywhere in Macau. I think I saw more than one Sasa and Bonjour while walking down the street. Its like when there is Sasa, there is a Bonjour nearby. Doesn't this remind you of maintaining and increasing market share as well as store convergence?
Apart from Sasa and Bonjour, I spotted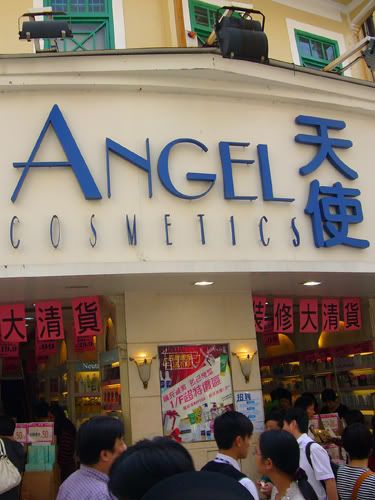 What is a must-have when you're in Macau?

Its bubble milk tea definitely!
The milk tea from Café E.s.kimo has got a strong, fragant taste to it and its really nice. I say, its worth the pushing and people cutting my queue. There's like more than 3 people cutting my queue. -.-" I don't know if its the locals or the PRCs, but they just pushed me away in order to cut my queue. The way which they squeeze and push people hard is really unsightly.

What? The NaRaYa in Macau has got 5-storeys?!
OMG OMG OMG!! That was my first reaction when I came across this store.
It is the stall that Ji Hoo brought Jan Di to in Boys over Flowers!
I had told myself that I must try and find this stall in Macau. But little have I expected that it is so easy to locate it.
Crispy, piping hot egg portuguese egg tarts.

Who's the glutton that stole one even before I could take a picture of it? (;


Taro Blended Ice.

The taro smell from it was really fragrant. I liked the fact that it ain't too sweet.
Sidetrack a little, but I think the monkey is super cute!
Other food stalls which I spotted and didn't try because I was too full to.
After walking so long, we finally reached Ruins of St. Paul's.
This has got to be my favourite picture of Ruin's of St. Paul's because I managed to capture it being enclosed in the circle. And I think it looks really artistic!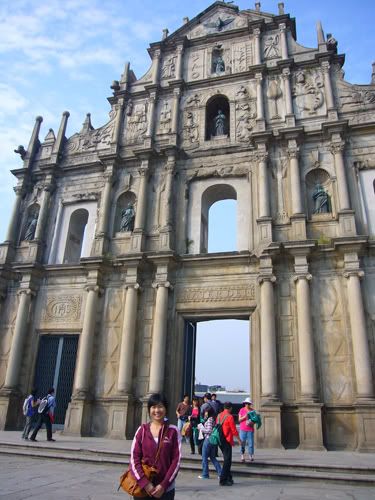 Okay, that's me.
Typical tourist shot.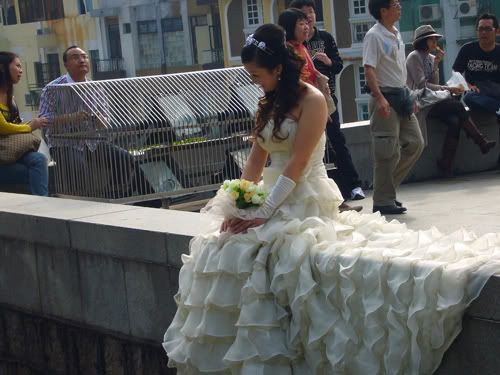 We saw a couple taking bridal shots!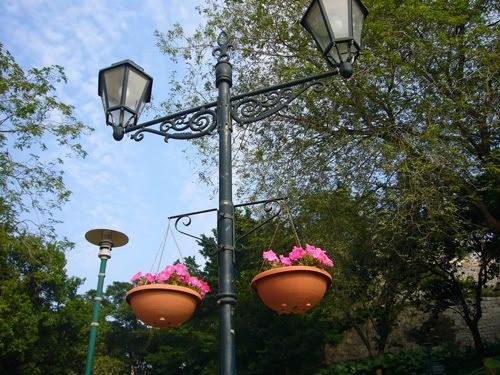 Doesn't the pots of flowers remind you of scale of justice?
If it doesn't, it means I have been reading up too much on law.
Next, we climbed up Monte Fort.
Cannon
More cannons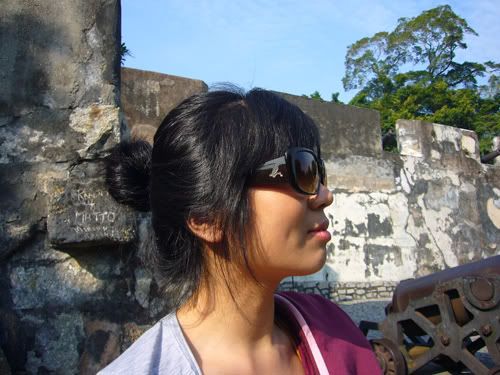 Tourist shot with the cannon.
Failed attempt at acting cool because I smiled.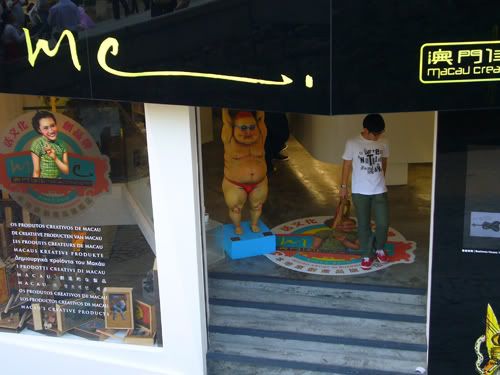 Interesting shop which I spotted. The guy in his undies totally crack me up
Koi Kei Bakery
Get your gifts for family/friends here. They are well-known for their Almond cakes which I love.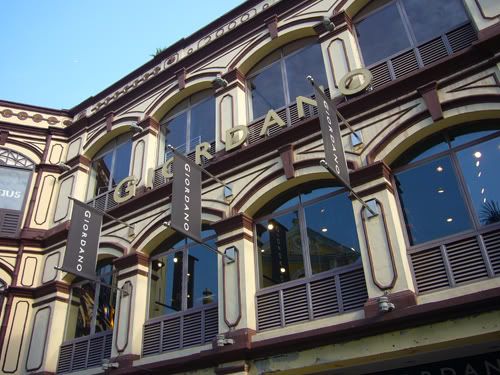 Their Giodarno provides a more upscale image compared to Singapore.
McDonald's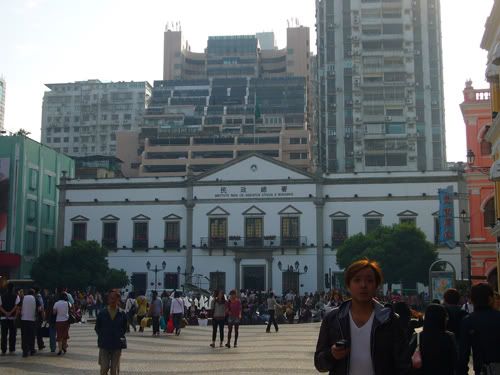 Its interesting how the European buildings in front blends with the Chinese-styled buildings at the back.
Spotted Lavshuca at Watsons.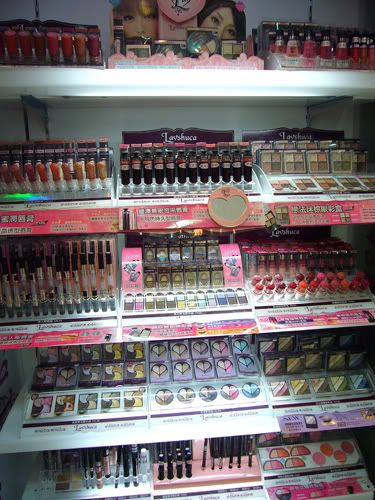 The pigmentation of the eyeshadow and blushers are quite sheer I would say. But the packaging is nice though.
We walked over to Yaohan and along which, we spotted this muscular gentleman. I have no idea who he is though.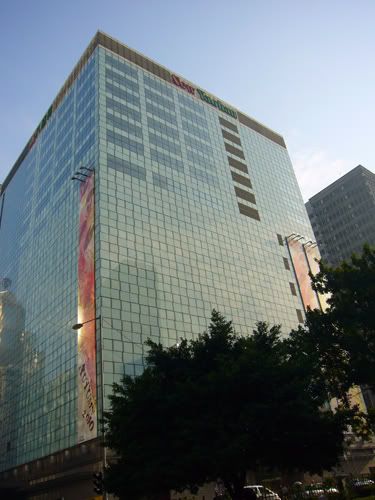 Finally reached New Yaohan. Mad excited because they have got Jill Stuart there.

The queue was insanely long because there was some sales going on. There were a lot of PRCs whom came specially for the deals.

My Jill Stuart Haul
At first, I only wanted to get Blush Blossom Limited edition 101 Sensual Dahlia which costs 300+MOP ( I can't remember the exact price). But since they had the Secret Tease Collection which costs MOP580, a mere MOP200+ more. So I got it anyway.
I wanted to get another Jill Stuart Blush Mix Blush Compact which I didn't in the end because I already have a blush in my Secret Tease Collection. Hence, I got a eyeshadow palette instead.
As there was a GWP of Jill Stuart body scrub and body milk with every MOP700 spent, excluding the purchase of Secret Tease Collection, I got a bottle of Jill Stuart Night Jewel too as I was captivated by the bottle and the scent. The bottle kinda reminds me of my Versace Bright Crystal perfume.
Got some takeaway and went back to our hotel to have them.
MUST TRY IN MACAU!

Pork chop buns
The pork chop is really tasty.
However, the bun is more like a baguette which is really tough on the teeth.
More food! My favourite curry fish balls (which is not spicy at all!),
takopachi (they're really generous with the fillings).
Look at how HUGE the grapes are!
After dinner, we went shopping at The Grand Canal Shoppes which is within our hotel, The Venetian itself. They have a lot of shops. You can find Clarins, Fancl House, Pull and Bear, Stradivarius, Adidas just to name a few.
Random pictures taken in The Grand Canal Shoppes for your viewing pleasure.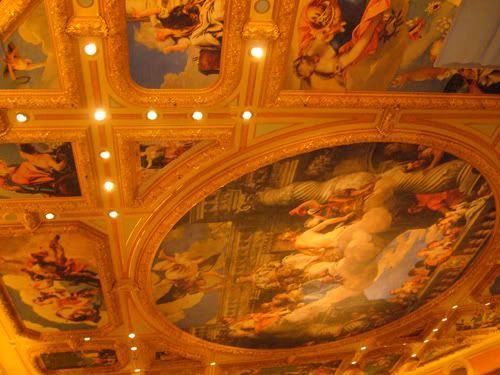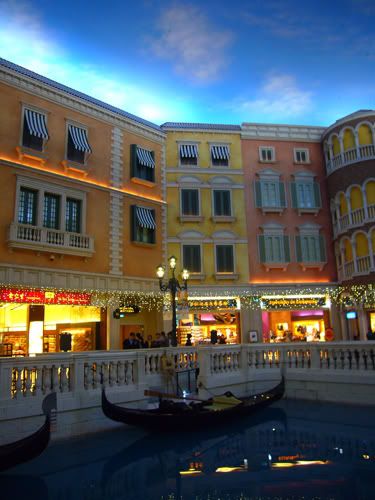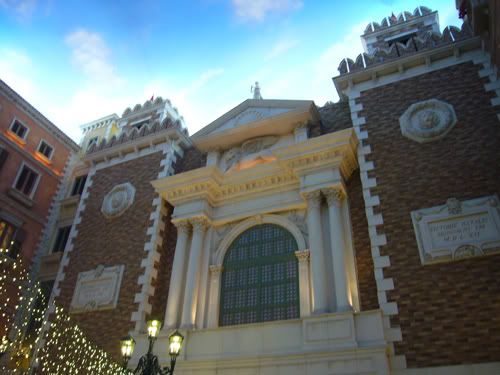 Notice how the 'skies' in the pictures seem to turn darker? There is a section where the sky is very bright, akin to the skies you see in the morning and another section where the sky is darker which resembles night time.

I almost got fooled into thinking that the 'skies' were real. I kept checking the time on my pocket watch necklace and it read 9.30pm and I was like, "Why is the sky so bright?" Turns out that its all man-made. The skies were painted on and with the clever manipulation of lighting, they make it look like the real thing.

After passing by several shops, I found Lush! Yays. I can't believe that I keep finding stores which I want to so easily even without deliberately looking for them.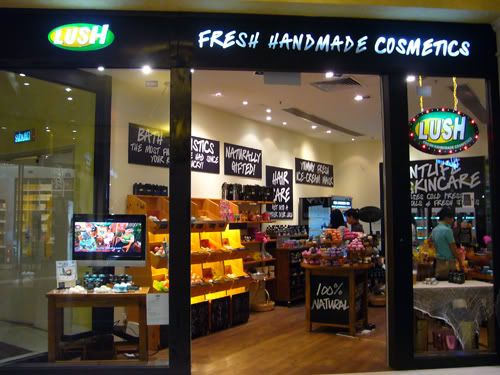 The lip scrubs and solid perfumes smelled so bad, or probably not so much to my liking. And they didn't have Snow Fairy either.

So I only got these 3 items.
Honey I washed the kids soap, Baby face cleanser and Mask of Magnamity
Thinking back, it was really funny how the retail associate tried his very much to converse to me in English. I was asking him where can I find Baby Face and Mask of Magnamity. Apparently, he doesn't understand me. It was like an exchange of ums and ohs. And in the end, I repeated a few times to him before he actually understood me.

No, it wasn't his fault because I don't think English is his first or second language. And the reason why we had such a hard time conversing is because I don't speak and understand Cantonese at all. Most Chinese speak Cantonese over there and most of the time when retail associates speaks to me in Cantonese, I would answer them politely, "I don't understand" in Chinese.

Anyway, back to the retail associate from Lush. The service rendered by him was superb even though we had a hard time conversing. He was polite and was in smiles all the time. He even gave me the catalogue and told me about the new products. Before I left, he said that he would be happy to serve me again. Awww... We need more retail associates like that in Singapore! What happened to the retail industry in Singapore? If people whom don't speak my language can leave such an impression on me, I don't see why people whom speak my language can't. HR &Training Department of various retail stores in Singapore, you ought to do something!

Last but not least, here I present two unique shops which caught my attention!
Kilara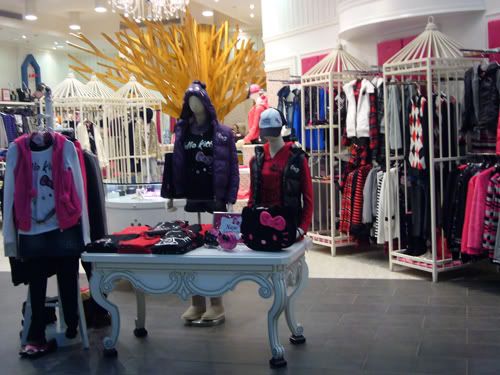 Kilara is a must-go shop for all Hello Kitty lovers.

Their merchandise includes apparel, accessories (scarves, bags), jewelry and shoes. I found a few design of their dresses and jackets which are similiar to those I own. Obviously, those that I own are not from Kilara.

Their range is really impressive. I like one of the bags and their jackets designs are really pretty and girly as well. But what caught my eye most is the Hello Kitty plush toy as shown in the window display. Apparently, its not for sale! >.-

I used to be a big fan of Hello Kitty when I was younger. And it kind of subdued when I got older. However, the moment I saw Kilara, it sparked off my interest in Hello Kitty again.


Chocoolate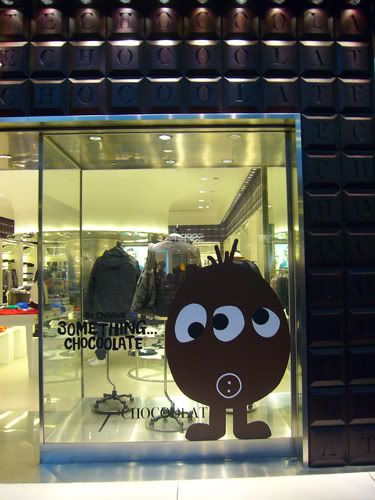 Don't we all just love themed-stores?

I was attracted to the store entrance which was made up of cubes of chocolate and I thought it was rather interesting. Their mascot/icon is very cute too.
Inside the store, they have merchandise such as tee-shirts, sweaters, jackets and pants which has got the mascot/icon printed on it.
Stores with prominent and eye-catching window displays never fail to attract my attention. What say you?
I certainly hope you enjoyed this post for I spent approximately 7 hours to edit/resize the pictures and write this post.
Till then.

Love,
Patricia
Check out my other posts:
♥ Day 2: Macau
♥ Day 3: Zhuhai (Gongbei)
♥ Day 4 and 5: Hong Kong