Cetaphil and Korean Beauty Samples
Friday, October 01, 2010
Hi lovelies, I realised that I seldom blog about items which I have received from companies to review. So here I am blogging about the items which I have received lately.

The first item would be Cetaphil Daily Advance Ultra Hydrating Lotion.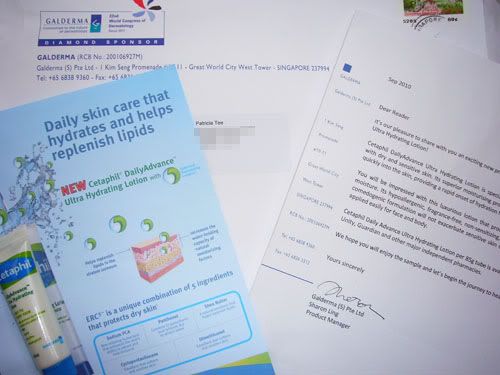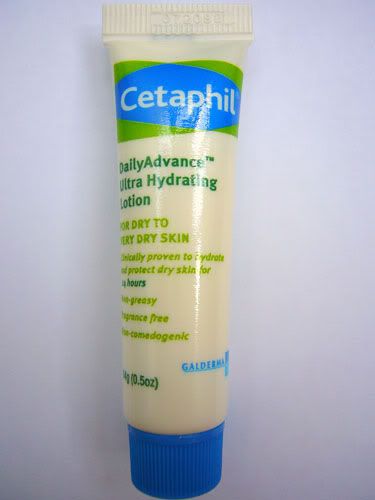 It is for dry skin to very dry skin. What I liked about this is that it is not greasy unlike certain moisturizers/lotions. I haven't tried it enough to give a comprehensive review but I must say that I quite like it because it doesn't feel heavy on the skin like some moisturizers/lotions do.
Oh, this is random but I just wanted to share. I don't know why but I just love buying body moisturizers/lotions even though I have so many which I haven't finish using yet. The scented ones from Victoria's Secret, L'occitane and The Body Shop are just so tempting!
---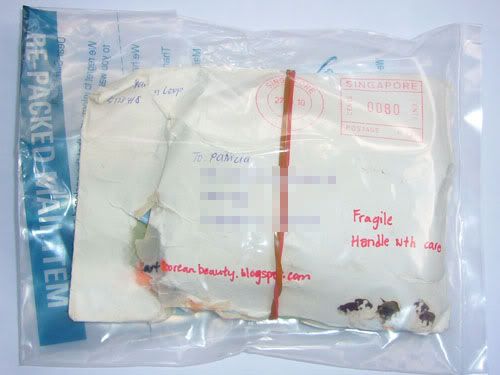 The owner, Zhen contacted me a while ago to ask if I was interested in reviewing some samples of Korean beauty brands like Innisfree, Holika Holika, Baviphat etc. And I thought why not since I love Korean brands so much. Some of the products which she brings in are from the newer Korean brands which are not available in Singapore yet.
And when Zhen said samples, I thought it would probably a satchet for each product. But when I received my package, I realised that I was wrong, for Zhen is so generous with her samples!
Just look at how much samples she provided me with!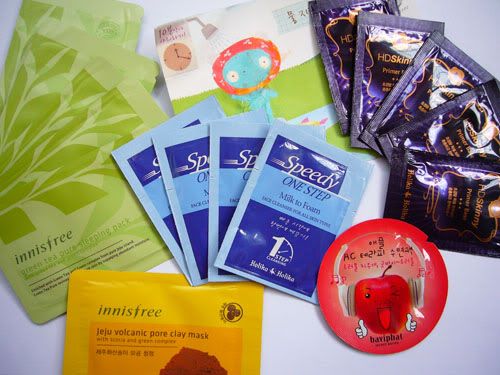 She gave me 5 samples of each product with the exception of the Innisfree Jeju Volcanic Pore Clay Mask and Baviphat Apple AC Therapy sleeping mask. At first, I thought that I could only make mini reviews since a sample doesn't come with much product for me to test if it works for me. But now, I think I am able to at least make a semi-comprehensive review on these products.
In case you were wondering why my package was sealed in plastic, it was due to the fact that my package was damaged during the process of delivery. The bottom of the envelope looked as if it was ripped open! At first, I suspected that maybe someone ripped the envelope open to look at the contents. However, I realised that its because one of the samples leaked. Trust Singpost to be so clumsy! This is the first time which I have encountered something like that.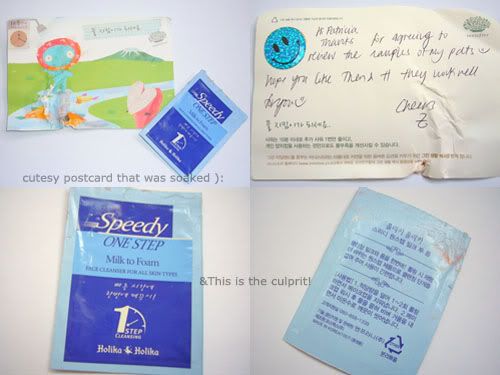 I have informed Zhen about it and she told me that she would normally bubblewrap the products before sending them out with this time being an exception because she ran out of it. So don't worry girls, rest assure that you will receive your products safely when you order from her. (:
I will be posting the reviews up as soon as I have tried them, so stay tuned!
Disclaimer: Products featured were provided by Galderma and iheartkoreanbeauty. All opinions expressed are my own, I am not affiliated to them, neither am I getting paid for this.