Collective Daiso Haul
Saturday, July 24, 2010
Imagine my delight when I saw a newly opened Daiso at Bukit Panjang Plaza. I was running some errands there and I caught a glimpse of its logo and I was like, "Daiso. Is that like Daiso?" I was very happy because I was running low on my make up sponge cleaner and I had intended to make my way down to the Plaza Singapura outlet. Now, why bother when I have a closer one to home?

Remember, I had only intended to get one item? But look at how many I walked away with. Blame it on impulse buying and the variety that they have! Well, look, I can explain. The like-gel top coat is somewhat similiar to the one that I had wanted to get from Ettusais and its like only one-tenth of its price? I didn't want to invest in the Ettusais one because I didn't know if it works and the tester they had over at the counter had dried up. So that explains why I got the like gel top coat immediately when I saw it. I have tried it and it gives my nails a very shiny finish! And, I needed cuticle oil because I have dry cuticles. As for the earrings, its cute and it looks very Korean. As a matter of fact, its made in Korea. The false bottom lashes were because.. it looked cute! And yours truly have been very much into bottom lashes lately. The ones which I got from Sasa previously werent that well to work with. In fact, it had too much volume.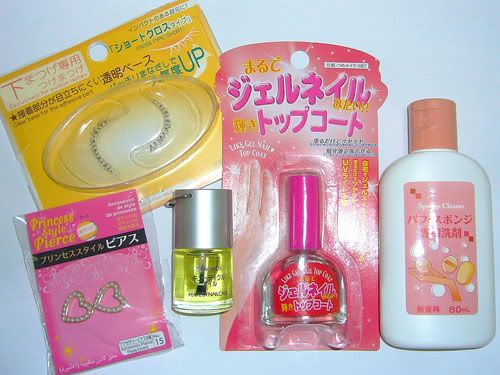 Bottom false lashes, Pearl Heart Studs, Cuticle Oil, Like Gel Top Coat & Sponge Cleaner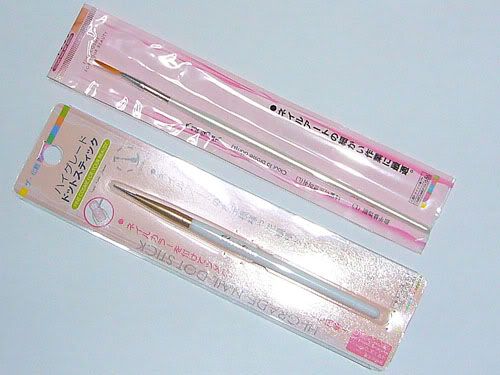 Nail Brush and Nail Dot Stick
Notice I mostly got nail products? I just love doing my nails. What say you?

Don't you girlies just love Daiso? I love Daiso!