Estee Lauder Companies' Breast Cancer Awareness Campaign Event
Wednesday, October 19, 2011
On October 1st, I graced Estée Lauder Companies' Breast Cancer Awareness (BCA) Campaign Event over at Singapore Flyer.
The hosts of the day were Hossan Leong and Sharon Au.
As expected, he included 'confirm? double confirm?' in his dialogue. Sharon Au is really beautiful in real life. She looked different compared to when she was still with Mediacorp.
Mrs Mary Tan, wife of President, Dr Tony Tan was the guest of honour for the event.
I must say that she looks really elegant. She even graced the event by wearing a pink blazer!
And then.. its time to illuminate Singapore Flyer!
3... 2.... 1!
And Singapore Flyer transformed into a radiant pink!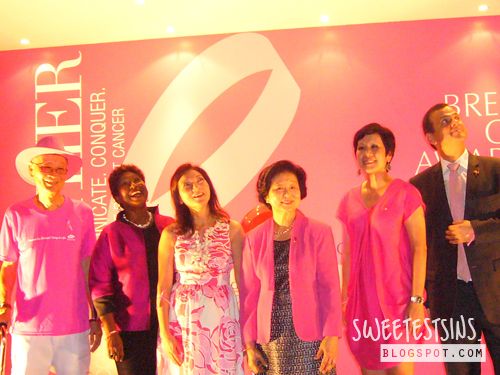 Everyone admiring the Singapore Flyer in Pink.
Following which, Mrs Mary Tan proceeded to write her pledge.
Here's Mrs Mary Tan's pledge.
Patricia says, "Yes, early detection indeed save lives, so we ought to do regular breast self examinations!"
Before we boarded the pod, Clinique's trainer of whom I forgot her name touched up a little for me.
She introduced me to Clinique's Chubby Stick which is somewhat in between a lipstick and a lipgloss. The color that she applied on me was - Watermelon which she followed up with gloss in the middle to make my lips look more 'youthful'.
Another item which she tried on me was Clinique's Cream Blusher. I have never tried anything from Clinique before apart from its 3-step skincare. The cream blusher was awesome, it had a powder finish after applying onto the cheeks! She said that I have got nice cheekbones so I ought to contour it by applying my blusher higher.
Here's a picture of me which I took at home because the lighting there didn't exactly show the makeup true to color.
And a close-up swatch of Clinique Chubby Stick in Watermelon.
I think that I might just get it anytime soon because it makes my lips look so luscious!
I realized that make-up artists love to complement my skintone with bright lip color. Joyce was like saying, "Oh Patricia, they applied a bright lip color for you again!"
As I experience oiliness on my T-zone and it happened that the Clinique trainer commented on it and she told me that I could use powder over it to mattify it, I took the chance to ask her if there were any ways to reduce the oilness on the T-zone. She said that its best to use a clay mask on the T-zone to combat that. True enough, I tried it as soon as I got back home and it did work! Well, at least my T-zone wasn't that oily as before but nonetheless, it still gets a bit oily after a while. Blame it on my skin! Arghs.
And then, we boarded the pod.
Isn't it pretty? The capsule was specially decorated for the event.
♥ those dangling strands of crystals!
During the 30-min ride, Dr Esther Chuwa gave us a presentation about Breast Cancer. She's really fun to talk to and she loves reading food blogs!
Bloggers snapping pictures away / hard at work.
Everyone paying attention to the presentation
Here's a couple of slides which I would like to highlight to you all.
BREAST CANCER AWARENESS FACT SHEET
1. Breast cancer is the most common cancer among women in Singapore. 1 in 17 women develops breast cancer in her lifetime. The risk of developing breast cancer increases with age. Breast cancer affects all women, it is the most prevalent in women age 50 years to 59 years in Singapore
2. The chance of a Singapore woman developing breast cancer in her lifetime is about 5%
3. According to the World Health Organization, in 2008 breast cancer was cited as one of the top five causes for cancer-related deaths worldwide. The organization estimated that out of approximately 7.6 million deaths, 460,000 were caused by breast cancer.
4.Breast Cancer is the most common cancer both in developed and developing global regions with around 690,000 new cases estimated in each region.
5. Women age 40-49 should have a screening mammogram on a yearly basis to detect any lump or changes in the breasts. For 50 and older women, they should go for screening once every two weeks. Early detection through regular mammograms saves lives.
6. Some of the causes for breast cancer are: gender; age; hereditary; hormones; diet; lack
of physical activity and alcohol.
7. About 5-10% of breast cancers are inherited.
8. Undertaking 150 minutes a week of moderate physical activity can reduce the risk of breast and colon cancers, according to the new Global Recommendations on Physical
Activity for Health released by WHO today on World Cancer Day.
9. 1% of all people who are diagnosed with breast cancer are men, and countless men are
impacted through the diagnosis of a loved one.
10. Breast cancer is the most common cancer in Singapore women and about 1300 women are diagnosed with the cancer annually.
11. Breast cancer is the leading cancer in females with an age-standardised incidence of 56.2.
12. "Compared to the West, Asian women are on the average 10 years younger when they are diagnosed with breast cancer. In addition, we also see a greater proportion of breast cancers in the below 40 age group, which comprised of 12-15% of all breast cancers treated at KKH Breast Department. There are also studies done elsewhere in Asia that suggest this trend. In the West, only about 5% of all breast cancers lie in this age group," said Dr Esther Chuwa, Consultant Breast Surgeon, Breast Unit, KK Women's and Children's Hospital.
Dr Esther Chuwa also taught us how to perform breast self examination. I figured that it would be hard to convey that with photos or text so I took a video while she explains how.