My Minx Experience at Vedure @ MBS Robinsons
Tuesday, July 26, 2011
Last Thursday, I made a trip down to Marina Bay Sands to experience Minx nails myself first hand over at Vedure that is located in Robinsons. Yes you heard it right! Robinsons Marina Bay Sands is now open!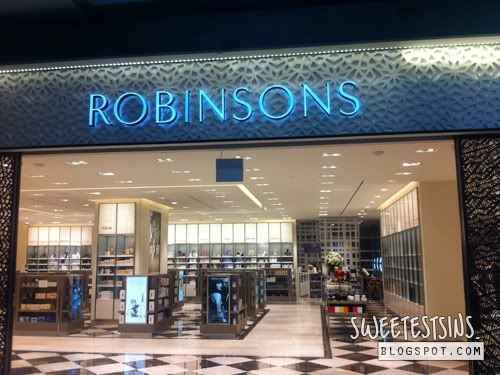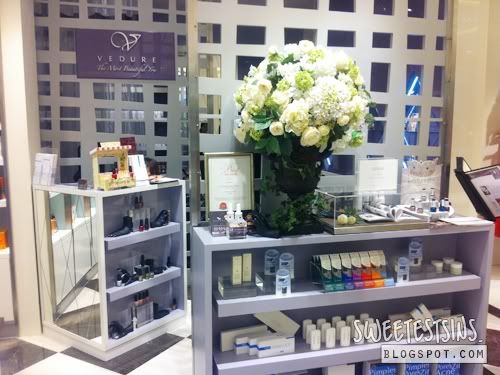 I was so excited when Gidania contacted me to get Minx-ed because I have read and heard so much about how popular Minx nails is with Hollywood celebrities such as Beyoncé, Lady Gaga, Katy Perry, Kim Kardashian and Paris Hilton.
I was so lucky to have 2 manicurists, Si Han and Ani to attend to me at the same time! They started by removing my cuticles, followed by shaping my nails.
I was overwhelmed by the amount of Minx designs that I could choose from! But I finally settled for - Minx Metallic Snake with the help of Si Han. I had wanted a houndstooth design initially but both of them told me to try something more daring that can't be achieve with normal nail art.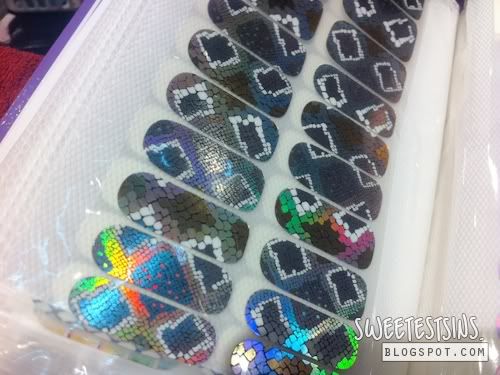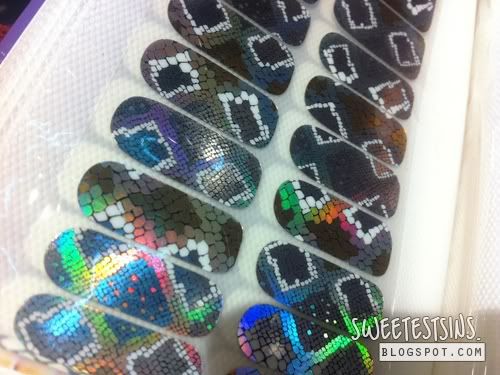 Don't you all think that it looks so holographic? It reminds me so much of the outside of a kaleidoscope!
Before I start to elaborate more on the process of getting Minx-ed, here's a little insight on Minx nails
What is Minx?
Sparkly metallics, personalized graphics and photo-quality designs make up the Minx nail line.
Made of flexible film, Minx finally gives women completely customised nails that can feature the exact pattern and colours of their newest gown, their favorite photo, or this season's hottest designs and lasts for up to 3 weeks.
As Minx is not a liquid and no hazardous chemicals are used in its application, manicurists can easily apply it to clients. Minx does not require any drying time, nor are there any fumes, spills, smudging or chipping.
After shaping my nails, its time to get Minx-ed!
First, the manicurist has to peel the Minx (it has an adhesive backing) off and heat it up using the lamp that you see in the picture.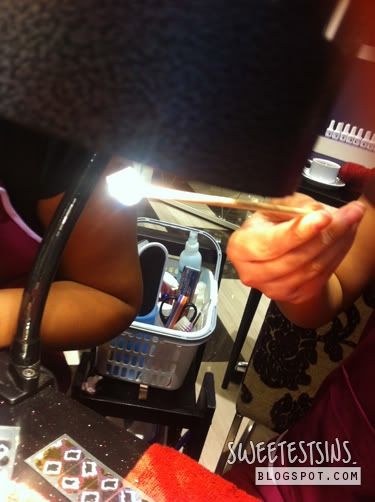 Then, the manicurist will fit it on your nails. This is a tricky process though as one of my manicurist attempted twice or thrice for two of my nails before it fits nicely. After which, the manicurist will file off the excess.
I apologise for the lack of photos because both manicurists were doing my nails at the same time, that's why I couldn't take much photos.
And this is the final outcome, My Minx nails!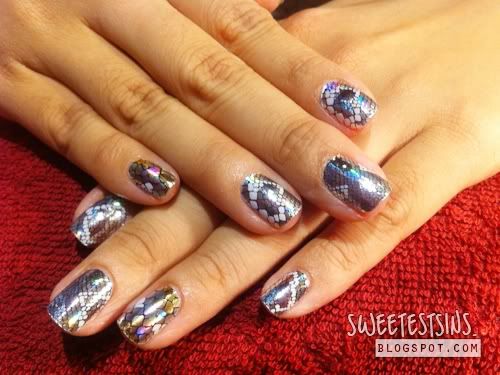 Love it? Hate it? Tell me what do you think!
Personally, I think its rather unique and so Lady GaGa! My manicurist, Ani was like, "And now you can go clubbing and go like, hey look at my nails!" While I think that it is a little too loud for school or work but I think it is a new approach that you could go for before the next party, annual dinner or any other special events that you are gonna attend. And trust me, it will definitely be a conversational starter, with both women and men. Why do I say that? Because within minutes of posting my Minx nails on both Twitter and Facebook, both my guy and girlfriends were going gaga over them. They were like wow, what is that, where did you do that?
It was real quick getting Minx-ed. It only took about 45 minutes? Hence, I decided to walk around Marina Bay Sands since it is not everyday that I am there. And, you know what? I never fail to get lost there because it is so big!
The
first time
when I was over at Marina Bay Sands, the gondola rides (or rather sampan rides which they call it in Singapore) weren't open yet. So imagine my delight when I saw these gondolas around Marina Bay Sands while strolling around. It reminds me so much of
The Venetian
! Ah, I miss Macau so much!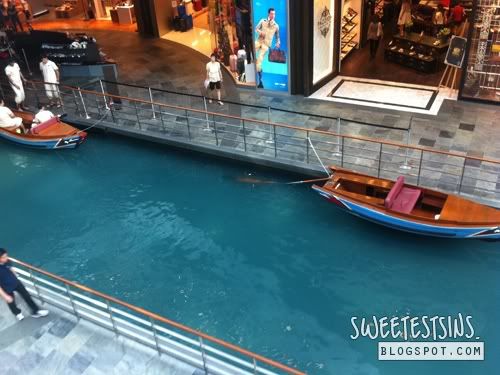 Don't you think that the blueness of the water depicts a sense of tranquility? Just staring at it would make my world stop for a while. Like I always say, it is always good to stop or slow down at times to have some alone time to take a stroll slowly and ponder or do things that you never had a chance to. Trust me, we do need to slow down amidst our hectic lifestyle - just to breathe a little. And you are bound to feel so much better after that!
For me, I love to pamper myself by starting the day with a cup of floral tea and end the day with aromatherapy and shower with lavender shower gel to relax and calm my nerves after a long day.
I really like Marina Bay Sands, even more after the sampan rides are open. So, how could I not take a few more pictures as keepsakes and to share with you all?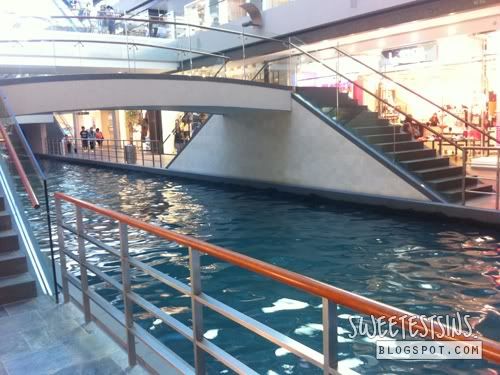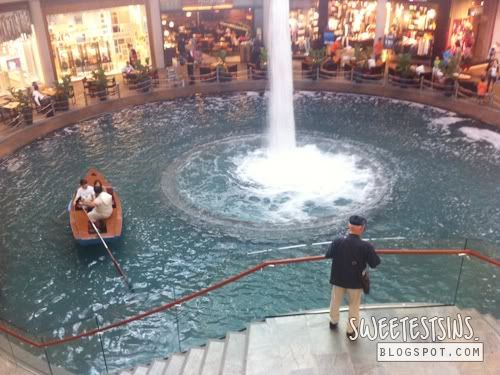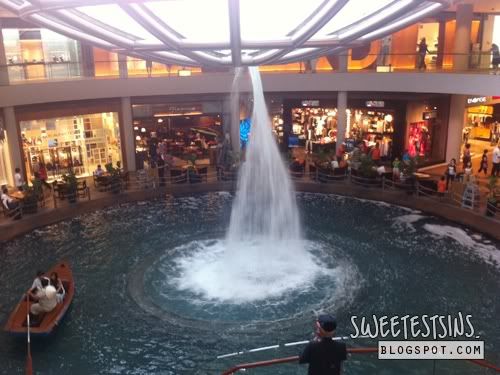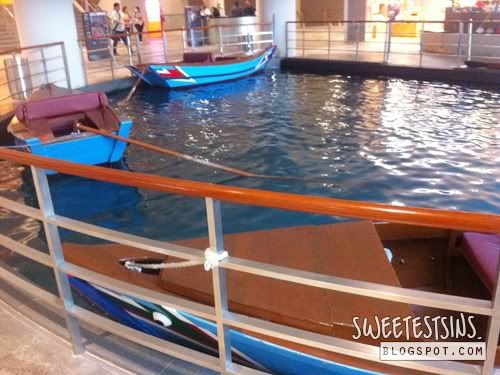 You know, I really felt like I wasn't in Singapore when I was over at Marina Bay Sands. I felt as though as I was in a foreign country.
I went into Chanel wanting to get a new liquid foundation because my Fancl one is running out. You must be wondering why do I need liquid foundation when I use BB cream on a daily basis. Well, although I use BB cream on a daily basis, but at times when I need to go out at night or attend special events, I would prefer to use liquid foundation as it lasts longer and provides more coverage.
Oh, and guess what? I walked out of Chanel with a new makeup base, liquid foundation and loose powder. You must be thinking that I must be out of my mind! Well, I think it would last me for a long time so I think its gonna be a good investment. I will be posting my Chanel makeup haul sometime soon and sharing tips on how to conceal spots without using concealer!
Before I go, I just want to share two pictures of my Minx nails taken with iPhone apps.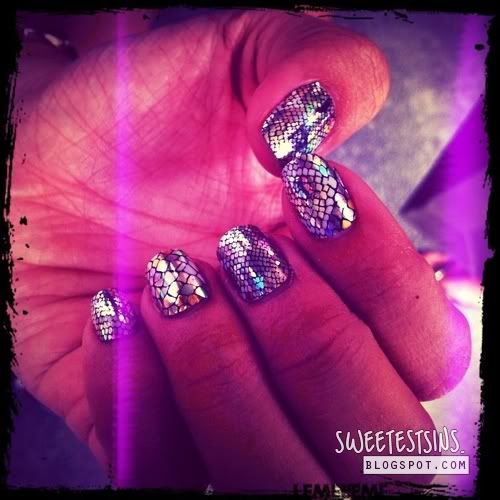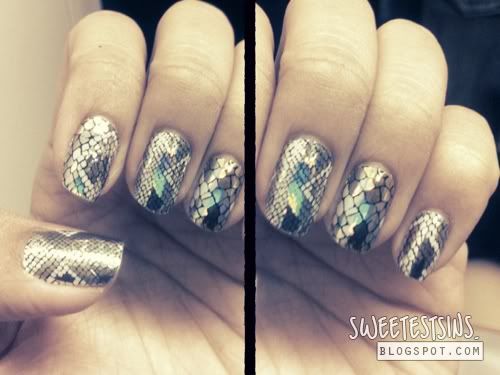 Before I forget, classic manicures are available at Vedure from $35 onwards, nail art designs cost $5 for each nail and Minx is available from $80 for a set of hands onwards.
Vedure @ Marina Bay Sands Robinsons
2 Bayfront Avenue
The Shoppes at Marina Bay Sands
#B2-09 Robinsons
Singapore 018972
Thank you Gidania for the invitation to try out Minx nails! I'm lovin' it!
Love,
Patricia