Lemons from Biore?!
Sunday, May 15, 2011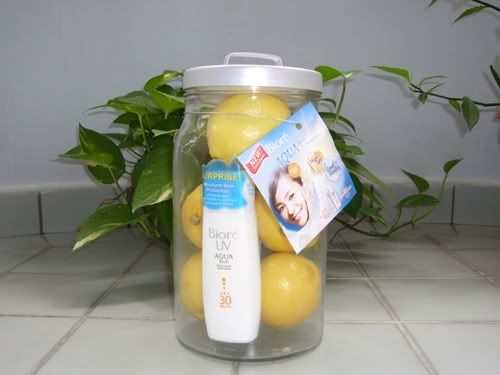 This would probably not be new to you if you have been following my tweets.

Sometime last week, I received a package from Biore. When the courier guy handed me the package, I was rather taken aback at how heavy it was and that triggered me to find out what exactly is inside immediately.

When I opened the package, I was so surprised to see a jar containing lemons. That being the fact that from certain angles, you couldn't see anything except for the lemons. It was only when I turned the jar then I found out that the focal point was actually - Biore Aqua Rich UV sunscreens, Aqua Rich UV Face Mousse SPF 50+ PA+++ and Aqua Rich UV Gel SPF 30 PA+++.

I must say that Biore did it again with the unique and attractive way of presenting it. The other time when they sent me a press kit for Biore Hydra Clear Makeup Remover, Cleansing Oil Cotton Facial Sheets and Makeup Remover for Eye & Lip, a lot of readers were too impressed by it and some of them even asked me where they could get the first aid kit!
While I haven't tried these new Biore sunscreens yet, I'm pretty sure that they won't fail me or rather that they would be as good as Biore UV Moist Face milk that I got sometime earlier this year which I love a lot.
I will be reviewing them once I have tried them out.

Thank you Biore Singapore for sending me these new sunscreens. ◕‿◕