Mandom: Barrier Repair Facial Mask
Sunday, May 15, 2011
I don't deny that I have been on a mask frenzy lately. I have been checking out various facial masks available at drugstores lately and one of that caught my eye was Barrier Repair Facial Mask HA because the baby looks so cute!
You know, its so hard to make a choice between skincare and makeup. Its almost like a cycle. At times, I'm more into makeup and at other times I'm more into skincare. You would have probably guessed it right, I'm more into skincare currently. And facial masks to be exact.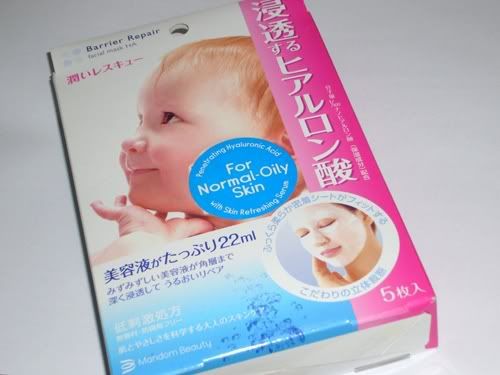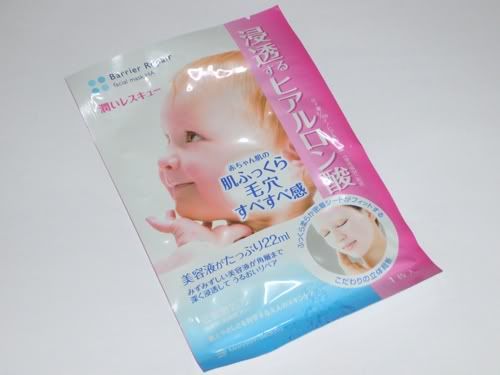 There are 2 different types of Barrier Repair Facial Mask available, one for dry-normal skin and the other for normal to oily skin. I got the latter as I have combination skin. I got this from Watsons at a promotional price of $15.90 (U.P$18.90). They also had single trial masks available for sale at $2 each but the single trial piece was totally out of stock while I was there.
Each box contains 5 pieces of facial mask. If you were to do the maths, its approximately $3 per facial mask and it has got to be one of the more expensive facial mask that I have ever purchased excluding the price of The Face Shop facial masks in Singapore.
My thoughts:
When I tore the pack of facial mask, I saw that there were some excess serum in the mask package upon removal. You girls might ask, what to do with the excess serum? I usually pat it on top of the mask around my cheek area as my cheeks are prone to dryness or on my neck to moisturize it. Moisturizing your neck is very important if you don't want wrinkles on your neck to show that early!
While placing the mask onto my face, I felt that the width of the nose area didn't fit properly. It was a little small. I seem to have the same problem with other facial mask as well. Probably its because I have a huge nose. ):
Apart from that, I like the fact that certain parts of the mask could be tore to make the mask fit better. The facial mask smells like soy bean to me. It was quite gentle and I did not experience any tingling sensation.
After using the mask, I did not see any visible difference except that it did moisturize my face well. But the next day when I woke up, my skin felt softer and it looks more 'plump'.
Rating: 4/5
Repurchase: Yes if there is promotion going on.

I hope you girls like this post.

Love,
Patricia