Dermalogica: Daily Mircofoliant
Friday, April 08, 2011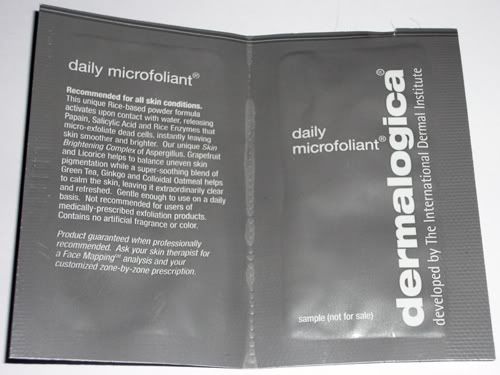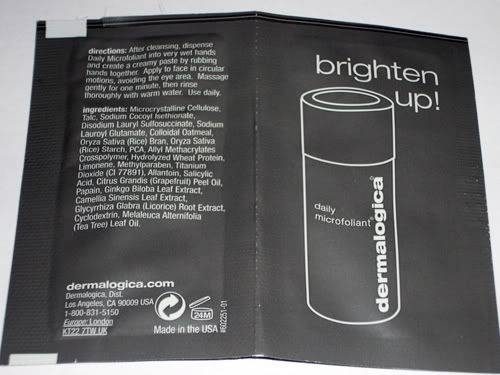 I don't usually post reviews on samples because I feel that it is rather hard to judge a sample's effectiveness with just 2-3 uses. However, I must say that Dermalogica Daily Mircofoliant really did impressed me. I first discovered this product during one of my recent facial. I liked how it felt on my skin when my therapist used it on my face. It was gentle and yet it brightens up my skin. After the facial, she gave me two sample satchets of it.
A little insight for you girls whom are unfamiliar with the product.
What is it:
This unique Rice-based enzyme powder microfoliates dulling debris and instantly leaves skin noticeably smoother and brighter. Contains no artificial fragrance or color.
How to use:
This is how the daily microfoliant looks like. Its in a powdery form.
Dispense about a half-teaspoon of Daily Microfoliant® into very wet hands and create a creamy paste by rubbing hands together.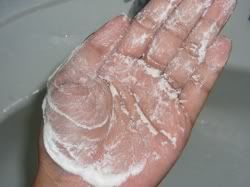 Apply to face in circular motions, avoiding the eye area. Massage gently for one minute, then rinse thoroughly.
My thoughts:
I love how clean my face looks and how my skin would glow after using this product. I also like how tiny the scrub bits are so that it won't feel too harsh on my skin. However, upon the second time using this product, my face start to sting. It lasted for about 5-10 minutes before it went away. I experience no bumps and no redness though.
I was pretty alarmed at how a potential HG of mine would suddenly act up on me, hence I asked my Aunt whom worked as a beautican before and her ex-company uses Dermalogica products. She told me that the daily microfoliant is best used when applied directly after wetting your face instead of foaming it on wet hands. My cousin whom have sensitive skin use the daily mircofoliant on top of the ultracalming cleanser. Meaning, she first wet her face and apply a layer of ultracalming cleanser before she apply the daily microfoliant. Perhaps I should try that out because the therapist did recommend the ultracalming cleanser for my combination skin type previously as well.
Will I purchase the full-size?
Yes I will still purchase the full-size, definitely because I now know the right way of using it. You know, most of the time there really isn't a bad product but the incorrect way of using it instead. I would get it if I manage to find a good deal. So far, it seems that DS has the best deal. Do let me know if any of you know where to get Dermalogica products at more affordable prices. Thanks. Hope you like this post.
Love,
Patricia