Boots No7 Protect & Perfect Intense Eye Cream, Beauty Serum and Night Cream
Monday, December 13, 2010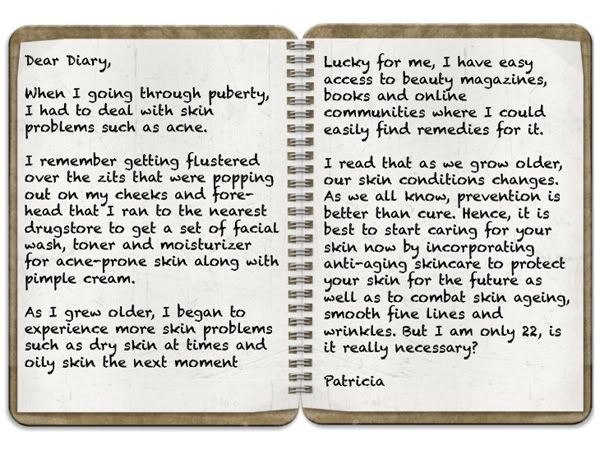 One can never be too early in using anti-aging skincare. In fact, you should start to incorporate anti-aging products into your skincare regimen by the time you are in your 20s. You might question, "But I do not have any wrinkles or fine lines, why bother?" Well, it is important to take these measures because when you care for your skin now, you will be assured of healthy skin even as you grow older. Remember - it is impossible for you to beat wrinkles once they are formed but you can keep them from forming by using anti-aging products.
For a start, you might want to start with anti-aging moisturizer or eye cream.
Anti-aging tips
1) Most anti-aging products are formulated for mature skin which might be too heavy for younger women with active oil glands. Hence, it is important that you select oil-free moisturizers, gels and serums.
2) Wear sunscreen everyday. It is the best anti-aging product.
3) Nourish your skin with serum to protect it from stress and environment.
4) Apply eye cream or gel every morning and night. This is because the skin around the eyes is extremely delicate and it needs extra moisturizing. Failure of which would result in fine lines which shows signs of aging.
5) Moisturize your face every day to maintain the elasticity of your skin.
6) Use anti-wrinkle creams at the first signs of wrinkles.
Anti-aging food
♥ Fish (Tuna, Mackerel and Salmon)
♥ Flaxseed
♥ Almond
These items contain omega-3 fatty acids which offer natural anti-aging benefits by keep the skin firm and supple.
Antioxidant food
♥ Blueberries
It is rich in Vitamic C which helps to retards the aging process.
In case you are wondering why am I sharing about anti-aging skincare, it is because I have with me a few best selling products from Boots - No7 Protect & Perfect Intense range which comprises of Night Cream, Beauty Serum and Eye Cream which I am going to share with you girls today. The whole range is hypo-allergenic.
For those of you whom are unfamiliar with Boots, it is UK's leading pharmacy-led health and beauty retailer.
3 Key aims of No7 Protect & Pefect Intense Range:
♥ To protect your skin from the most damaging effects of the sun. The blend of SPF 15 and UVA5 in the products will give you the highest protection available in any beauty product.
♥ To protect your skin from damage caused by the environment.
♥ To reduce the appearance of deep lines and wrinkles and to visibly firm the skin.
No7 Protect & Perfect Intense Eye Cream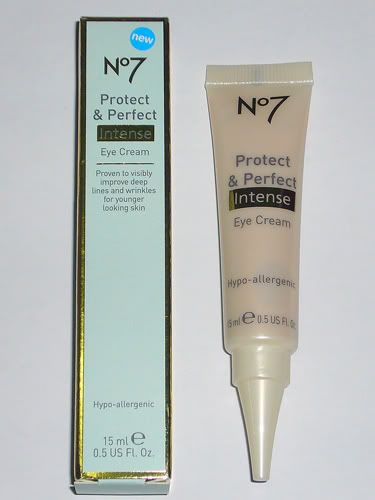 As mentioned in one of my recent
post
, I can't use eye creams due to the tendency of syringoma occuring. However, I was surprised on how light No7 Protect & Perfect Intense Eye Cream felt when applied. It did not feel greasy or heavy like other eye creams which I have tried before and it even had a slight scent which was just right, not too overbearing or artificial unlike certain skincare products out there. Hence, after being convinced that I could use eye cream afterall, I continued to use this for about 2 weeks and I noticed that my eye bags looked less puffy.
No7 Protect & Perfect Intense Beauty Serum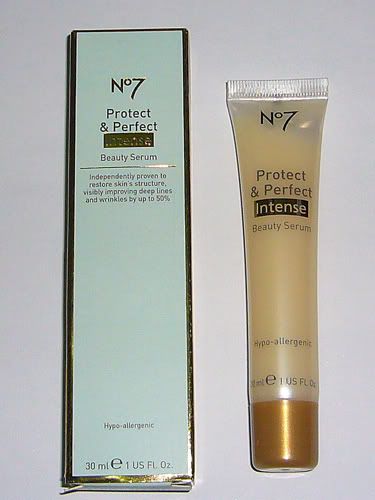 Of the whole range, the beauty serum has got to be my favourite product. I have never used any serums prior to this and I must admit that I was curious about what a serum could do for my skin.

While I do not have any wrinkles to fight at the moment, I do like how applying this beauty serum before makeup application as it allows my makeup to glide on effortlessly and at the same time, provide a smoother finish.
Apart from that, this beauty serum kept my face well-moisturized and I noticed that my complexion looked clearer and brighter.
At this point you might be wondering if it is really necessary to incorporate beauty serum into your skincare regimen. Well, Patricia says it is if you want to spend lesser time in the morning to prep your skin for base makeup. Normally, I would cleanse, tone, moisturize, apply sunscreen, primer , BB cream and set with pressed powder which comprises of 7 steps. With the beauty serum, I can skip the moisturizer and primer. Instead, I would cleanse, tone, apply beauty serum, sunscreen, BB cream and set with pressed powder and I can move on quickly to point make up. Tell me what's not to like about this serum?
No7 Protect & Perfect Intense Night Cream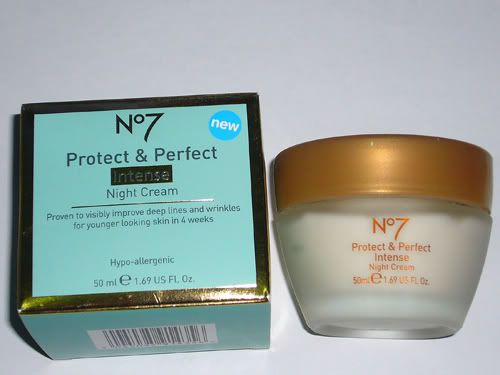 To say the truth, I have never used any night cream prior to this. The difference between a day cream and a night cream is such that a day cream contains lower level of oil and SPF while a night cream is usually richer so that it 'repairs' your skin when you are sleeping at night.
Like the other two products above, No7 Protect & Perfect Intense Night Cream does not feel greasy and has a slight botanical smell. I usually apply it after I applied beauty serum, all the way down to my neck. You know what girls? You must not neglect your neck as it is prone to wrinkles which shows signs of aging! I like how this cream isn't sticky like how some products are.
Just to recap, the steps in using this range of skincare are as follow:

1) Apply eye cream
2) Apply beauty serum
3) Apply night cream
I bet you are tempted to get No7 Protect & Perfect Intense range after reading my post right? If yes, count yourself lucky because you can now shop for No7 products at the convenience of your home or office at
Boots Asia
and have it delivered to you.
That's all for today. Stay tuned for more exciting posts!
Love,
Patricia
Disclaimer: Products were given to me for review purposes. All the above-mentioned are my honest opinion.