Beautymap October 2010
Friday, November 05, 2010
Hi lovelies, I received the October 2010 issue of Beautymap recently and I found some beauty tips which are rather interesting so I thought I would share it with you girls since it would be beneficial to gain a beauty tip or two.
Beauty Tips

1) Using baby shampoo to remove eye makeup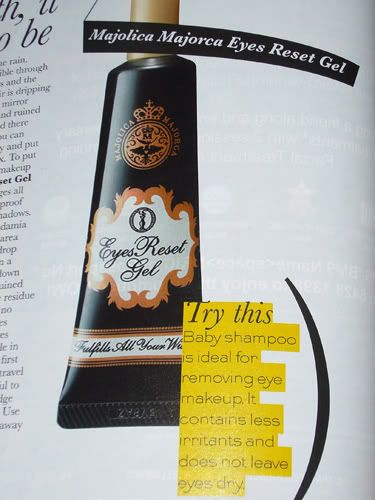 Baby shampoo is non-irritant (think Johnson's baby shampoo), it can also be used to deep clean make up brushes.

Its definitely a good substitute if you run out of eye makeup remover and do not have enough time to run to the nearest store to stock up. Other alternatives includes baby oil and olive oil. I remember using olive oil to remove my full face makeup and it left my face well-moisturized even after I washed and rinsed it off with my facial cleanser. No moisturizer needed! However, people with oily-skin should stay away from all kinds of oil-based makeup remover as it will clog your pores. Use a cleansing milk or gel or water instead.
2) How to keep lipstick stains off your cup

I don't know about you, but I have had several embarrassing moments where my lipstick stained the glasses or cups or even straws. I mean, its bad enough that the glass or cup is stained with my lipstick. Not to mention that it means that I have to reapply my lipstick because the color came off.

Now, I need not worry so much, perhaps just the part about having to lick my lips discreetly so that I don't get caught in the act!
3) Choosing the correct make up brush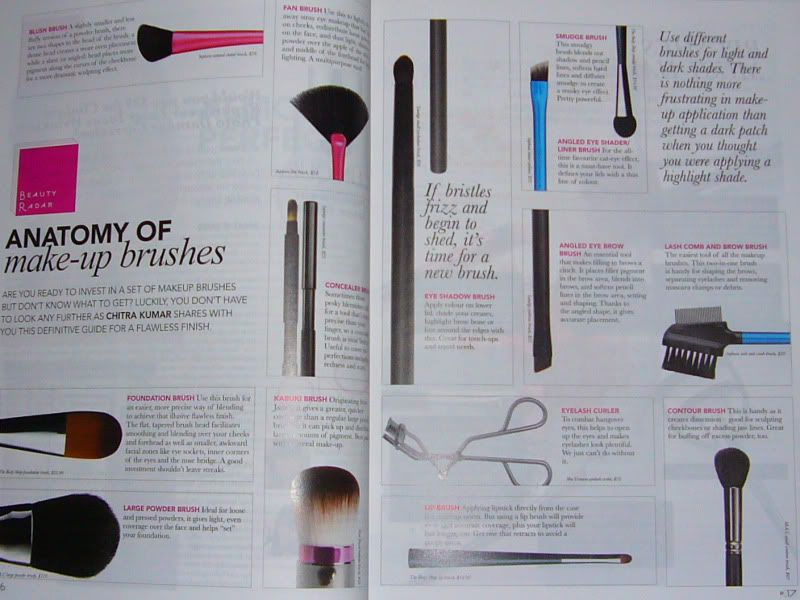 Click to enlarge
When I chanced upon this, I was really excited as this has got to be one of the most requested post - how to choose makeup brushes. While I haven't exactly put together a post on makeup brushes, I thought that this article provides a rather comprehensive view on brushes hence I decided to put this up.
I remember that my first set of make up brushes was from Crobi and I got it from Sasa. I got it because it was featured in Cleo. I didn't know much about make up back then, much less about brushes. While the brushes weren't that bad, I only used the powder and blush brush. Perhaps, occasionally, the eyeshadow brush.
One of the biggest mistake which I made was to wash my brush using only water. I remember throwing some of the brushes away because I thought that they weren't clean as I am quite particular about how clean and sanitized especially for items that comes into contact with my face.
4) Cleaning and Storing brushes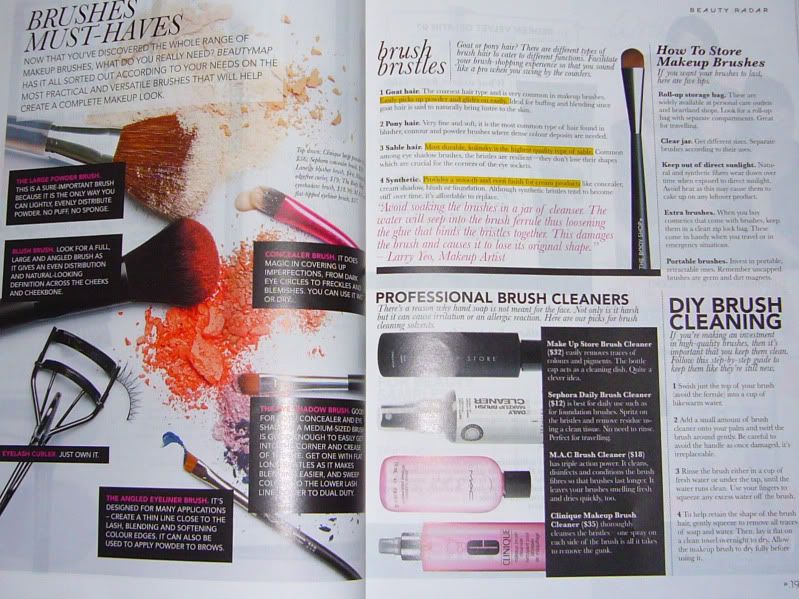 Click to enlarge
I use Mac Brush Cleaner (as featured above) to clean my make up brushes.

It is important to wash your make up brushes once a week or at least every fornightly to get rid of the excess product 'trapped' in it as well as for hygiene purposes.
Here is a screenshot of how I store my make up brushes from one of my video tutorials on how to clean make up brushes.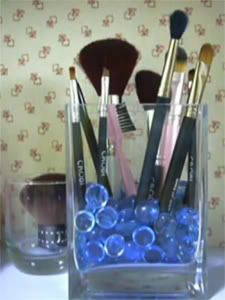 Basically, I store them in a vase and pebbles which got from Ikea. The kabuki brush is too short to be placed in the vase hence I store it in a separate glass cup. My brush collection has grown though. I will show you guys my entire brush collection in a separate post, probably in the same post which I will share tips on how to choose the right brush and what can different brushes be used for.
Picture tutorial: How to apply eye liner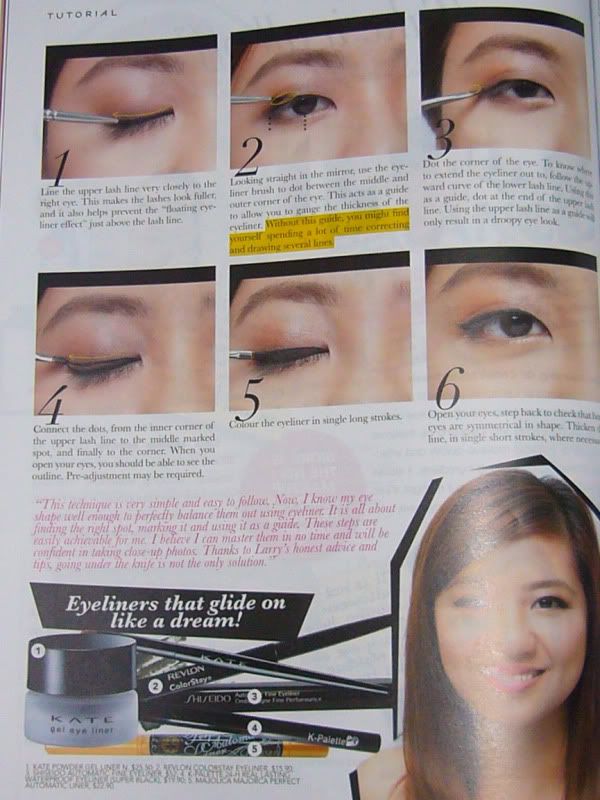 Click to enlarge
One of the biggest mistake is most girls tend to draw lines which are too thick.
While Avril Lavigne can carry off the black eyeliner rockstar look, do bear in mind that not everyone can.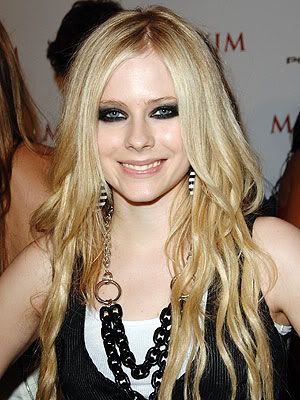 Hence, applying a thin line (as shown in the picture below) would suffice.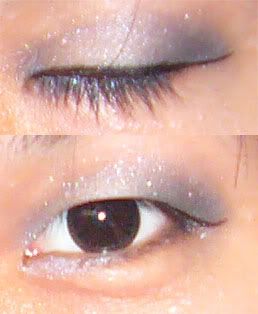 In fact, nowadays I mostly tightline my eyes to obtain the fuller-looking lashes and bigger eyes look.

Types of eyeliners which I recommend:

Gel liner - Kate Gel Liner (Its featured in Beautymap as above)
Pencil liner - MAC Powerpoint Eye Pencil in Engraved
Liquid liner - Maybelline Impact Express Smooth Felt Liner
If you can, try to get dark grey or dark brown eye liner instead of black as black can be rather harsh-looking during daytime. My Kate Gel Liner BR-1 is a dark brown with slight shimmer which is really pretty.

I hope you girls liked this post.
What do you think of magazine scans posts like this coupled with my views? Do you like it or do you hate it? Let me know either via Formspring or my Cbox so I can tailor my future posts more to your liking. (:
Love,
Patricia