Top 3 must watch K-drama in 2013
Friday, February 15, 2013
Besides beauty blogging and reading, I love watching dramas (Korean ones to be exact)!
I can't remember exactly when I got into Korean dramas but I believe it was when I was about 16 or so? The first one that I got really into was - Full House starred by Rain and Song Hye Kyo.
In the past, when we want to watch any dramas, we would have to purchase the entire set of VCDs (back then DVDs didn't exist yet). Thanks to technology that we have got smartphones and some wonderful apps like Funshion, PPTV and PPS that allows us to stream or download episodes of dramas, variety shows and even movies so as to allow us to have entertainment on the go especially on public transport. I think this is very critical especially for people like me whom spend a lot of time (more than an hour) traveling to work. I usually download the shows that I want to watch the day before on my iPhone so that I can watch it without any disruptions on my way to work. Word of advice - do not attempt to watch Running Man (런닝맨) on your phone or tablet on public transport because you don't want to risk laughing out loud like nobody's business! The last time I tried watching the Christmas episode on my way to work, I ended up laughing out.

How many times have you guys watched half an episode of a drama or maybe 15 minutes down a movie, then you go like, "Shrugs, this flick/drama is a complete waste of my time! I shouldn't even have started watching it." Hence, I thought I would give a brief summary of the plot as well as share my thoughts about the 3 must watch Korean dramas this season.

Read on to find out more!
1) Cheongdamdong Alice (청담동 앨리스 / 清潭洞愛麗絲)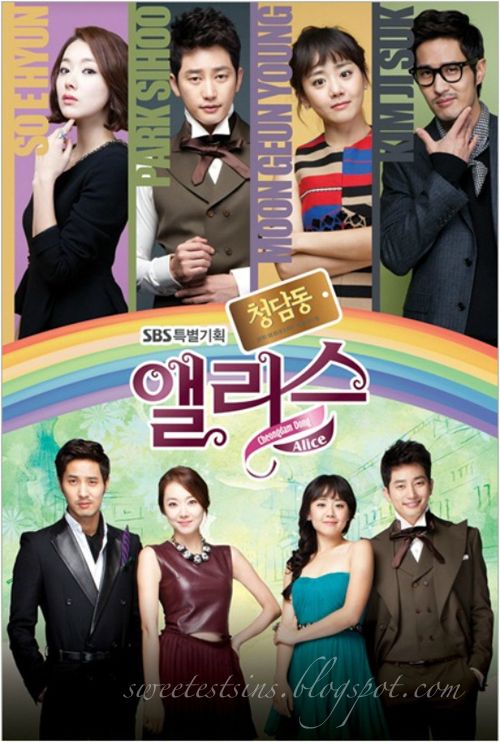 Starring:
Moon Geun-young
- Han Se-kyung
Park Si-hoo
- Cha Seung-jo / Jean Thierry Cha, president of designer brand Artemis
So Yi-hyun
- Seo Yoon-joo
Kim Ji-seok
- Tommy Hong, designer
Han Jin-hee
- Cha Il-nam, Seung-jo's estranged father and president of Royal Department Store
Kim Seung-soo
- Shin Min-hyuk, Yoon-joo's husband and president of GN Fashion
Kim Yoo-ri
- Shin In-hwa, Min-hyuk's sister and Se-kyung's direct boss
Shin So-yul
- Choi Ah-jung, Se-kyung's best friend
Park Kwang-hyun
- Heo Dong-wook, Seung-jo's best friend and shrink
Choi Sung-joon
- Secretary Moon
Jung In-gi
- Han Deuk-ki, Se-kyung's father
Lee Jong-nam
- Jung Yoon-hee, Se-kyung's mother
Shin Hye-jeong
- Han Se-jin, Se-kyung's younger sister
Goo Won
- Seo Ho-min
Park Won-sook
- Mrs. Jung
Namgoong Min
- So In-chan, Se-kyung's ex-boyfriend (guest appearance, ep 1-3)
Plot and my thoughts:
Han Se-kyung is the average girl next door whom works hard for everything she wants in life. Her personal motto is L'effort est ma force (Hard work is my strength). She got hired at GN Fashion despite scoring badly at the interview. It turns out that she had to run errands for the President's wife, Seo Yoon-joo whom is her rival in school.
I actually liked how innocent and pure Han Se-kyung was at the very beginning when she believed that hard work will lead to success and that she put in her utmost effort into everything. Persevering, not giving up and all. Halfway through, she became influenced and wanted to get into Cheongdamdong and she sought Yoon-joo's help. First, she tried to get close to Tommy Hong as she referred to as her 'White Rabbit'. She got to know Jean Thierry Cha, chairman of Artemis but she mistaken him as Secretary Kim. Somehow, Han Se-kyung managed to convince Tommy Hong to help her after her scheme got exposed.
I really like how cute Han Se-kyung (Moon Geun Young) and Jean Thierry Cha (Park Si Hoo) look together.
Don't you agree that they look like they are made for each other?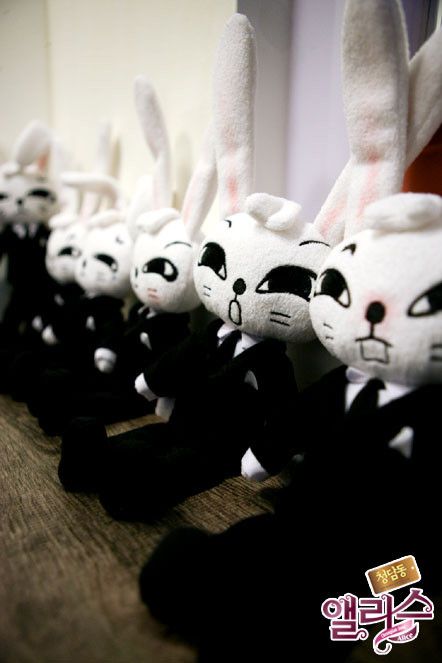 Rabbit soft toy that Han Se Kyung crafted for Jean Thierry Cha
Han Se Kyung played by Moon Geun Young is very much your girl-next-door. But her huge doe-like eyes are to die for! They make her look innocent, the kind that most guys would fall for. She's rather plain, in the sense that she doesn't put on much makeup, probably just base makeup, very subtle blush, eyeliner and lip tint thats all. The whole idea behind simplicity yet looking good has to be credited to her thick and neatly drawn eyebrows and relaxed ponytail.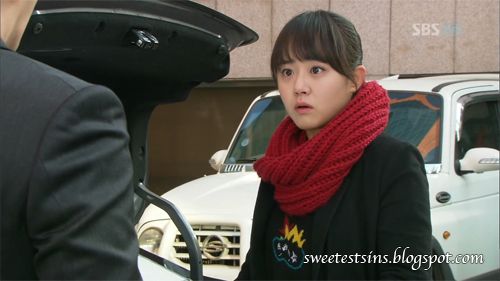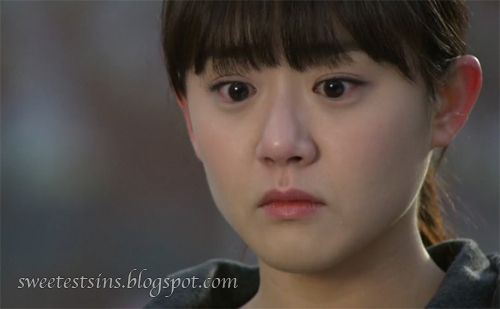 Her nose filler looks so obvious in this picture!
Jean Thierry Cha (Park Si Hoo) looks so cute in this picture! He wears quite a few pair of glasses in Cheongdamdong Alice and he looks good in all of them! I'm so jealous! If only I can carry off all kind of frames that easily.
I have a similar pair of prescription glasses (see below) as the one that Jean Thierry Cha (Park Si Hoo) wore in the picture above which I made over at Look Optical over in Korea.


Coincidentally, the optical shop that was featured in Cheongdamdong Alice is too, Look Optical. Did I mention why I had my glasses made over at Look Optical in Korea? Well, its because.. 2PM is their ambassador! Plus, their frames are really wallet friendly! Its say about 16,500 won for the frame. In total, I paid 69,500 won, approximately SGD$80 including prescription lenses for both short-sightedness and astigmatism.
If you need another reason as to why you should watch Cheongdamdong Alice, it has got to be - style/fashion. I have always been inspired by Korean fashion. Its girly, classy and timeless.
Some of the style icons in this drama includes -
Seo Yoon joo (So Yi hyun)
wife of GN Fashion President and ex-girlfriend of Jean Thierry Cha.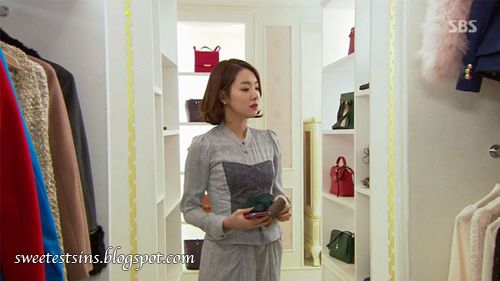 She wears a lot of lace and almost all of her dresses are very pretty! I like her short hair thats curled in at the ends. I remember wanting to sport this hairstyle ever since I saw Park Shin Hye having it in Heartstrings/You have fallen for me. The only difference would be that Park Shin Hye hairstyle had more curls in Heartstrings/You have fallen for me.
If there's something that draws me to her - it would be the way she did her lips -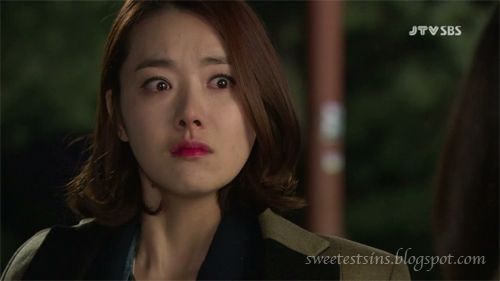 the
just-bitten look
made popular by Goo Hye Sun when she spotted that in Boys Over Flowers.
Another style icon from Cheongdamdong Alice would be -
Shin In-hwa (Kim Yoo Ri)
Han Se Keung's direct boss and sister of GN Fashion President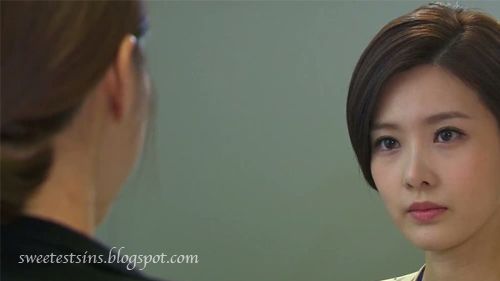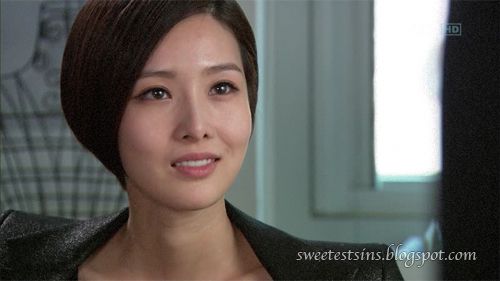 Compared to Seo Yoon Joo whom looks too perfect at all times, Shin In Hwa is a career woman whom exudes confidence yet with a hint of femininity. Her makeup is more natural, less harsh and play around more with neutrals in terms of colors. She's pleasant to take a second look at and friendly enough to talk to in terms of her makeup. The dresses that she wears on the drama are to die for too!
2) School 2013 (학교 2013/)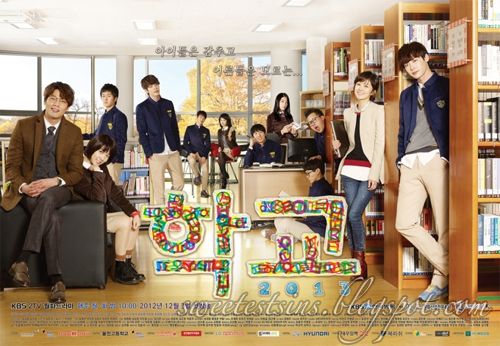 Teachers:
Jang Nara as Jung In-jae, homeroom teacher
Choi Daniel as Kang Se-chan, former top lecturer
Uhm Hyo-sup as Uhm Dae-woong "Uhm Force", math teacher
Park Hae-mi as Im Jung-soo, principal
Lee Han-wi as Woo Soo-chul, vice principal
Oh Young-shil as Yoo Nan-hee, ethics teacher
Yoon Joo-sang as Jo Bong-soo, gym teacher
Kwon Nam-hee as Kwon Nam-hee
Kim Yun-ah as Kim Yun-ah
Lee Won-suk as Kim Dae-soo
Students:
Lee Jong-suk as Go Nam-soon
Kim Woo-bin as Park Heung-soo
Park Se-young as Song Ha-kyung
Ryu Hyoyoung as Lee Kang-joo
Kwak Jung-wook as Oh Jung-ho
Choi Chang-yub as Kim Min-ki
Kim Young-choon as Byun Ki-duk
Kim Dong-suk as Kim Dong-suk
Jun Soo-jin as Gye Na-ri
Kim Chang-hwan as Han Young-woo
Lee Ji-hoon
Lee Yi-kyung
Jung Yun-joo
Kim Dani
Plot and my thoughts:
School 2013 is the 5th in the school series made by KBS. Its a teen drama which talks about the issues that teenagers face while growing up including being bullied, violence, suicide, stress (from studies) etc.
I think its pretty similar to Glee, if you like Glee, you will probably like this drama. I'm a big fan of Glee!

The highlight of School 2013 would probably be Go Nam soon played by Lee Jong Suk.
He's always bullied in school - beaten up by Oh Jung Ho, sabotaged by his classmates and all. But he's not someone whom tells on people. He would rather be accused and bear it all until someone come along and find out the truth rather than get people into trouble by telling the teachers what they did. Awesome guy huh? Another plus point to add on to his good looks. He just have got this cool vibes about him, no?
Go Nam Soon and Han Young Woo
Like Nam Soon, Young Woo is often picked at by the guys whom are tougher than him. Nam Soon would always watch Young Woo's back and protect him like how a brother would.
Jung In-jae (Jang Nara)
Homeroom teacher (Form teacher/home tutor)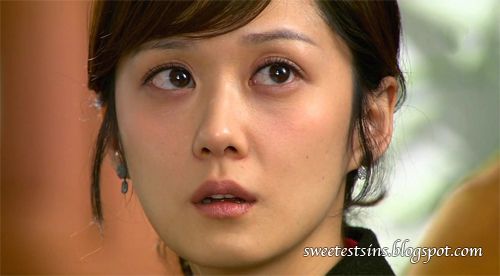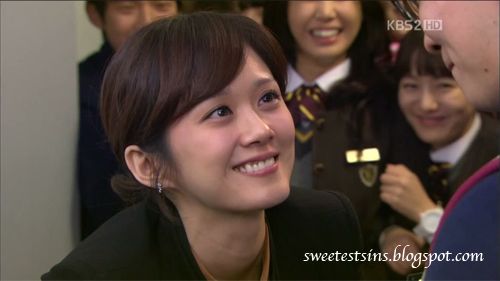 Jung In Jae is a passionate young teacher. Despite this being her first teaching job, she is determined to make it work. When Nam Soon got into a fight with Oh Jung Ho, she didn't think twice before going in between them to make them stop, thus causing herself to get hurt.
Both In Jae and Se Chan are at loggerheads with each other.
Kang Se-chan (Choi Daniel)
Former top lecturer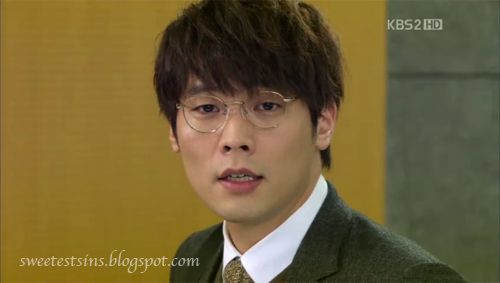 Kang Se Chan was giving tuition at a private tuition center before he taught at Seung Ri High School. He also offered online tuition lessons via online/e-learning through videos. He is very popular with students which reminds me of Great Teacher Onizuka (GTO).
When In Jae was forced to leave the school, he was asked to become the homeroom teacher for Nam Soon's class. In Jae somehow managed to convince the principal to secure her job and they both ended up being the homeroom teacher for Nam Soon's class. They could not see eye to eye on quite a fair bit of issues most of the time. It ended up that students had to do two sets of homework because they couldn't decide whose worksheets to give out!
3) Flower Boy Next Door (이웃집 꽃미남 / 鄰家花美男)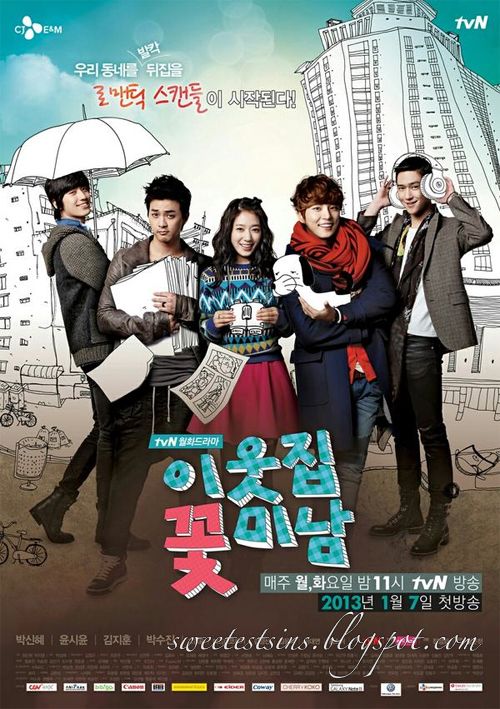 Starring:
Park Shin-hye (Go Dok-mi) A modern Rapunzel, she has locked herself up in her "tower" to hide from the world.
Yoon Shi-yoon (Enrique Geum) A genius who developed a wildly successful video game at 17, he is fun-loving, talkative, bohemian and can't get enough of soccer.
Kim Ji-hoon (Oh Jin-rak) A rookie webtoon artist, he is attractive despite his difficult and stubborn personality.
Go Kyung-pyo (Oh Dong-hoon) He is Jin-rak's roommate and drawing partner who freeloads off him, and is known around the neighborhood for his chic looks and wiles.
Park Soo-jin (Cha Do-hwi) a businesswoman who runs a shopping mall. She projects an elegant, easygoing image, but her friendliness doesn't extend to Dok-mi, whom she bullied in high school.
Kim Yoon-hye (Yoon Seo-young) Enrique's best friend and first love. She is a free spirit who throws herself wholeheartedly after something she wants.
Kim Jung-san (Han Tae-joon) Enrique's older cousin. He has a complicated relationship with Seo-young, and is liked from afar by Dok-mi.
Mizuta Kouki (Watanabe Ryu) the new Japanese neighbor who came to Korea to learn the cuisine. Kim Seul-gie (Kim Seul-gi, Jin-rak and Dong-hoon's webtoon editor and the deputy manager of the Contents Development team)
Lee Jong-hyuk as fortuneteller (cameo, ep 1)
Plot and my thoughts:
Flower Boy Next Door is about Go Dok Mi, a freelance editor whom stays home most of the time, doesn't go out much, neither does she interact much with others. Her life is very routined. Every morning, she will pick up the milk carton at her door. There will always be a post stick note with a picture on it (drawn by Oh Jin Rak). Oh Jin Rak is secretly in love with Go Dok Mi.
She's in love with her neighbour, Han Tae Joon whom lives opposite her and she steal glances of his daily life with her yellow binoculars. One day, Enrique caught her doing that.
Enrique Geum and Go Dok Mi
From there, Enrique and Go Dok Mi became friends and Enrique slowly brought Go Dok Mi out of her shelf by bringing her out often and teaching her how to interact with others.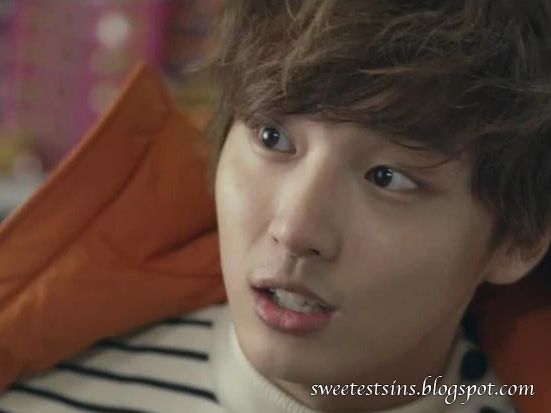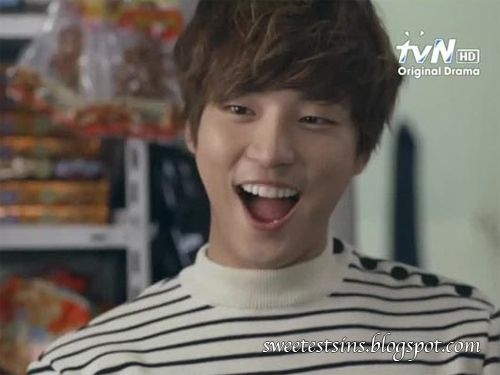 Yoon Shi-yoon (Enrique Geum) is super cute!
He keeps calling Go Dok Mi 아줌마 (ajumma) - middle aged women when she ain't that old. He does a lot of funny and weird things like claiming that Go Dok Mi left her hairclip in his car so that she would get out of her house and stuffs like that. He has got this very boyish vibe about him. I don't know but he kinda reminds me of Sam dong in Dream High.
Wow, this took me more than 7 hours to write. I thought that it would be interesting to write about my other interests apart from beauty itself. Okay, I admit that I also want to try my hand at writing about something else. I hope that you like this, let me know if you do because I'm thinking of injecting more variety into SweetestSins in 2013.
Thanks for reading!
Love,
Patricia
To be notified of the latest beauty news, launches or events, follow me on


or like SweetestSins on