RMK Gel Scrub review
Sunday, February 17, 2013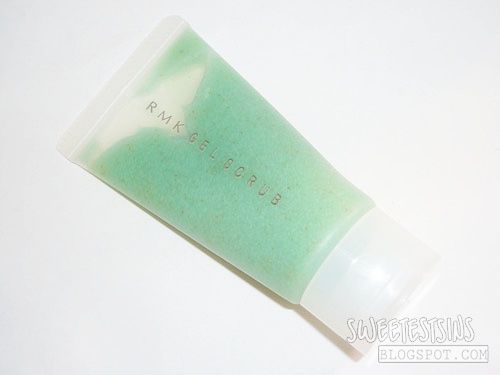 What is it:
The gentle exfoliating properties come from a citrus mix extract and four different types of scrubs, Crushed Aloe, Peach Seed, Chamomile Flower and soft scrub. Each has a unique texture, which when combined, gently dissolves sebum that clogs pores and eliminates the roughness of skin. Whilst exfoliating the skin, other ingredients including Kiwi Extract and Yeast Extract penetrate the skin, leaving a long-lasting fresh hydrated sensation. Refreshing scent of lemon, lime and herbal green.
Directions:
- Take a small amount in your palm and using circular movements, massage gently onto your skin.
- For a deeper penetration, apply then leave it on for 1 to 3 minutes.
- Rinse off thoroughly with cold or lukewarm water.
- Can be used 2 to 3 times a week in place of your everyday cleanser.Ingredients:Yeast Extract (Moisturizing) Citrus Mix Extract (Softening) Kiwi Extract (Moisturizing) Crushed Aloe (Moisturizing)
My thoughts:
I haven't really paid much attention to face scrubs before as I was pretty satisfied with my good old trusty St Ives Apricot Scrub. Plus, I have been using it since forever. But one thing I don't really like about it is that sometimes I feel that the scrub beads are a little too rough on my skin. Especially now that I'm almost in my mid twenties, I doubt my skin can take it. I googled online and some of the girls mentioned that they felt that St Ives Apricot Scrub might be a little too harsh on their skin. What's more horrifying is that some of them said that due to the jagged edges of the scrub beads in St Ives Apricot Scrub, it actually cuts their skin! Though I'm not so sure about the latter, but ever since I read that, I try to mix St Ives Apricot Scrub and my regular cleanser in the ratio of 1:1 and I mix them up evenly on my palm with my index finger before using it on my face. Its more gentle this way, no one likes the feeling of rubbing something rough on their delicate face, no? At one point of time, I tried
Korres Thyme Honey Cleansing Scrub
and I liked how gentle it is on my face. The scrub bits are really tiny compared to St Ives Apricot Scrub.
This was part of a GWP when I purchased my
RMK Creamy Polished Base and RMK Gel Emulsion Compact
.
I have to say that I don't quite fancy scrubbing especially on my face. I know some girls swear by scrubs and they scrub about 3 times a week on average.
I hate to say this but as I grow older, I realised that my skin is more prone to being sensitive (getting red easily) as compared to when I was younger. Thus, I am rather cautious about products that I use, especially scrubs - unless they are gentle on my skin.
RMK Gel Scrub has got very tiny scrub bits which gradually dissolves as you scrub. Compared to other regular scrubs when you get more scrub bits, RMK Gel Scrub contains lesser scrub bits and more of the creamy gel foam. The texture is somewhat like if I were to mix my St Ives Apricot Scrub and my regular cleanser in the ratio of 1:1 and mix them up evenly. I like the fact that RMK Gel Scrub smells good - like kiwi! It makes my face feels super smooth after scrubbing. Plus, it hasn't given me any scratches. I'm almost hitting pan on my current RMK Gel Scrub. I think I'm so gonna repurchase this when I run out of face scrubs. I still have my Clarins one to go, not forgetting bottles of exfoliating gels from random brands.
I hope you like this post! Thanks for reading!
Love,
Patricia
To be notified of the latest beauty news, launches or events, follow me on


or like SweetestSins on