Beauty sightings in Taiwan 台湾: Cosmed 康是美, Taipei Main Station 台北車站
Monday, February 18, 2013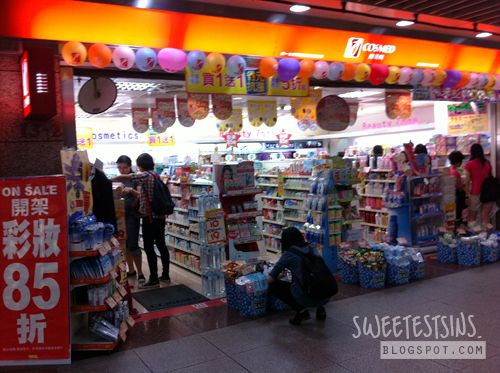 Last summer, in late May, I was in Taiwan with 3 of my girlfriends, Andeline, Shin and Chuan. We were in Taipei most of the time and we travelled to Taichung too for a day trip.
I have meant to post about my Taiwan trip and of course, most importantly - beauty brands and products that I spotted in Taiwan as well as my Taiwan beauty haul for the longest time ever but somehow other commitments refrained me from doing so.
Despite it being a few months late, I still want to share this because it would give you guys some insights on what to expect in terms of beauty brands available, type of products available as well as the prices of the products in Taiwan.
This post will focus on the beauty products that I spotted in Cosmed over at Taipei Main Station. Cosmed is a drugstore in Taiwan, the equivalent of Guardian or Watsons. In fact, they have got plenty of drugstores in Taiwan, just that Cosmed and Watsons are still the more popular ones.
Kose Fasio Airy & Fresh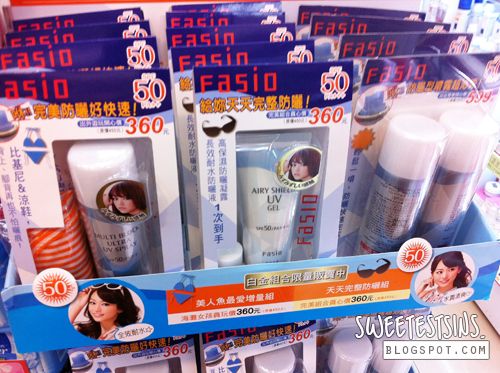 Airy Shield UV Screen, Multi Block Ultra UV Spray and Airy Shield UV Gel
I remember Fasio being one of my favourite brands when I was a teenager. As there weren't as much beauty brands then, I would mostly get my base products from ZA and my point makeup from Fasio. I remember getting their mascara base and mascara. If I didn't remember wrongly, they had power-stay and hyper-stay mascaras which I rotate when I repurchase. Speaking of which, I hardly see Fasio in Singapore anymore apart from occasionally stumbling upon it in BHG outlets. As I'm typing this now, I suddenly feel all nostalgia. I'm so inspired to start drafting about the beauty and makeup brands that I use in the past when I was younger. Maybe I could do a post that shares about the different products I used during different stages in my life such as 13-15, 16-18, 19-21, 21-24 year old. I reckon that would be interesting, no?
Shiseido Hada Senka Mineral Water Face UV BB Cream
Schwarzkopf Fresh Light Blythe Bubble Hair Color
Blythe doll fans will scream upon seeing this bubble hair dye! Too cute to resist.
Kanebo Media
While I haven't come across this brand - Media prior to my Taiwan trip in 2012, I would think that the makeup quality won't be too bad because Kanebo is its parent company.
I was quite tempted to get some products from the brand if not for the fact that my girlfriends pulled me away (they said that I have way too much makeup). Its really affordable, say NT$280 (SGD$11.76) for eyeshadow and NT$210 (SGD$8.80) for blusher.
白白肌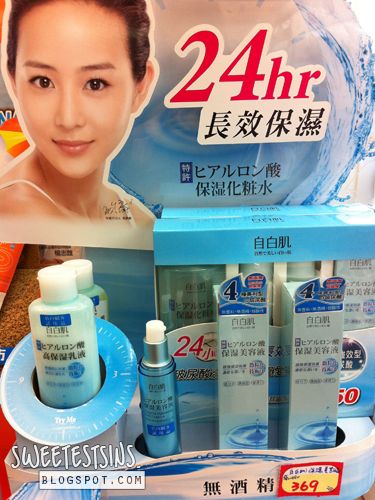 Okay, I give up on finding the English brand name for 白白肌 because its almost impossible to. I tried googling with different keywords and all but still.. no.
Anyway, if you read 女人我最大 (Nu Ren Wo Zui Da / Queen) magazine frequently enough, you will know that 白白肌 is always featured in it. 白白肌 products do not contain alcohol which is a relief for people like me - whose skin can't take alcohol.
**Shopping tip: Different Cosmed outlets offer different products
Although I mostly hauled from Watsons and Cosmed for my beauty buys when I was in Taiwan, the products that I got from Cosmed weren't purchased in a single Cosmed store alone. This is because different Cosmed outlets have got different products and what you may find in a Cosmed outlet might not be available in another Cosmed outlet. My girlfriends and I first realised this when one of them wanted to get a particular hair mask when she saw it at the Cosmed near Wufenpu (五分埔) but had second thoughts thinking that she can easily get it at the Cosmed in Ximending (西門町) near where we stay but it wasn't available there.
I hope you like this post! Thanks for reading.
Love,
Patricia

You might want to check out these posts: