Bellabox January 2013: Celebrate CNY with Bellabox
Sunday, February 10, 2013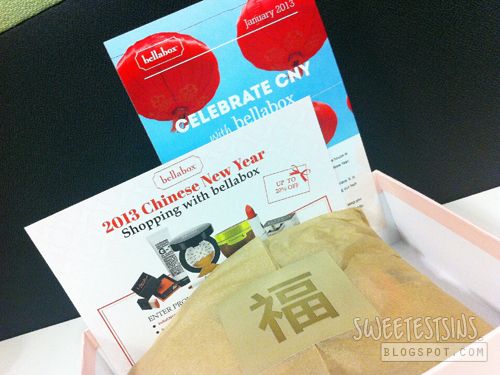 The way how Bellabox January 2013 is wrapped reminds me so much of how chicken rice and char kway teow or fried bee hoon is packed. Tell me its not just me who thinks so.
Here is the contents of Bellabox January 2013 at a glance. This particular Bellabox is pretty interesting because they focus mostly on Korean beauty brands (The Skin Shop, Skin Food, Cyber Colors and Skinmiso) as well as Japanese beauty brands (Ichikami).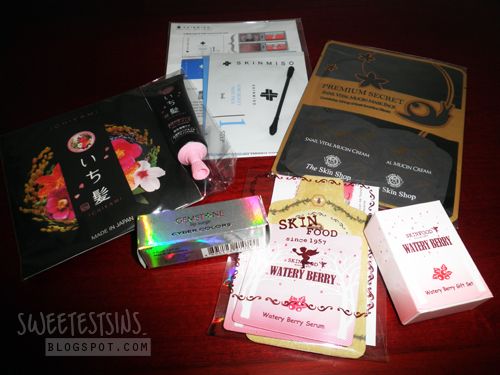 I'm not sure about you, but I am more into makeup rather than skincare lately. Plus, I seldom receive makeup in my Bellabox-es. So imagine my delight when I saw Cyber Colors Gemstone Lip Surge in my Bellabox January 2013. If you must know, I can't do without base makeup and for point makeup, the very basic would be to apply blusher and lip product.
Cyber Colors Gemstone Lip Surge (Peach Blossom)

swatches of Cyber Colors Gemstone Lip Surge in Peach Blossom
Peach Blossom is a very natural nude color. I would say that its a MLBB color.
The texture of Cyber Colors Gemstone Lip Surge (Peach Blossom) reminds me of
Maybelline Water Shiny Volumy Pearls Hazelnut Beige 118
, its rather moisturizing. However, my only gripe is that it tends to sink into the lines on my lips. Otherwise, it would be perfect for everyday wear.
Kracie Ichikami shampoo, conditioner and hair treatment
\
While I haven't tried the hair treatment, I must say that I love the conditioner. In fact, I might consider getting the full-sized for conditioner. Shampoo-wise, it makes my hair oily by the end of the day so its a no go for me.
Skinfood Water Berry Toner, Emulsion and Serum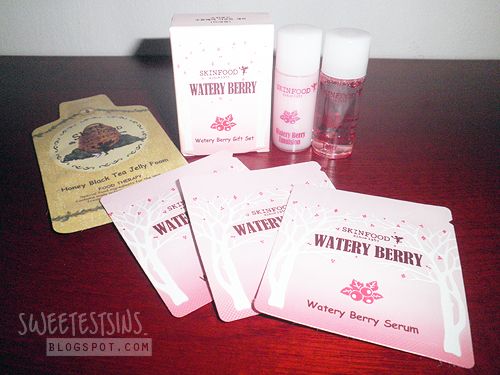 I haven't really tried anything from Skinfood before apart from the Aloe BB cream but my colleague, Kris told me that she really like the Watery Berry series from Skinfood. She said that its super moisturizing. I don't know about you but when someone tells me a product is awesome or their must-have, I think that the product would be worth checking out.
The Skin Shop Premium Secret Snail Vital Mucin Mask Pack
As with other snail facial masks, The Skin Shop Snail Vital Mucin Mask Pack helps to moisturize my skin, reduce redness and brighten my skin.
Skinmiso Pore Beauty Nose Pack
I had high hopes for this but it was kind of disappointing. Unlike other pore removal pack which requires to wet your nose and stick on the pack and wait for it to dry before you peel it off, Skinmiso Pore Beauty Nose Pack is a nose mask (similiar to the regular facial masks that we use), its soaking wet. You will need to place the 1 Step mask which helps to expand your pores, thereafter, remove any whiteheads or blackheads with the black cotton bud before using the 2 Step mask to contract your pores.
I think that this will work better with a blackhead remover (not included in the pack sent to me).
I hope you like this post! Thanks for reading.
Love,
Patricia