Glamabox January 2013
Sunday, February 03, 2013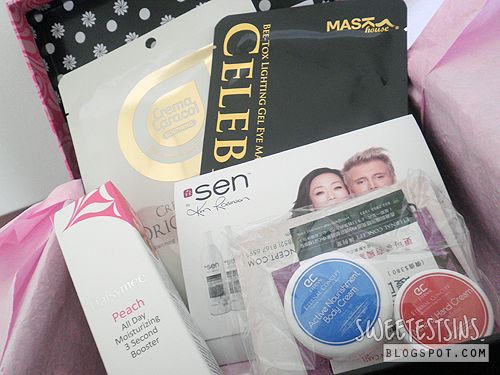 Daisymee Peach All Day Moisturizing 3 Second Booster 50ml
What is it:
For a beautiful translucent glow, Daisymee Peach All Day Moisturizing 3 second Booster has all natural peach ingredients to enhance cell elasticity. The superior moisturizing effect made by the peaches with high-purity hyaluronic acid combined with the Daisymee orginal R & D skin caught water system, rapidly improves skin moisture and elasticity.
Directions:
Apply daily and continue for 28 days to see the visible result of hydrated and glowing skin.
I have yet to try Daisymee Peach All Day Moisturizing 3 second Booster out. But I reckon this would probably be something similar to that of
Loreal Youth Code Pre-essence
. Will update you guys again about this soon!
Eternal Concept Active Nourishment Body Cream + Mineral Hand Cream
What is it:
Active Nourishment Body Cream –
Formulated from a rich, creamy blend of Avocado, Aloe Vera & Shea Butter.
Contain natural active ingredients that are essential for healthy, nourished & radiant skin. This high-performance cream absorbs quickly to provide instant nourishment and relief to tried, dry & irritated skin.
Mineral Hand Cream with Shea Butter –
Contains rich combination of Shea Butter, Dead Sea salts & minerals, natural plant extracts, vitamins A & E. It helps re-hydrate and nourish even the driest of skin to effectively heal small wound & combat dry skin.
My thoughts:
I really like this hand cream. Scent-wise, its pretty much acceptable though it doesn't smell the best. I like how moisturizing it is and how it absorbs readily into my skin. Plus, this hand cream doesn't leave fingerprints on my devices.
In fact, I am rather reliant on hand cream especially after I entered the workforce. I don't know if you have heard this before but your hands tell your age. Therefore, it is very important to keep them well-moisturized so that there won't be any unsightly cracks or peeling.
I apply hand cream each time after visiting the ladies and after washing my hands. Usually, I will rub hand cream on my cuticles to ensure that they don't peel. This is probably one of the reasons why I run out of hand cream very quickly. And I must emphasize that I am quick particular about the hand cream that I use. First, it must be non-greasy to touch so that it won't leave fingerprints behind on my desk phone, keyboard but then again, it must be moisturizing enough. It must smell good too. I think I can write an entire post on the best and worst of hand creams that I have tried but let's just save that for another time.
Nutree Crema Caracol Snail Mask
What is it:
As much effect as one vessel of caracol cream! The essence mask sheet provides immediate tranquilizing effect to your skins and supplies moisture and nutrients to deep inside of your skins for moisture and smoothness.
It contains snail secretion for skin tranquilizing and skin protection and does not irritate your skin. It can be used for repairing sunburn face.
Suitable for all types of skin/dry skin.
My thoughts:
Even after 20 minutes of masking, this mask is still rather moist. Nutree Crema Caracol Snail Mask feels like cellulose mask.
I noticed that my complexion became brighter after masking.
Sen by Kim Robinson Repairing Dry & Damaged Hair Shampoo and Conditioner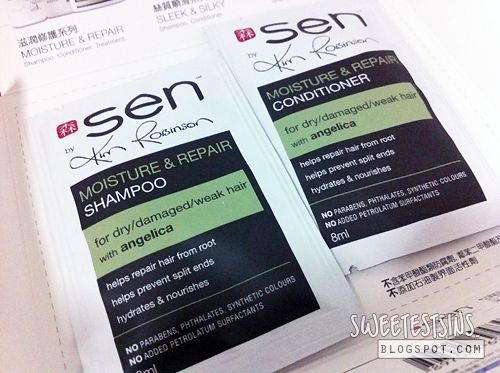 What is it:
New exclusive hair care formula designed by Kim Robinson specifically for Asian Hair. Moisture & Repair formula is blended with Angelica and botanical extracts to repair hair from root and protect it from environmental damage and styling.
A dual conditioning system deeply hydrates and locks in moisture. The rose-inspired scent, exclusive and elegant is composed from a blend of Turkish Rose and Chinese Magnolia.
My thoughts:
If you are following me on
Instagram
, you probably would have read about my review on Sen by Kim Robinson Moisture & Repair Shampoo.
It has a slight floral scent to it which smells pretty good and leaves my hair smooth and soft after that. Now, tell me what's not to like about it? The only downside would probably be that it ain't available in Singapore. Will make a mental note to stock it up next time I visit or transit at Hong Kong.
Mask House Bee-Tox Lighting Gel Eye Mask
What is it:
Bee-tox Lighting Gel Eye Mask specifically targets trapped fat and looseness surrounding the eyes due to lack of sleep. Smoothes away fine lines and wrinkles as well as reduces the look of dark circles and puffiness to revive the eye area.
Specifically cutting design for Asian ladies, covers and revives your eye area with more brightened and clarified look.
I will probably get my Mom to try this out soon since I can't use any products near my eye area.
I hope you like this post. Thanks for reading.
Love,
Patricia
To be notified of the latest beauty news, launches or events, follow me on


or like SweetestSins on