Salvatore Ferragamo Signorina Eau De Parfum
Thursday, January 24, 2013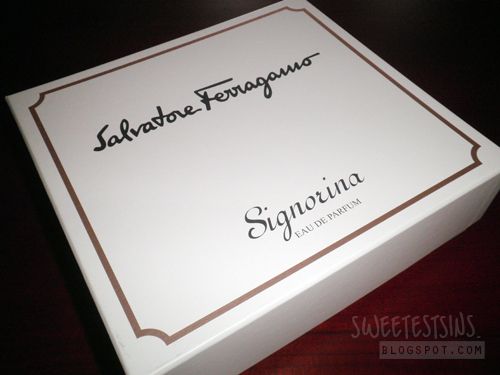 Signorina, the new fragrance from Salvatore Ferragamo is the celebration of chic girls with a sophisticated, subtly cheeky and fresh scent signature. A new fragrance creation with the elegant and all Italian style by Salvatore Ferragamo.
The lovely folks over at Salvatore Ferragamo sent me this last Christmas as a way to thank me for my support towards Salvatore Ferragamo all these while.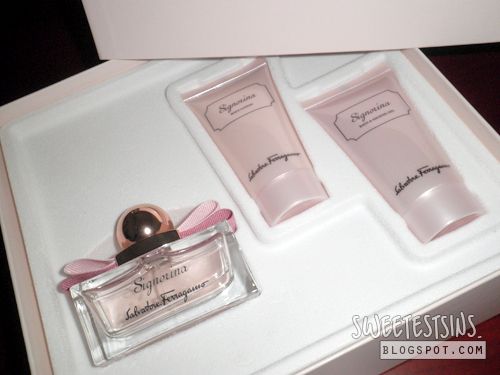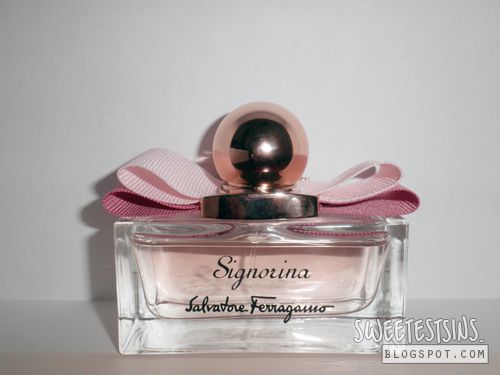 Top notes:
pepper (rose/pink), blackcurrant buds (cassis)
Middle notes:
jasmine, peony, rose
Base notes:
patchouli, musk, pannacotta accord

My thoughts:
Although I wasn't compelled to write about this, I knew I had to share it with you lovelies. You might ask why? First, its the lovely packaging that I was drawn to. And even before I received this, my colleague was telling me that this is one of her must-have when she spotted it at Robinsons. Imagine the excitement of the ladies when this arrived at my office.

Salvatore Ferragamo Signorina is rated 3/5 on MUA. A lot of websites mentioned about the dry-down of Salvatore Ferragamo Signorina being musky and sweet. I must admit that I ain't particularly knowledgeable in the field of fragrances. Apparently, dry-down period is when the middle notes dissipate and the base notes take over, it is also know as the true scent of the perfume. Dry-down scent usually lasts for several hours as fixatives are added.

In short, the few words that I would use to describe Salvatore Ferragamo Signorina are:
- musky/powdery
- light vanilla scent
- elegant
- exudes femininity
- sweet fragrance
I think that this will appeal to ladies in their mid or late twenties. Its definitely not one of those perfumes that you would deem as seductive or young and innocent.
You know there are certain perfumes that you will strictly classify as either day or night? Well, in my opinion, Salvatore Ferragamo Signorina is good for both day and night use!
Check out the super cute miniature Salvatore Ferragamo Signorina. Its in the form of a necklace, how sweet, no?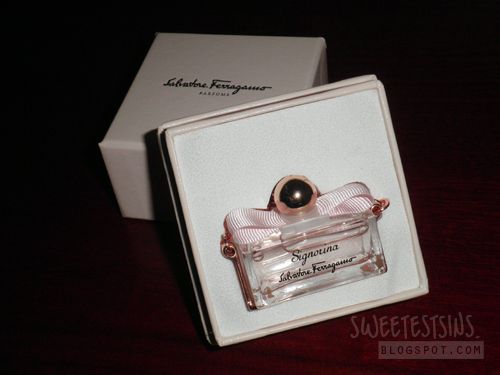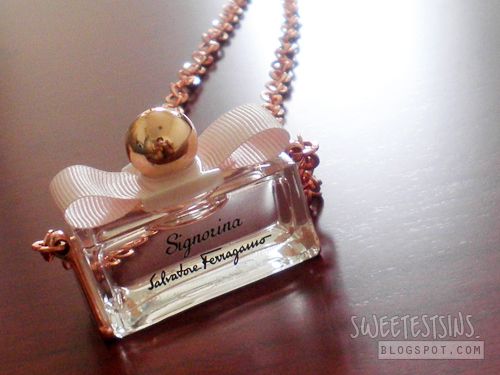 I hope you like this post! Thanks for reading.
Love,
Patricia