My Paula's Choice Skincare Regimen
Tuesday, January 29, 2013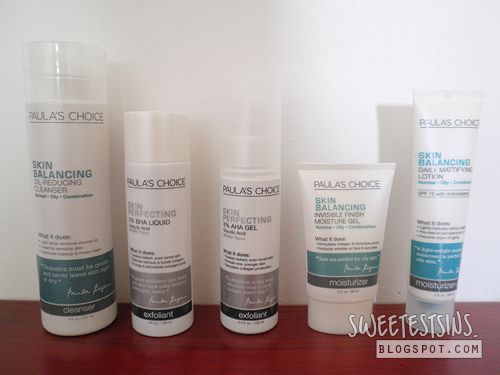 I was pretty excited to try out Paula's Choice especially after hearing so much about them be it through friends or even American and Thai beauty blogs. Most of them said that it helped to clear up their acne and is suitable for sensitive skin. There was even a Thai beauty blogger whom said that he prefers Paula's Choice to SKII! Tell me how not to get all hyped up?
While I don't have acne to begin with, I do have that few occasional breakouts and my skin can be rather sensitive sometimes especially if I use whitening products. Hence I'm pretty picky when it comes to choosing skincare products for my combination type skin. I tend to go for hydrating or moisturizing ones.

First up, we have got -
Skin Balancing Oil-Reducing Cleanser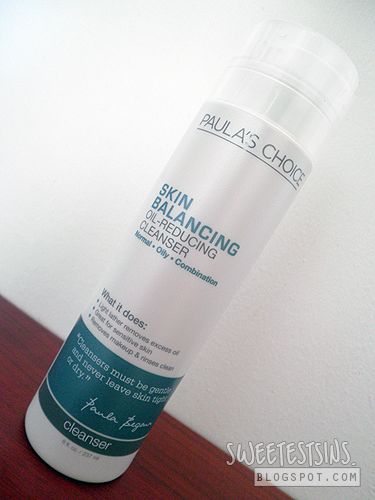 What is it:
• Light lather removes excess oil and reduces enlarged pores
• Great for sensitive skin
• Gentle foaming formula removes makeup & rinses clean
• Soothes your skin as it cleanses
• Safe for use around the eyes
• 100% fragrance-free and contains no dyes or coloring agents
Ingredients:
Water, Sodium Cocoyl Isethionate (gentle cleansing agent), Sodium Lauroamphoacetate (gentle cleansing agent), Stearic Acid (fatty acid thickener), Hexylene Glycol (slip agent), Helianthus Annuus (Sunflower) Seed Oil (non-volatile plant oil), Glycol Stearate (thickener), Sodium Trideceth Sulfate (emulsifier), Acrylates Copolymer (film-forming agent), Cetearyl Alcohol (thickener), Aloe Barbadensis Leaf Juice (water-binding agent), Sodium Chloride (stabilizer and Ph-adjusting agent), Potassium Sorbate (stabilizer), Laureth-4 (emulsifier), Citric Acid (pH adjuster), Xanthan Gum (thickener), Disodium EDTA (stabilizer), Ethylhexylglycerin (skin conditioning agent), Phenoxyethanol (preservative)
My thoughts:
Although it says it removes makeup, I usually use cleansing water to cleanse off my base makeup before double cleansing it with my cleanser.
Paula's Choice Skin Balancing Oil-Reducing Cleanser contains tiny scrub beads, hence I think that it doubles up as a daily gentle scrub. It leaves my skin feeling so smooth and soft after cleansing with it.
Rating:
★★★★☆
Skin Balancing Moisture Gel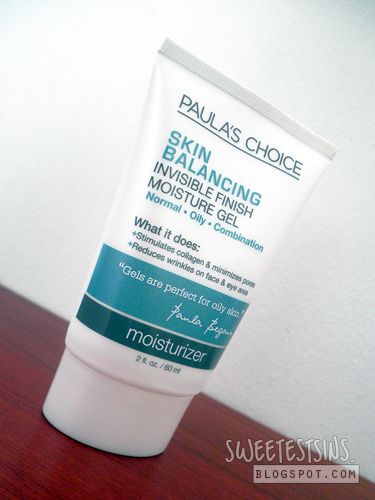 What is it:
• Effective For: Acne Breakouts, Anti-aging, Blackheads, Enlarged Pores, Wrinkles
• Stimulates collagen & refines pore size
• Reduces wrinkles on face & eye area
• Hydrates without feeling greasy or slick
• Anti-irritants reduce redness and signs of rosacea
• Antioxidants help repair damage and stimulate collagen production
• Ideal for use around the eyes—no need for a separate eye cream
• Clinically proven non-irritating
• 100% fragrance free. No added dyes.
• No animal testing
Key Ingredients:

Vitamin C, licorice extract, superoxide dismutase, panthenol, Laminaria saccharine, glycerin, niacinamide, phospholipid, vitamin E, grape seed extract, green tea. Product Ingredients: 
Water, Cyclopentasiloxane (silicone slip agent), Butylene Glycol (slip agent), Glycerin, (skin-identical ingredient) Laminaria Saccharina (Seaweed) Extract (water-binding agent), Camellia Oleifera (Green Tea) Leaf Extract, Vitis Vinifera (Grape) Seed Extract (antioxidants), Triticum Vulgare (Wheat) Germ Oil (emollient plant oil/lubricant), Tocopheryl Acetate (Vitamin E/antioxidant), Niacinamide (Vitamin B3/cell-communicating ingredient), Phenyl Trimethicone, Dimethicone, Bis-Phenylpropyl Dimethicone (silicones/slip agents), Dipotassium Glycyrrhizate (licorice/anti-irritant), Tetrahexyldecyl Ascorbate (Vitamin C/antioxidant), Sodium Hyaluronate (skin-identical ingredient), Phospholipids (cell-communicating ingredient), Superoxide Dismutase (antioxidant), Isohexadecane (emulsifier), Panthenol (Vitamin B5/water-binding agent), Propylene Glycol (slip agent), Sodium Carbomer (gel-based thickener), Sodium Acrylate/Acryloyldimethyl Taurate Copolymer (film-forming/water-binding agent), Dimethicone/Vinyl Dimethicone Crosspolymer (silicone film-forming agent), Polysorbate 80 (thickener), Hydroxyethylcellulose (gel-based thickener), Diazolidinyl Urea, Methylparaben, Propylparaben (all preservatives)
My thoughts:
Paula's Choice Skin Balancing Moisture Gel reminds me of Sebamed Clear Face Gel in terms of its texture and how it feels on the skin after application. It is the kind of product that I will like. It is quite moisturizing and best of all - it doesn't feel oily. This is very important because I really hate products that feels oily and I will skip those altogether.
Usually I will apply a thick layer of Paula's Choice Balancing Moisture Gel on my face before going to bed and I wake up to having plump skin! How nice, no?
Rating:
★★★★☆
Skin Balancing Daily Mattifying Lotion SPF 15
What is it:
Daytime moisturizer with sunscreen those with combination or oily skin have been waiting for! Its multi-purpose formula not only protects skin from sun damage, but fortifies it with potent antioxidants and cell-communicating ingredients to allow skin to be balanced so it acts as normal skin would. Slip it on before applying makeup and you'll be amazed at how weightless it feels while providing a matte finish that absorbs oil to keep shine away. Avobenzone is on hand for reliable UVA protection.This product is 100% fragrance- and colorant-free.
My thoughts:
The fact that I have got combination skin (with the sides of my forehead and cheeks being super prone to dryness and a super oily T-zone) really bugs the hell out of me. I don't know but I get super conscious of my shiny nose that I blot it every now and then.
Hence, any product that have got 'mattifying' on it would catch my attention. The last time mattifying product that I tried was - Murad Oil Control Mattifier, recommended by my guy colleague. Yes - you heard me right, it was my guy colleague that recommended that to me.
For this product (Skin Balancing Daily Mattifying Lotion),
less is more
. Trust me, you wouldn't want to apply too much and risk an uneven application. It takes a while for it to absorb on my skin. Upon application, it feels a little sticky and in fact, rubbery. But if you were to wait for a while before applying your makeup, your skin will feel smoother to work on.
In terms of oil-control, although Skin Balancing Daily Mattifying Lotion works better compared to Skin Balancing Mattifying Concentrate Serum, it still did not live up to my expectation. It does keep the shine on my nose at bay for maybe 2-3 hours but the shine kicks in again after that.
Rating:
★★
☆☆☆
For the exfoliants, I have only tried Skin Perfecting 8% AHA Gel Glyolic Acid out so I will share my thoughts on this first. I will probably update about whether the BHA Liquid did work for me after I have tried it out.
I haven't tried using an exfoliant prior to Paula's Choice Skin Perfecting 8% AHA Gel. I was happy with my RMK Gel Scrub, if not my peeling gels.
Skin Perfecting 8% AHA Gel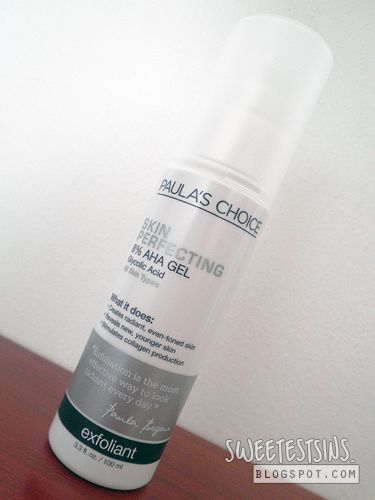 What is it:
Skin Perfecting 8% AHA Gel Exfoliant has a sheer, weightless texture that works to exfoliate the skin's surface and fade signs of sun damage. The ultra-light formula corrects uneven skin tone for a brighter, smoother, more radiant complexion. Substantiated research shows that AHAs improve collagen production for firmer skin and increase skin's moisture-binding ability. 8% AHA Gel works to sustain the results of professional peels and wears beautifully under a moisturizer or serum.This product is 100% fragrance- and colorant-free with a pH range of 3.5-3.8.
My thoughts:
Before I start commenting on this product, I thought that I would share a bit more on my skin. I used to be so into whitening products because I wanted to be fairer so it was pretty much of whitening products overdose. It resulted in my skin becoming thinner, flaky and even sensitive with redness at times. So much for vanity's sake (of wanting to be fairer)!
The correct way of using Paula's Choice Skin Perfecting 8% AHA Gel is after cleansing and toning your skin. The step to use it is different compared to my usual scrubs and peeling gels.
It says that first time users should use this product once a day or every other day, I believe this it to allow your skin to adapt and get use to the product. If you have got any cuts or pimples that have burst, do be careful when applying the AHA Gel because it will sting. After using the AHA Gel for more than a month (I increased the application to twice daily after a month's use), I realised that my skin got a little fairer, looked more smooth and that my complexion looked more even.
As this product contains AHA which is sensitive to the sun and susceptible to sunburn, it is a must to wear sunblock when you use this product.
The reason why I stopped using this product because the sides of my forehead started peeling. I suppose that this product might be too strong to be used twice daily on my skin. I know that the peeling was caused by this product because it got better after I stopped using this product.
I'm having pretty mixed feelings over this Skin Perfeccting 8% AHA Gel. I mean, I love it for the fact that it makes my face brighter and smoother but the fact that it makes my skin peel is just a no-no. I guess its a love-hate affair with this at the moment. For all you might know, when I'm feeling adventurous enough, I might start using this all over again and when that time comes, I might love or hate it but you will be sure that I will keep you posted on the results then.
I hope you like this post. Thanks for reading.
Love,
Patricia
Skin Balancing Oil-Reducing Cleanser SGD 33.00

Skin Balancing Moisture Gel SGD 19.95

Skin Balancing Daily Mattifying Lotion SPF SGD 42.00

Skin Perfecting 2% BHA Liquid SGD 38.00

Skin Perfecting 8% AHA Gel SGD 38.00
Paula's Choice products are available on www.paulaschoice.com.sg