Simply Organic Introductory Party [Event + Review]
Tuesday, October 30, 2012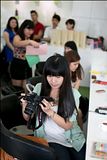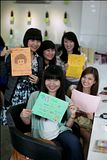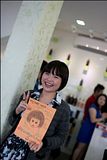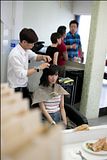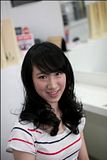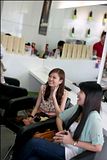 Last month, I attended Simply Organic Introductory Party which was held over at ECORGANICS.
For those of you whom aren't familiar with Simply Organic, here's a short introduction to the brand.
About Simply Organic
Simply Organic was founded in 2001 by professional beauty industry visionary Gene Martignetti. After watching his five-year-old son battle childhood Leukemia, while also dealing with health issues of his own, Martignetti became inspired to create a company committed to one simple principle:
"In the pursuit of health and beauty, what you put on your hair and skin is as important as what you put in your mouth."
While researching tirelessly to help his sick child, Gene came across information on the harmful effects of synthetic ingredients found in many of the top salon and spa brands used today. What he learned motivated him to create an alternative line of products that used only natural, organic ingredients but resulted in great-looking, healthy hair and skin.
Fellow beauty blogger, Kristen was the host for the day. Look how happy she made all of us! We were all practically smiling in almost every photo!
If you are wondering what goes behind the scene at blogger events or media launches, check out the photos below and I'm sure you will get a clear idea. Basically, as bloggers, we are always keen to discover new brands, know what's in store for us to share with our readers and it usually involves a lot of photo taking, testing of products and trying out products in our press kit.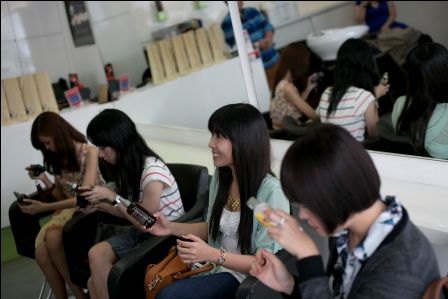 Ah, this smells not too bad.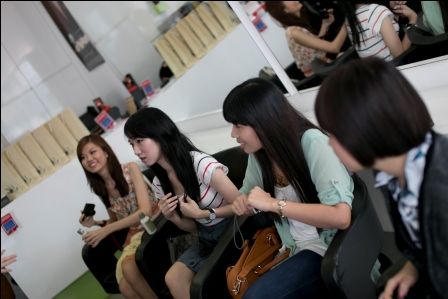 All of us listening attentively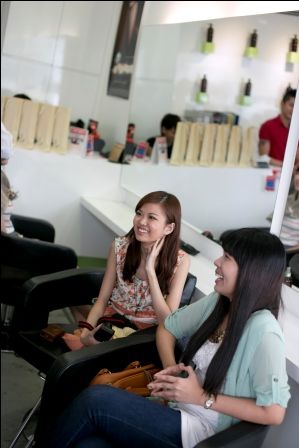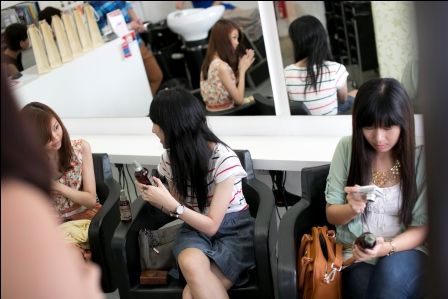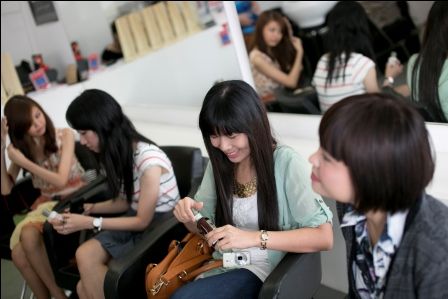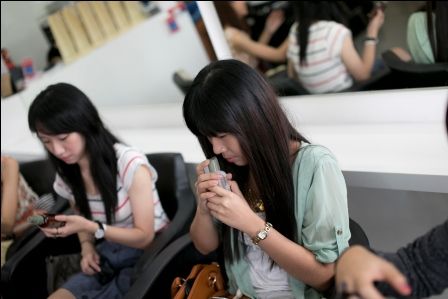 After the introduction to Simply Organic products, this Senior Stylist styled Charlene's hair using Simply Organic products.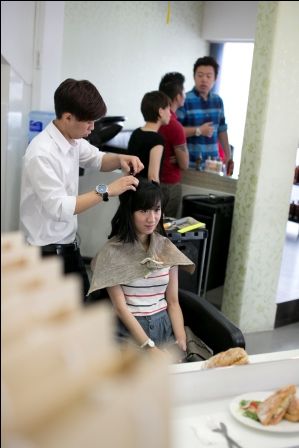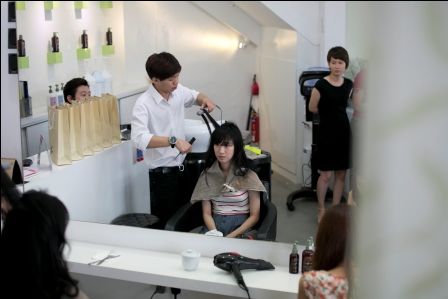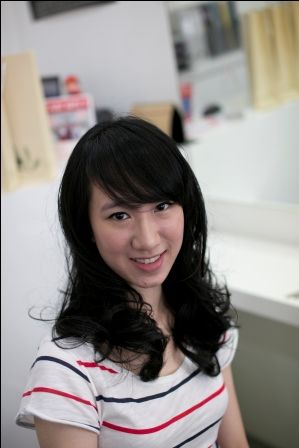 The final look - love the curls!
To inject more fun, we had a mini drawing/art competition where we have to pen/draw what our hair needs most.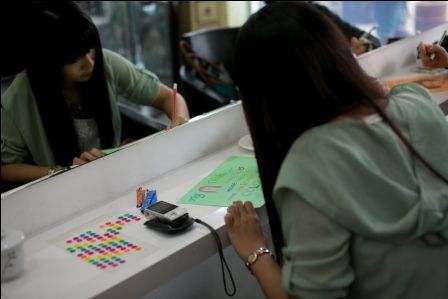 Here's our masterpieces!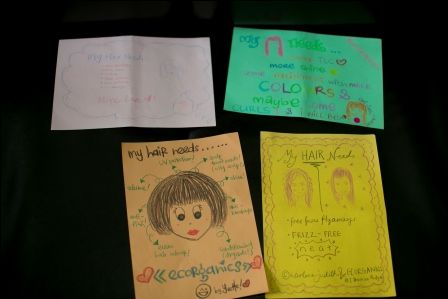 And the winner of the competition is.. Yvettia!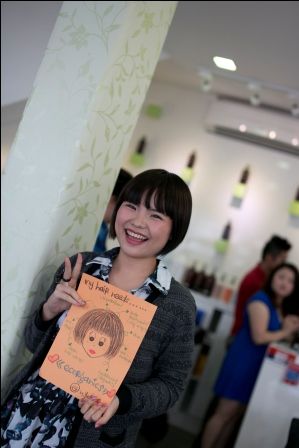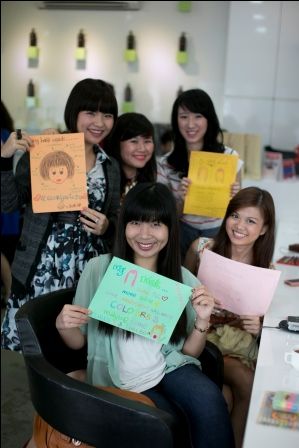 With Yvettia, Kristen, Charlene and Felicia
In our goodie bag, we were given these products to try.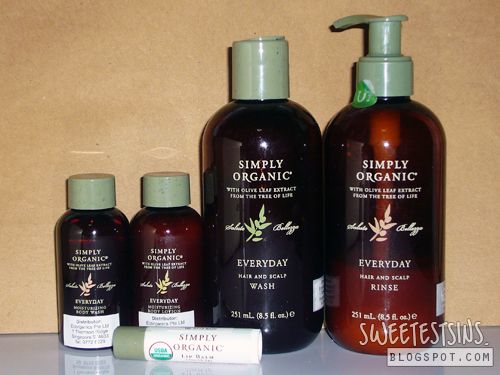 1. Simply Organic Everyday Moisturizing Body Wash
2. Simply Organic Everyday Moisturizing Body Lotion
3, Simply Organic Lip Balm
4. Simply Organic Everyday Hair and Scalp Wash
5. Simply Organic Everyday Hair and Scalp Rinse
I have been using Simply Organic Everyday Hair and Scalp Wash and Rinse daily for more than a month and I thought that its time to share my thoughts on it.
Simply Organic Everyday Hair and Scalp Wash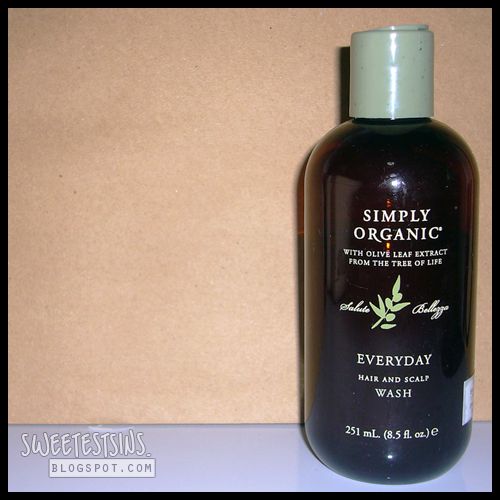 What is it:
Simply Organic Everyday Hair & Scalp Wash is a daily use shampoo for all hair types that gently cleanses the hair and scalp.
Benefits:
Gentle cleansing Repairs, strengthens, hydrates & protects Weightless shine Ingredients: Water/Aqua/Eau, Sodium C14-C16 Olefin Sulfonate, Cocamidopropyl Betaine, Sodium Coco-Sulfate, Lauryl Glucoside, Olea Europaea (Olive) Leaf Extract*, Vanilla Plantifolia Fruit (Vanilla) Extract*, Citric Acid, Glucose, Lonicera Japonica (Japanese honeysuckle) Extract*, Sorbitol, Glucose Oxidase (and) Lactoperoxidase, Citrus Aurantium Dulcis (Orange) Oil*, Sodium Chloride, Citrus Aurantifolia (Lime) Oil* *Certified Organic
My thoughts:
Prior to Simply Organic, I haven't tried any organic haircare before. The closest would be botanical hair care but then again, organic and botanical is two different thing altogether. Simply Organic Everyday Hair & Scalp Wash smells very citrus which I like. In fact, I prefer the smell of it compared to the smell of the rinse.
My scalp ain't exactly the easiest to take care of. If you remember, my scalp can't just take any other shampoo. Certain brands and types of shampoo will make my scalp too dry and some of them will make my scalp oily by mid day so I really have to be very careful especially when purchasing or trying out a new shampoo.
I started using Simply Organic Everyday Hair & Scalp Wash even before
getting my hair dyed
. I was very satisfied with it since it suits my scalp and it doesn't make my hair dry. Although I still continued using it after getting my hair dyed, I realised that it doesn't help to make my hair look less dry, especially at the ends. But still, I like the fact that Simply Organic Everyday Hair & Scalp Wash does not weigh down my crown area as I hate flat hair. What's more, it gives my hair more shine.
Simply Organic Everyday Hair and Scalp Rinse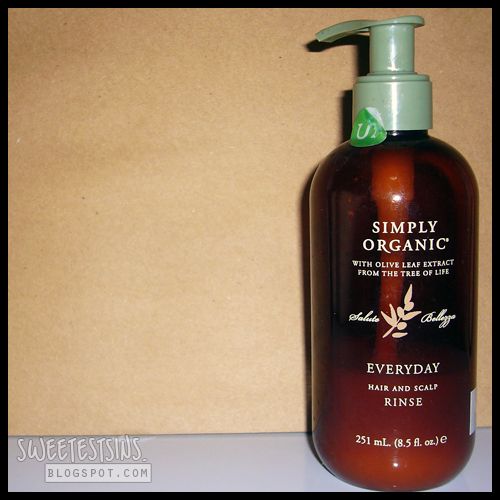 What is it:
A daily use conditioner for all hair types that conditions the hair and scalp after washing.
Benefits:
- Repairs, strengthens, hydrates & protects
- Replaces essential oils
- Weightless shine
For professional results:
Following cleaning the hair with Everyday Shampoo, apply conditioner to hair. Work from scalp to ends. Leave on hair for at least one minute. Rinse well. Towel dry and apply Rejuvenating Hair and Scalp Sealer. Style.
My thoughts:
The first time I came across this word - hair rinse was during my Taiwan trip earlier in May this year when I was over at Watsons Ximending and this Korean lady was asking the cashier where can she find hair rinse. Prior to that, I didn't know that it was actually another term for conditioner. Why hair rinse you may ask. Well, to put it simply, we have got leave-in conditioner. Regular conditioner requires rinsing off so the term hair rinse.
I like the fact that Simply Organic Everyday Hair and Scalp Rinse isn't too rich in terms of texture to begin with. What more is that it doesn't feel oily to the touch but yet it helps to moisturize my hair and add shine. Plus, it doesn't weigh my hair down nor make it feel greasy after a while. I think I will repurchase this when my current bottle runs out!
I hope you like this post. Thanks for reading.
Love,
Patricia
------------------------------
ECORGANICS
1 Thomson Ridge
Singapore 574633
------------------------------