Fancl Ballet of Beauty Blogger Soiree
Sunday, October 21, 2012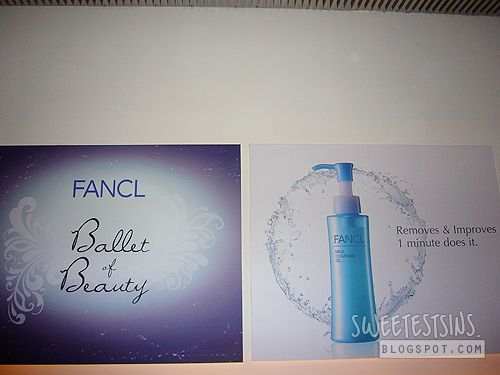 Sometime ago, I attended Fancl Ballet of Beauty Blogger Soiree held over at Bistro Soori over at 2 Teck Lim Road.
I love the fact that they provided 2-way chauffeur service for us. It means a lot to people like me whom have a day job.
If you know me, I love anything that depicts nature, zen or interior design. So imagine my delight when I see this in Bistro Soori.
Look what they provided us with before the start of a scrumptious meal!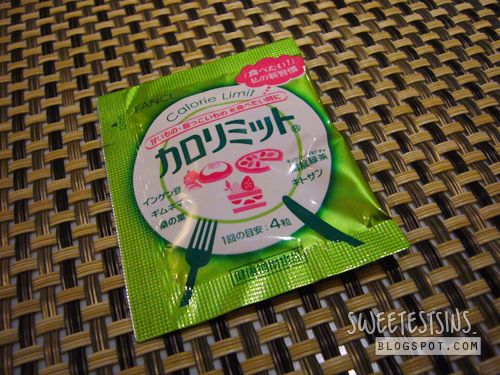 Fancl Calorie Limit
How thoughtful, isn't it?
For starters, we had -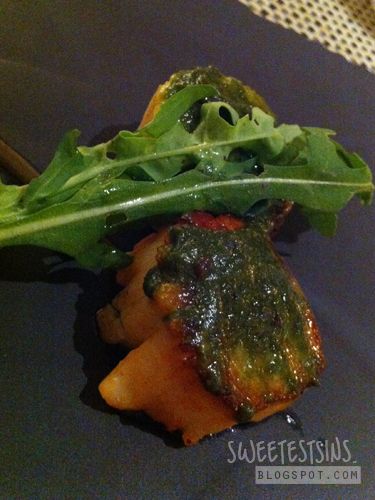 Seared Scallops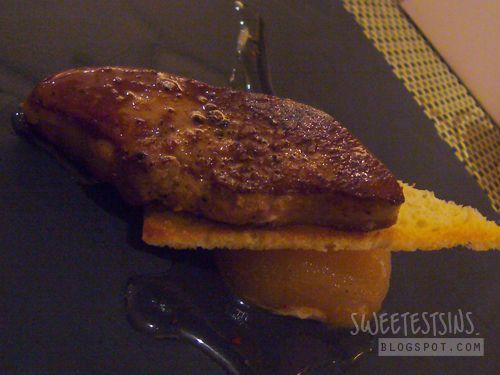 Foie Gras Duo
For the main course, I had -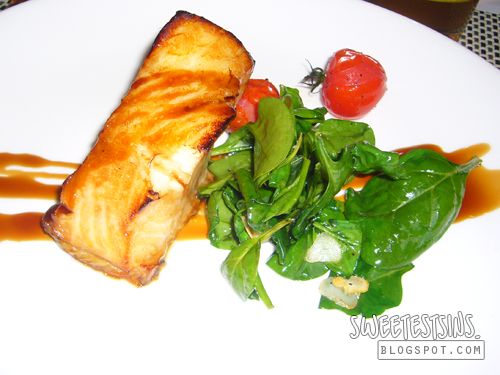 Baked Chilean Sea Bass
For dessert, I had -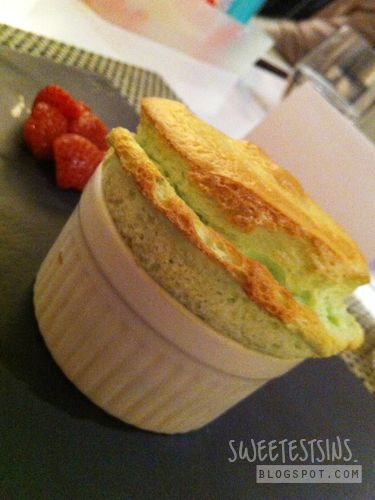 Pandan Souffle
Apparently, this is limited to the first 5 orders and I knew I had to try it. Its very light and soft with a tingling sweetness to it. I'm sure all girls will love it!
Alright, enough of tempting you all with food pictures. Moving on, I'm gonna share with you more on Fancl products.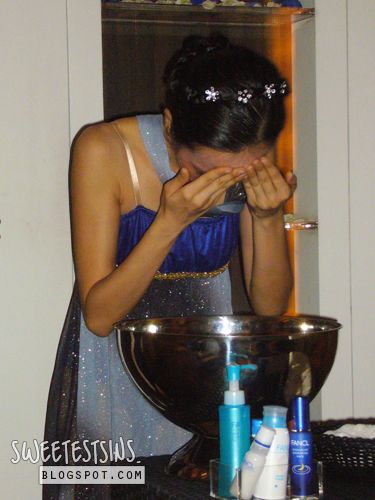 After removing makeup with Fancl Mild Cleansing Oil, it is essential to cleanse your face again with Fancl Washing Powder to remove any leftover residue.
Check out the bubbles formed using Fancl Mild Cleansing Oil by using the foam ball.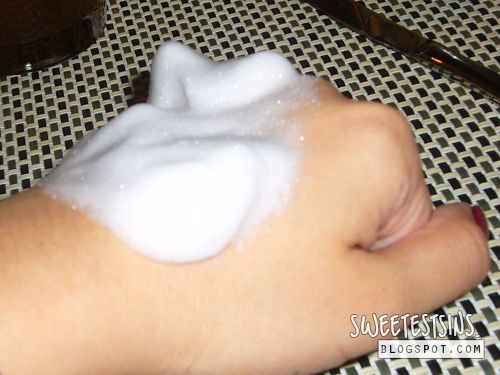 Fancl Washing Powder
What is it:
Formulated with advanced amino hybrid technology, creates a dense, creamy foam to lift excess sebum and impurities from skin while retaining skin's essential moisture. Leave skin feeling soft, smooth and supple.
Suitable for all skin type.
Directions for use:
Wet washing puff with water, squeeze out excess water and sprinkle half to one teaspoon of facial washing powder evenly over puff. Squeeze and release to create creamy dense foam. Smooth foam over face and massage with gentle upwards movement. Rinse off with water.
If memory doesn't fail me, the first time that I tried Fancl Washing Powder was when I was around 17. And I had been using it on and off since then. I like the fact that its in powder form so you need not worry about it spilling out especially when you're traveling. It cleanses well without giving you the tight feeling after that. I prefer to use a
face wash net
to form the bubbles though.
Next up, we were introduced to both Fancl Lotion (not shown in picture) and Fancl Milky Lotion.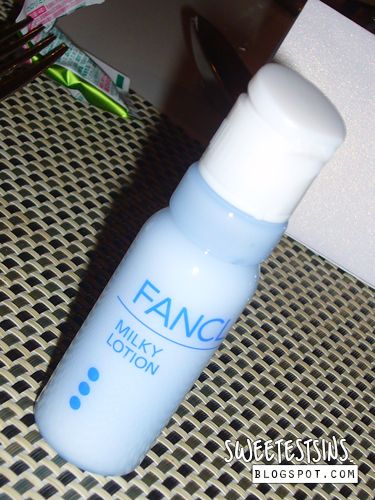 Fancl Milky Lotion
Fancl Lotion is the equivalent of a toner. Japanese brands usually refer their toner as lotions. They usually have a thicker consistency than normal toners.
Fancl Milky Lotion is the equivalent of a moisturizer. Some Korean or Japanese brands would refer to it as emulsion too.
The last product that was introduced to us, which is also the latest product that Fancl has in-store is none other than -
Fancl Overnight Hydrating Pack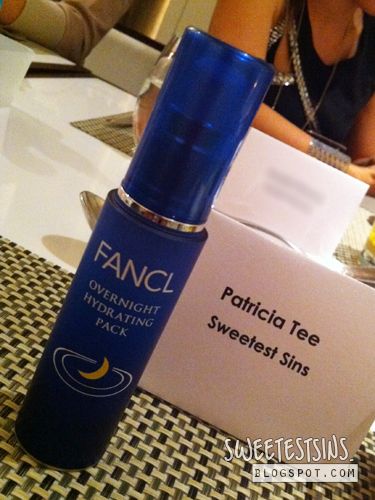 This is equivalent to sleeping pack/masks. I will elaborate about it more in my review below.
At the end of our dinner, we were treated to a bottle of -
Fancl TenseUp EX HTC Collagen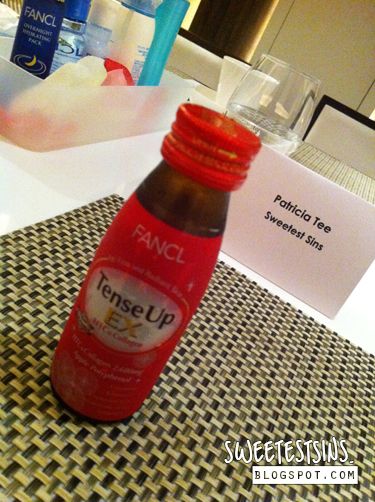 Fancl definitely pampered all of us ladies whom were present that night, no?
I have been on Fancl products namely Fancl Lotion, Fancl Milky Lotion and Fancl Overnight Hydrating Pack for about a month now and I thought that I would share my thoughts on them.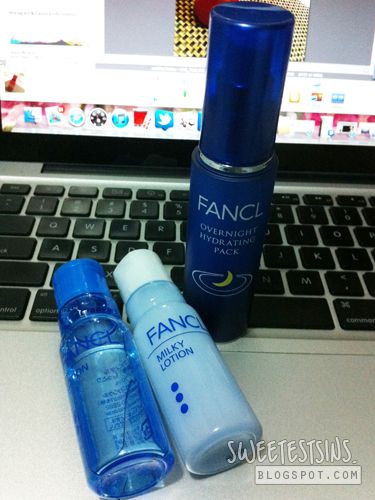 Fancl Lotion
What is it:
Restores skin's natural functions for supple softness. With its moisturizing agents wrapped in Lecithin Capsules, it enhances penetration into skin and delays the release of moisturizing agent for a long-lasting moisturizing effect
Directions for use:
Pour about 20-cent coin size onto clean palm and apply evenly over face.
Suitable for all skin types.
My thoughts:
This has got to be my favourite product among all! Let me tell you why - the consistency of it is thicker than normal toner/lotion but slightly thinner than Hada Labo. It is very gentle on my skin as well. Sometimes I use it alone after cleansing my face and my face is still well moisturized the day after! I usually use it with a cotton pad. Sometimes I use it as a
lotion mask
too!
Rating
: 4.5/5
Fancl Milky Lotion
What is it:
Seals in the moisturizing benefits of Fancl lotion with nutrients for long-lasting hydration. Veiling agents wrapped in Lecithin capsules to seal in moisture and prolong moisture retention inside skin. Protects skin from external irritants and leaves skin soft and supple.
Suitable for all skin type and those who prefer a moisturizing application feel.
My thoughts:
I don't know about others, but I only like emulsions and gel moisturizers. I really don't like cream moisturizers. Fancl Milky Lotion is like your regular emulsion. Its quite light, doesn't feel too oily. It actually reminds me a little of Laneige Balancing Emulsion.
When I apply Fancl Milky Lotion the night before, it helps to plump up my skin the following day when I wake up. Though there will be slight shine on my face but cleansing with a regular cleanser would solve the problem.
Rating
: 3.5/5
Fancl Limited Edition Overnight Hydrating Pack
What is it:
Overnight leave-on facial mask to nourish and infuse your skin with moisture while you catch on your beauty rest.
Silky veil that supports skin repair and protects skin from moisture loss as you snooze.
Ingredients:
- Silk Peptide: seals in the moistures like a veil to retain moisture and support delivery of beauty essence into the skin.
- Rooibos Extract: rich in mineral, controls sebum oxidation caused by UV rays.
- Acetyl Hyaluronic Acid: keeps skin moist and soft with its superior moisture retaining ability
- Amino Capsules: nano-size capsule that absorbs into the skin quickly. Coated in double-layered Lecithin membrane that is similar to skin cell's structure enables nutrients to reach into skin cells for maximum efficacy.
Directions for use:
Use Limited Edition Overnight Hydrating Pack before sleeping and after regular skincare.
My thoughts:
Fancl Overnight Sleeping Pack reminds me very much of
Tony Moly Dual Effect Sleeping Pack Intense Repair
. Though the consistency is lighter than Tony Moly Dual Effect Sleeping Pack and it doesn't have whitening properties, it does a good job in giving my skin an extra boost of moisture. It helps to plump up my skin! On the night before any special event/occasion, I will hydrate my skin with sleeping pack so that makeup will glide on more easily.
The only gripe that I have about sleeping pack is that I usually have to put a towel on top of my pillowcase so that it doesn't get onto it.
Rating
: 4/5
If you ask me what's my must-have from Fancl, I say its.. Fancl lotion! I love it to bits! You should try Fancl Washing Powder too!
Price list:
Fancl Mild Cleansing Oil $33
Fancl Washing Powder $26
Fancl Overnight Hydrating Pack $56
Fancl Lotion $29.50
Fancl Milky Lotion $29.50
Thanks for reading.
Love,
Patricia
To be notified of the latest beauty news, launches or events, follow me on


or like SweetestSins on