NIP+FAB: Celeb-fave cult beauty brand [Review & Press preview coverage]
Tuesday, August 07, 2012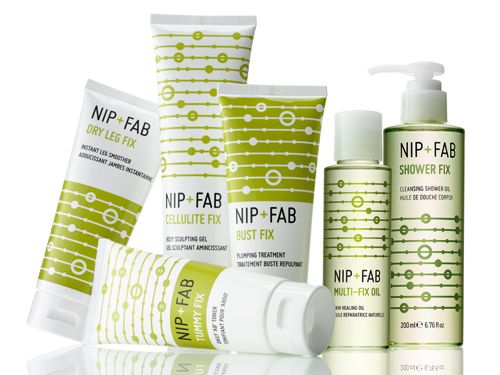 NIP+FAB is the younger sister of premium cult beauty brand, Rodial.
It consists of clinically-tested range for both face and body and is a favourite among celebrities like Jennifer Aniston, Julia Roberts, Victoria Beckham, Sienna Miler, Kim Kardashian, Gwyneth Paltrow and Kate Bosworth.


I took some time to do up this post because I really wanted to try out as much products from this range as possible so as to share my thoughts with you all.
NIP+FAB Cellulite Fix Body Sculpting Gel


What is it:
The must- have product for banishing those dreaded dimples and orange peel. When applied to problem areas, this body sculpting gel melts instantly into the skin for targeted and fast-action against the appearance of cellulite – it's absorbed so fast you don't even need to massage it in! This non-sticky gel contains CellActive®- SHAPE, a complex enriched with a powerful combination of Indian forskolin and natural caffeine to burn and eliminate fat cells. Plus the Essential Cell Boost-Factor to help activate fat breakdown, promote the removal of waste substances and improve tissue firmness So treat yourself to Cellulite Fix this Summer for noticeably smoother and dimple-free legs you can dare to bare!
My thoughts:
As I used to be severely overweight, I struggle with problems such as cellulite and stretch marks. This is also why I seldom wear shorts - unless I really have to.
I find that NIP+FAB Cellulite Fix Body Sculpting Gel helps to smooth my cellulite and make it less uneven. I'm not so sure about the sculpting part that it claims though, maybe its because I haven't used it long enough to see the results.
NIP+FAB Dry Hand Fix Brightening Hand Cream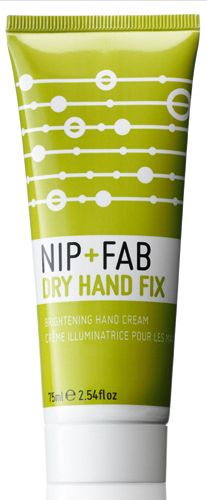 What is it:
Improve skin tone and keep hands smooth + soft with NIP + FAB's super moisturising product Dry Hand Fix!
My thoughts:
If there's one thing that stops me from repurchasing this hand cream, it would be the scent. Its not quite your usual nice-smelling hand cream. The almond scent took me a bit to get used to. Apart from that, I don't see why anyone wouldn't like this hand cream - it's moisturizing, absorbs quickly and doesn't feel sticky. On top of that, it claims that it brightens your hands!
NIP+FAB Dry Leg Fix Instant Leg Smoother
This intensive balm helps to smooth dry and flaky skin thanks to an innovative moisturising and restructuring hydraconcept, called Aquaxyl. This miracle ingredient boasts scientifically substantiated benefits to improve the water reserves in the skin, limit water loss and visibly improve the surface of the skin.
Combined with shea butter to restore moisture and elasticity and glycerin to soften and hydrate, you can rid yourself of dull, dry skin in an instant!
My thoughts:
This was the first product that I picked to try out from the entire range. Due to work, I stay in an air-conditioned office for close to 9 hours daily, not forgetting the occasional caffeine boost that I need to keep myself vigilant at work. All these contributes to my skin getting dry!
I don't know about you but I am very prone to dryness especially around my forehead, cheeks, elbows and lower thigh. When it gets too cold, my lower thigh will look quite dry with my skin showing up looking rather obvious. Thank goodness there's Dry Leg Fix to the rescue! I really like this because it provides a gloss (note: not shiny) to my leg when applied. Its not greasy or anything like that in case you're wondering!
NIP+FAB Multi Fix Oil Skin Healing Oil
Winner of a Pure Beauty Award, this all-purpose oil helps to improve the appearance of scars, stretch marks + uneven skin tone whilst nourishing and moisturising the skin.
Key ingredients includes bio lipids which target scars and stretch marks, borage oil to nourish and moisturise, safflower oil to replenish and soften, and blackcurrant seed oil renowned for its brightening, lightening properties.These clever ingredients work hard to improve the appearance and elasticity of scars and stretch marks and will help to improve an uneven skin tone, eliminating imperfections and giving you the gift of body confidence!
My thoughts:
I don't know about you but I wasn't too impressed when I heard the word - oil, simply because I thought it meant that it would most probably leave me feeling sticky all over.
I applied Multi Fix Oil after using a body scrub in the shower. Initially, I was quite skeptical because it didn't absorb readily into my skin and it made me look like I was yet another contestant in WWE (you know those oiled up bodies)? Plus, I was ready to jump into bed that night because I had work the other day so imagine my impatience. But to my surprise, around 10-15 minutes later, the body oil absorbed into my skin and it doesn't look as shiny as before. In fact, it looked like I had got nice, natural-looking, well-moisturized skin!
NIP+FAB Bust Fix Plumping Treatment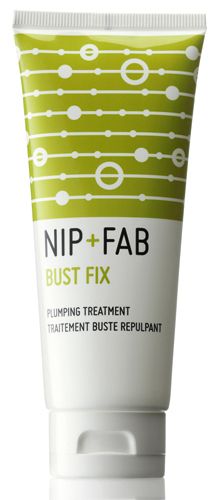 What is it:
Plumps, smoothes and firms the skin around the bust and décolleté, while improving tonicity and firmness - ideal for skin which has lost elasticity. Containing CellActive®- FORM a plant-based complex of active ingredients which supports the natural process of lipid deposition, lending fullness to the bust, it will reshape the contours of the cleavage area and optimally accentuate the feminine features. Other active ingredients mangosteen and essential cell-boost factor reshape, sculpt and smooth for an all-round firmer bust!
NIP+FAB Tummy Fix Daily AB Toner
What is it:
Helps to tighten, tone and smooth the tummy area with wonder ingredient AmaraShape, a highly effective combination of fat burning actives to refine body contours such as waist, thighs, buttocks, and hips. The active substances are caffeine and synephrine. Both ingredients activate the breakdown of lipids in fat cells of the adipose tissue (body fat) and main ingredient AmaraShape.
Although I haven't tried out Bust Fix Plumping Treatment and Tummy Fix Daily AB Toner out, I'm sure they wouldn't disappoint me.
If you were to ask me to pick my favourite product among those that I have tried, I say its... NIP+FAB Dry Leg Fix Instant Leg Smoother definitely, followed by NIP+FAB Cellulite Fix Body Sculpting Gel and NIP+FAB Dry Hand Fix which is a tie!
For press preview coverage photos, head over to
SweetestSins Facebook Page
!
Price list:
NIP+FAB Bust Fix Plumping Treatment $29.90, 100ml
NIP+FAB Cellulite Fix Body Sculpting Gel $29.90, 150ml
NIP+FAB Tummy Fix Daily AB Toner $29.90, 100ml
NIP+FAB Dry Leg Fix $15.90, 100ml
NIP+FAB Multi Fix Oil $19.90, 100ml
NIP+FAB Dry Hand Fix $15.90, 75ml
NIP + FAB range is available at Watsons stores nationwide and at www.nipandfab.com.sg.
Disclaimer: Products were provided to me for consideration.