Hada Labo: SHA Hydrating Lotion and Super Hyaluronic Acid Moist Eye Cream [Review]
Thursday, August 09, 2012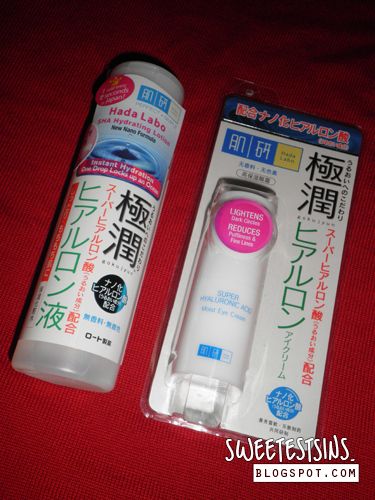 Hada Labo SHA Hydrating Lotion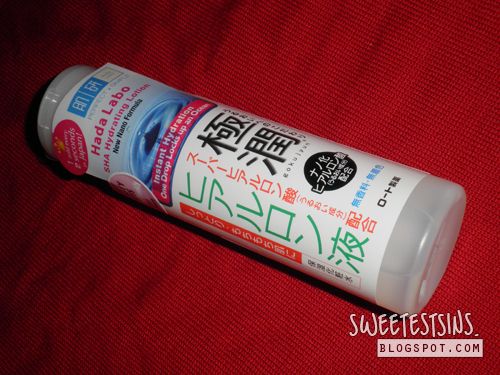 Although its a new-improved version, I love it all the same. I mean, you just have to dispense about 2-3 drops and its enough for your entire face! Texture-wise, it is thicker than your usual toner/lotion.
I like to use it as a quick hydrating mask - by pouring a bit onto a damp cotton squares and place them on my face, especially on areas such as cheeks and forehead which are more prone to dryness.
Some of my friends don't like Hada Labo SHA Hydrating Lotion because they find it sticky. The correct way of applying this lotion is actually to pat it on with your bare hands instead of applying it with a cotton pad (
see video here
). Yes, it does take a little longer for it to absorb into your skin compared to most regular toner/lotions but trust me, when it absorbs into your skin, it leaves your skin feeling super smooth!
Hada Labo Super Hyaluronic Acid Moist Eye Cream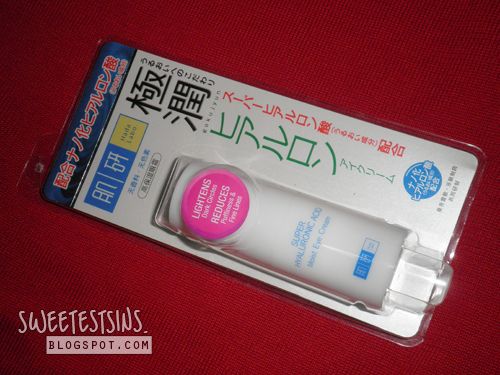 Although I am supposed to steer clear of eye creams or anything that's on the richer side in terms of texture due to my syringoma, I played against all the odds by trying this out.
In terms of texture, although it says that its an eye cream, I thought that it felt more like an eye gel that has got a thicker consistency. It is rather moisturizing, not too oily I would say. Due to the fact that I have got syringoma, I can't really use much eye products (only certain brands of eye gels), most of the time I just go without any eye gel or cream so my undereye area looks dry. I find that Super Hyaluronic Acid Moist Eye Cream helps to soften the skin around my undereye area.
There's just too much going on in my life recently, think work, attending media/blogger events, catching up with friends and spending quality time with my family. Not forgetting about my upcoming graduation ceremony as well as the planning that I gotta do for both my personal and company trip. Imagine, I had to have a cup of Nespresso every single day for the whole of last week and this week to keep myself vigilant at work. But fret not, I will still be updating
SweetestSins
except that it will be more irregular.
Before I end this post, I thought that I would share a picture of pretty fireworks with you guys that I took earlier tonight. Apparently, its National Day over here in Singapore and every year, there will be fireworks without fail. I love fireworks! They are so pretty!
HAPPY 47TH BIRTHDAY

SINGAPORE

!
I hope you like this post! Thanks for reading!
Regards,
Patricia
Disclaimer: Products were provided to me for review purposes.
To be notified of the latest beauty news, launches or events, follow me on


or like SweetestSins on