Maybelline Bloggers Event 2012 + Coordinates #9
Sunday, March 25, 2012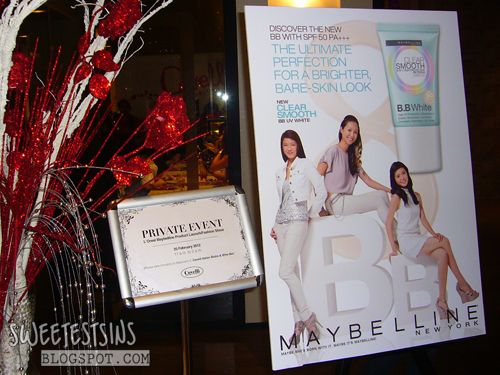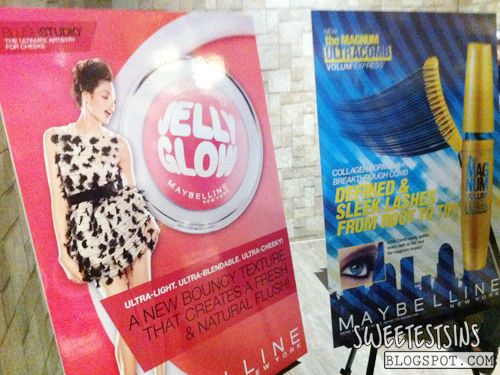 I know I'm rather late in posting this. For those of you whom are following me on
Twitter
, you would have caught some sneak peeks of the new products that Maybelline is launching this March and April.
The event was held over at Covelli, Orchard Central.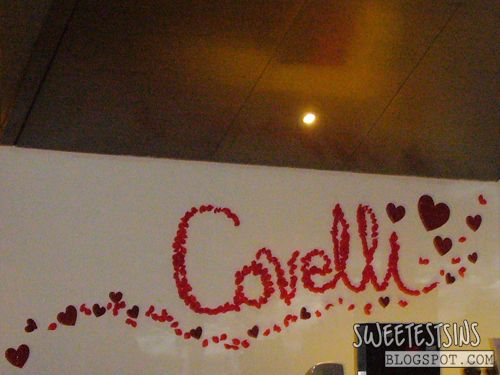 We were asked to sign on this board before going in. Make sure you stay right till the end of this post to find out more about the illustration.
We were treated to a live fashion show by Love, Bonito. We were supposed to guess what's wrong with the models' and it turns out that they only had makeup on half of their face! That shows that makeup really can help to brighten and accentuate our features.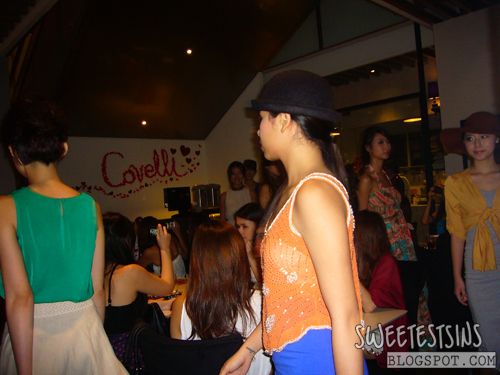 I actually took a video so that you all could feel as though as you were there 'live' and enjoy the fashion show more rather than showing you all a couple of still pictures.
I know most of you are excited to find out what are the new products launching hence I shall not keep you in suspense any further. The new products launching are - Maybelline Jelly Glow, Maybelline B.B UV White, Maybelline Volum Express Magnum Ultra Comb Waterproof Mascara and Maybelline Master Whiteliner.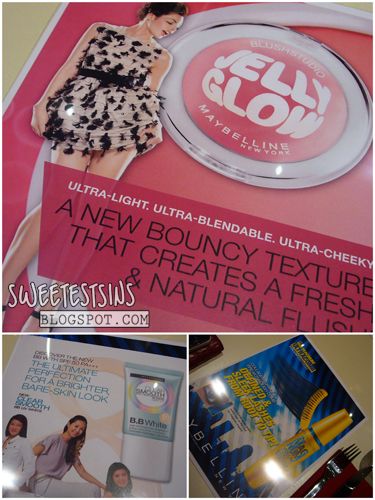 Maybelline B.B UV White
I was swatching the BB UV White at the event itself and I was surprised at how it blends in so well with my skin tone.
I have tried it a couple of times on my face and I thought that I would share my thoughts on Maybelline BB UV White.
Pros:
- Medium coverage
- Gives that dewy-look
- Easy to blend
Cons:
- Oil-control not very good
- Tends to oxidize
Maybelline Jelly Glow Blush 02 Pink and 05 Pure Orange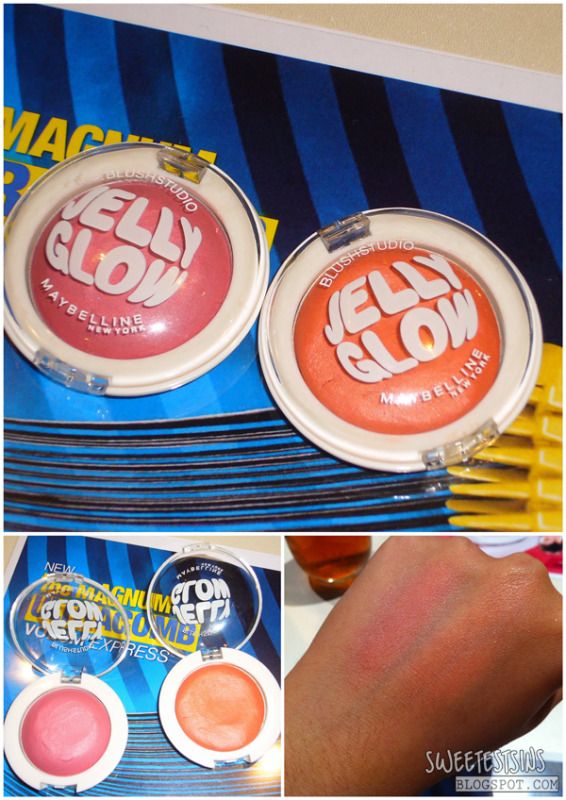 Jelly Glow Blush was one of the products that most of us bloggers were excited about. The Maybelline staff describe them as 'very bouncy' and that the texture is like playdoh.
The size of Jelly Glow Blush is much smaller than I thought it would be. The Jelly Glow Blush that I received is 04 and 07, a light pink and brown respectively. I have applied 04 a couple of times either with my fingers or with a stippling brush. 04 is rather light and in order for it to show up on me, I will have to apply more. Make sure you use a light hand while applying Jelly Glow Blush to avoid it looking cakey afterwards.
Here's what I had for the day. I can't remember what soup was it though. My main was Spicy Tuna Spaghetti. The cake was too sweet for my liking though.
If you remember, I showed you guys an illustration at the very beginning of this blog post.
Introducing...
WantonDoodle
! He's the very talented illustrator whom drew the illustration that we signed on at the entrance of Covelli!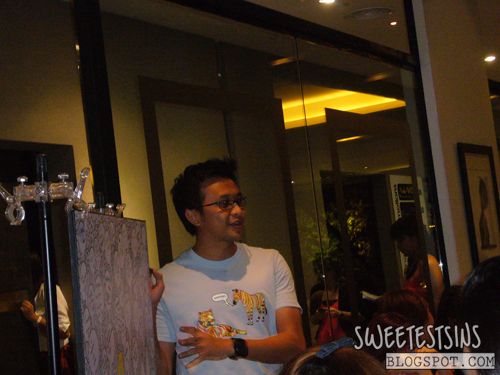 Here are my tablemates for the day!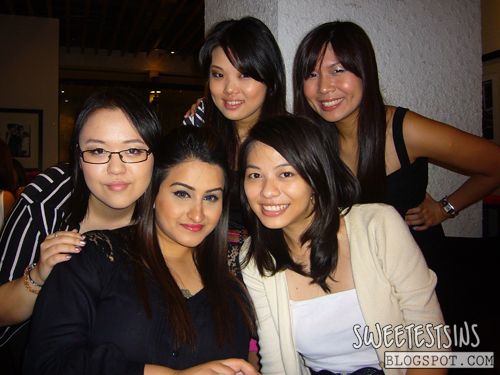 Joanna, Sarah, Minru, Claire and Me
Check out the illustration after the bottom part got some color on! Try spotting the new Maybelline products among them!
Here are the products in our goodie bag.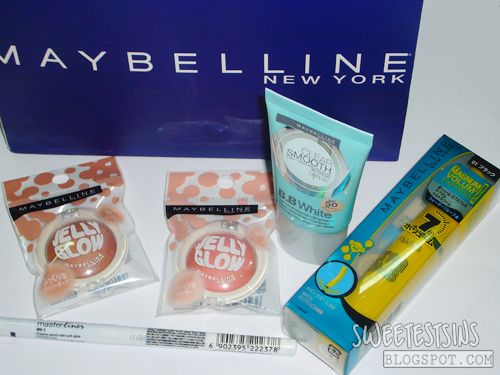 If you were to ask me which product do I love most among all, it has got to be... Maybelline Volum Express Magnum Ultra Comb Waterproof Mascara! I will write a separate review on this.
Price List and availability:
Maybelline B.B UV White $17.90, available from March 2012
Maybelline Master Liner White $11.90, available from April 2012 onwards
Maybelline Jelly Glow Blush (4 different shades) $15.90, available from April 2012 onwards
Maybelliner Volum' Express Magnum Ultra Comb Waterproof Mascara $19.90, available from April 2012 onwards.
Before I end this post, I thought that I would share my coordinates of the day. I know, I have been neglecting this column for a while.
Coordinates #9: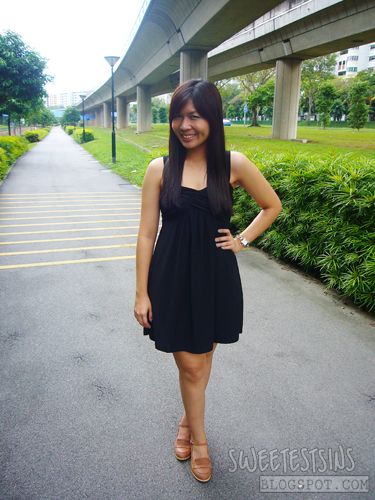 2. Strapped Heels, JB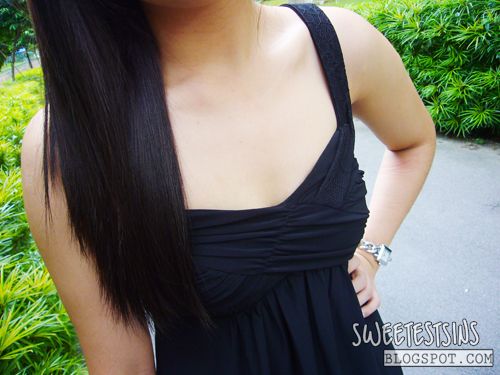 And my face of the day (FOTD)! My attempt at trying to elongate my eyes with eyeshadow in order to look more Korean.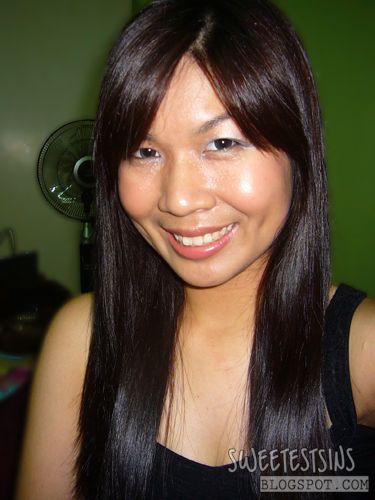 A big shout out to Joanna whom took the pictures for Coordinates #9! Can't thank her enough! She's really good at directing fashion shoots.
I hope you like this post! Thanks for reading!
Love,
Patricia