Neutrogena-Cosmopolitian Dinner + Coordinates #7
Sunday, January 15, 2012
As I had some time to spare before the commencement of the dinner, I decided to take a walk along Esplanade before walking down to One Fullerton.

It was unusually breezy that evening and while admiring the scenery, I decided to take a couple of scenic shots for memory sake as well as to share with you lovelies! Look, aren't they beautiful?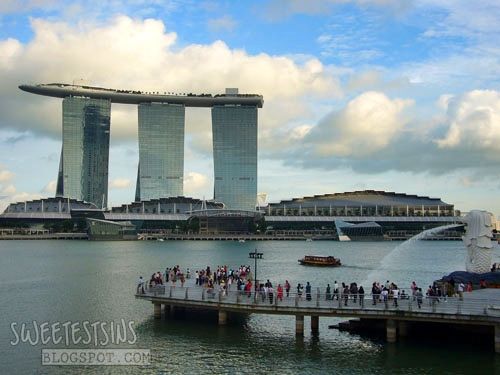 I was offered this drink upon reaching Pierside Kitchen & Bar. Guess what is it?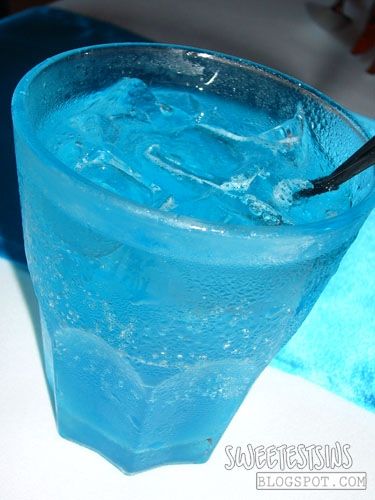 Hydro Boost Cocktail!
We were also given one part to a puzzle which we had to find the other two missing pieces to win a prize.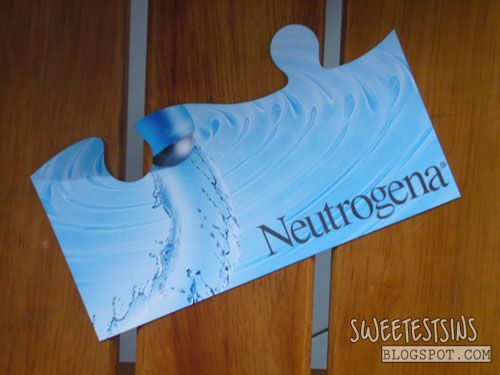 Didn't managed to win because we couldn't find the last piece. Its such a good ice-breaker though. Got to know Veronika (she's a real elegant lady) whom had the 2nd piece to the puzzle.

And this bread is so awesome that I can't remember how much I had.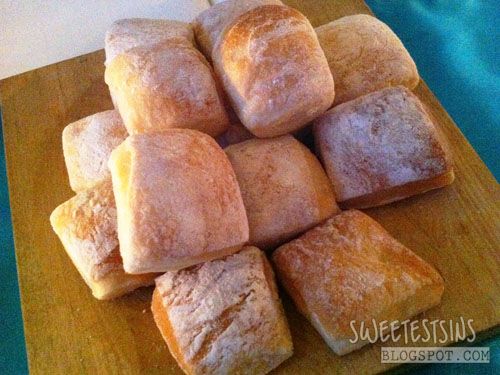 Did I mention how much I love bread? This ain't exactly a good sign because bread = carbo.

And here's my second drink of the day.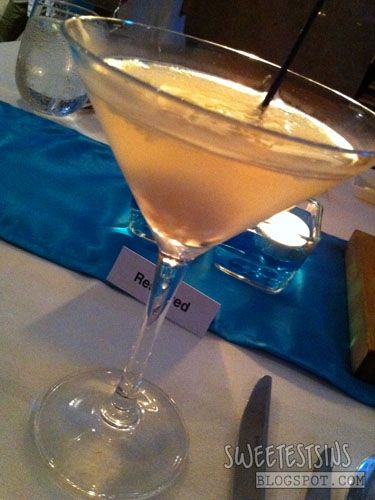 Litchee cocktail
As it was pretty dark inside, here are the few powerpoint slides which I managed to capture.
The star product of the day is... Neutrogena Hydro Boost Night Concentrate!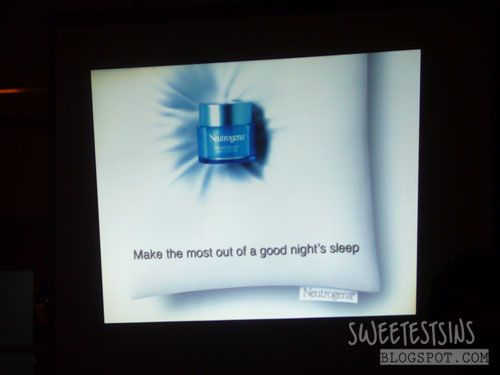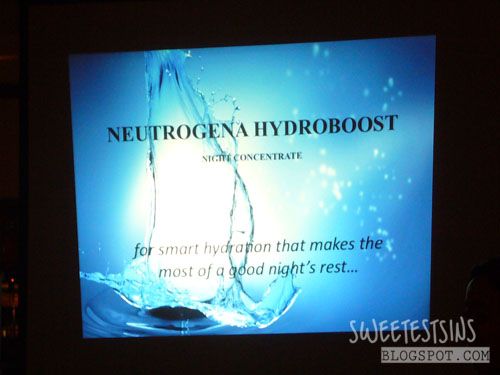 Here are some
facts
that Cindra from Neutrogena shared with us:
1) Neutrogena hydro boost night concentrate contains
olive extract
and
hyaluronic acid
which is 10 times more moisturizing compared to a sheet mask. So it will be as though as you use 10 sheet masks one after another.
2)
Neutrogena Hydro Boost Series
is the
No. 1
hydrating series.
3) The
number one selling product
from the range is -
Neutrogena Hydro Boost Hydrating Gel
.
They also had Dr Derrick Aw, a dermatologist over to share with us what causes dry skin. He's really humourous by the way.
Apparently, dry skin is caused by - external factors such as
environmental insults
or
topical products
. And our skin gets even dryer in countries that has low humidity.
Apart from that, soaking yourself in bathtub, going to steam rooms or sauna and even using bath salt can dry your skin out. He also mentioned that products that contains SLS would dry our skin out. Are you guilty of any of those mentioned above?
He added that if one suffers from acne, it would be better to use a moisturizer that contains hydro gel instead of pure gel as pure gel would suck up the water content of your skin and thus, making it even drier.
A misconception that most people would have is that they don't have to apply moisturizer since they have oily skin. This is not the case because the oil content produced by your skin does not help to prevent sensitive skin or eczema.
Halfway through the presentation, our first course of the day was served!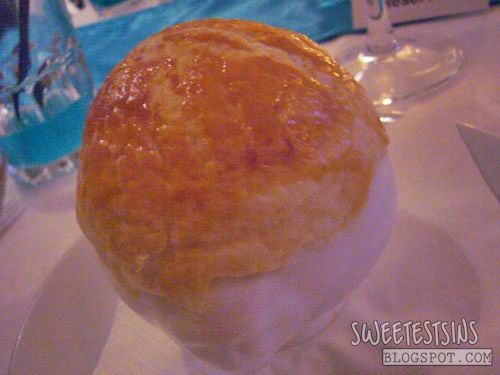 Hokkaido Corn Chowder
It looks so cute, doesn't it? (;
Guess what's the next course of the day that's served?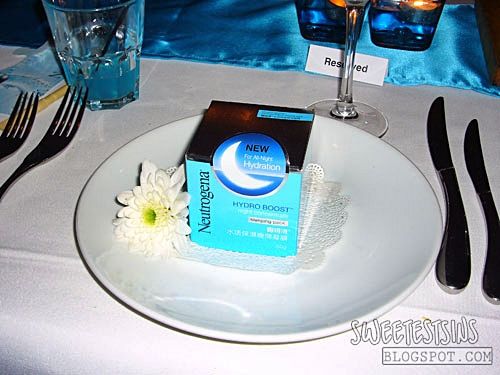 It's Hydro Boost Night Concentrate!
It's such an interesting way of presenting, isn't it?
WARNING: Lotsa food pictures ahead!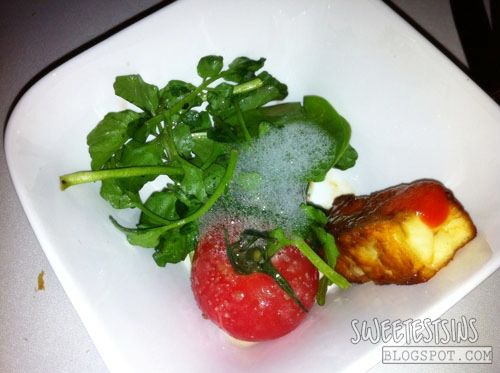 Vine ripened tomato salad with pan seared haloumi,
watercress herb salad and lemon caper dressing
That's my 3rd drink of the day by the way, because its all about hydrating ourselves from outside as well as within!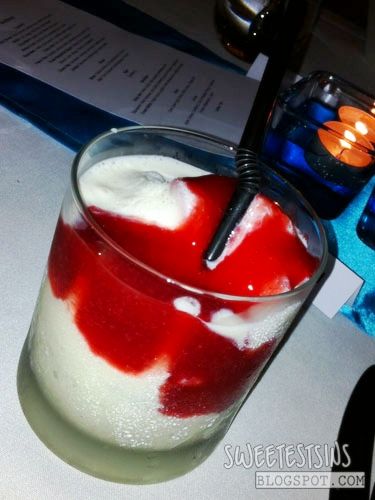 Cream-Delite
And my main course of the day!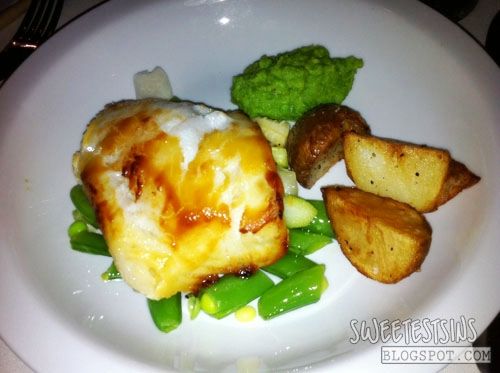 Oven roasted miso cod with minted pea puree
After that, we headed over to check out the various products in Neutrogena Hydro boost series.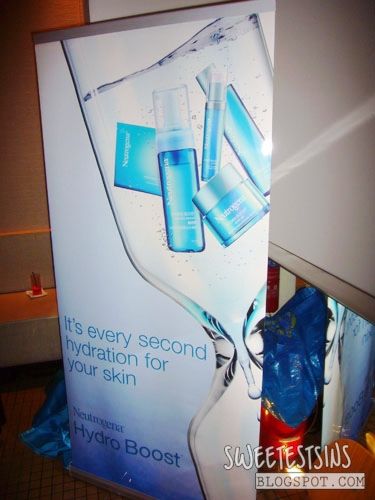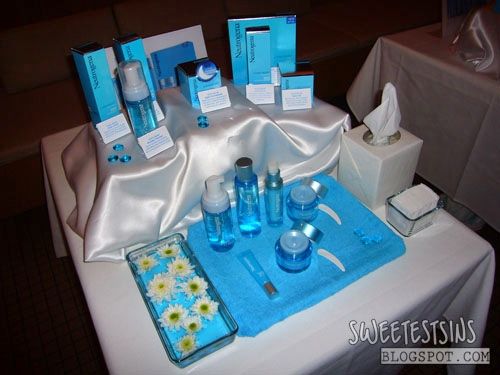 It was very much of a hands-on session where we tried the texture of the various products. I tried out the texture of Hydro Boost Essence and I really like it! It doesn't feel oily nor sticky. Might get this after I finish my current essence.
After the hands-on session, there was a lucky draw. It works in a way whereby if your message (see below) matches what the emcee says, you get to win a prize. I thought that this was rather refreshing for a change instead of plain ol' boring numbers.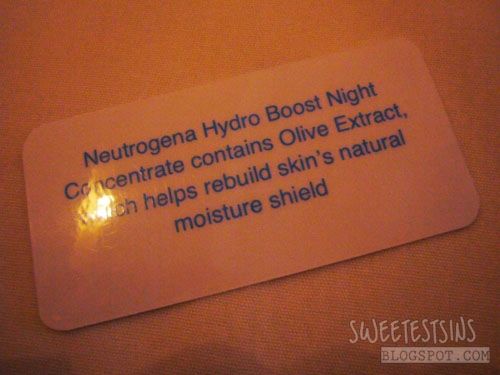 And the best part is everyone gets to win a prize! Here's my prize.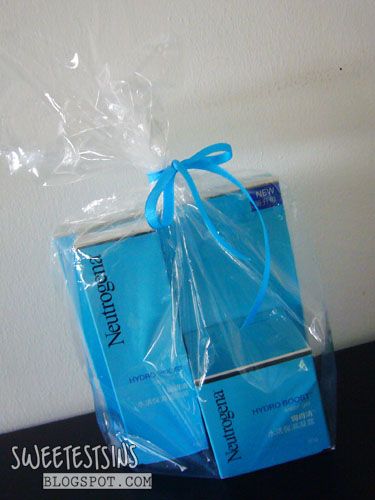 The grand winner won herself a night's stay over at The Fullerton and a year's supply of Neutrogena Hydro Boost products!

Not forgetting the best but most guilty pleasure of all - desserts!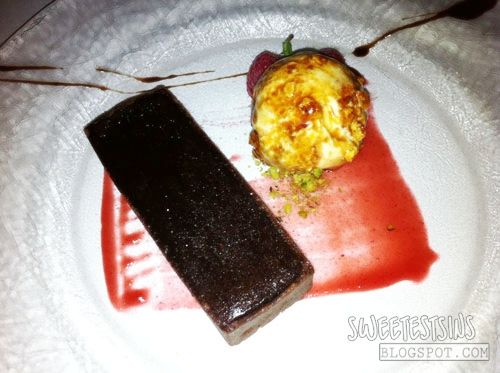 Warm milk chocolate tart with raspberry and butterscotch ice cream
The butterscotch ice cream is so good that I thought that I just died and went to heaven! Not so much of a fan for the chocolate tart though.
Before we left, Dianah passed us a bag and guess what it contains?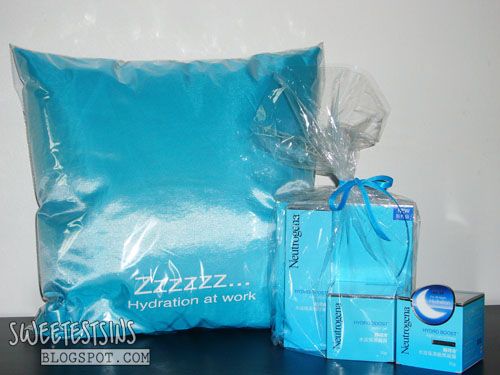 A fluffy blue pillow!
Its so cute isn't it? Am so gonna bring that to my office! It so coincidental because I have intended to get a pillow so that I could place it behind my back.
Thank you Dianah for the invitation!
It was such a calm night when I walked along the bay to City Hall. It suddenly dawned on me that as a Singaporean, I failed to embrace or realise how clean, beautiful and safe this small but safe city is.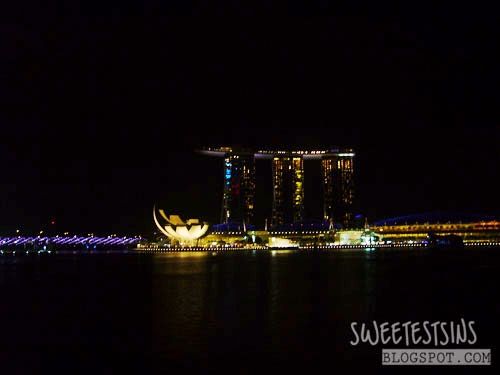 In 2012, one of my new year resolutions would be to learn to appreciate the merits of my country and complain less about its less than efficient transportation especially during peak hours in the morning, cost of living etc.

Before I end this post, I thought that I would share with you lovelies the outfit that I wore to Neutrogena-Cosmopolitian dinner.

Coordinates #6: Shoes Make a Statement

1. Sadie Party Frock,
Dressabelle

2. Black Tube (worn underneath): FEP
3. Black Peep-Toe Heels: Hush Puppies
4: Brown ankle-strapped Heels: JB
This is the exact outfit that I wore to Neutrogena-Cosmopolititian Dinner.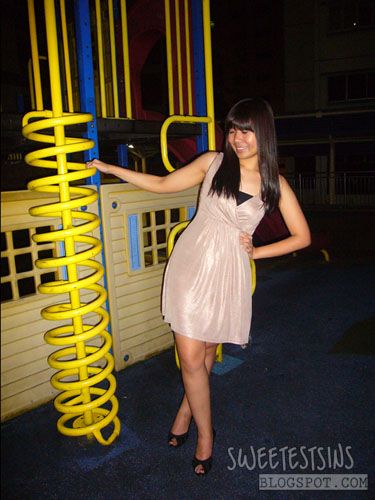 I paired it with black heels and wore it with a black tube underneath (to make it look more conservative) as I had to go to work during the day. When it gets too cold, I throw on a black blazer.
To tone it down or make the entire outfit looks less serious, I would switch the black peep-toe heels to a pair of brown-ankle strapped heels.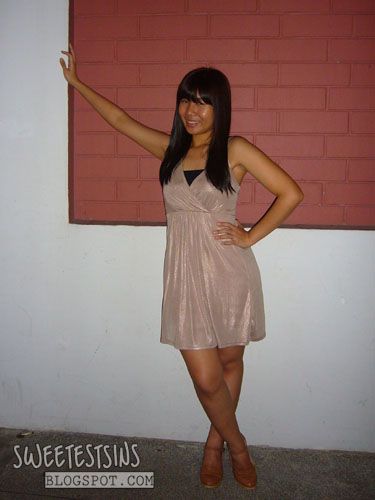 This makes the outfit looks more fun and you're all ready for that girls' night out or that special date!
I would also wear Sadie Party Frock without the inner tube with black killer heels to club!
Did you lovelies spot the asymmetrical design? Its so lovely, ain't it?
Patricia's Tip of the day:
For ladies whom wants to enhance their bust, try overlapping kimono-cut (as shown above) tops or dresses as it would make your bust look bigger.
Remember girls, its not about having many dresses, tops or skirts, its all about putting it together and playing around with accessories, shoes and experimenting with makeup to get different kinds of looks with the exact same piece of clothing.
I hope you enjoy this post and the tips that I have shared. Thanks for reading!
Disclaimer: Sadie Party Frock was provided by Dressabelle.
Quote "patricia256" to get free shipping off any items purchased in Dressabelle collection #256!