Trilipo @ Cutis Laser Clinic
Thursday, December 22, 2011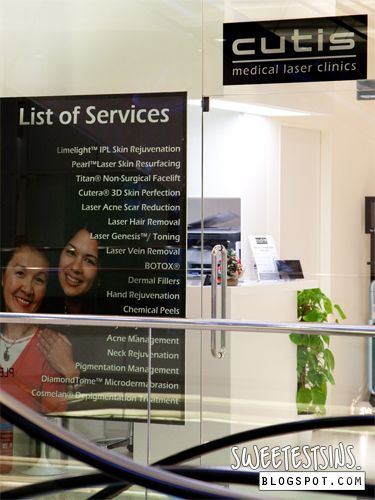 In the month of November, I had the privilege of trying Trilipo treatments over at Cutis Laser Clinic.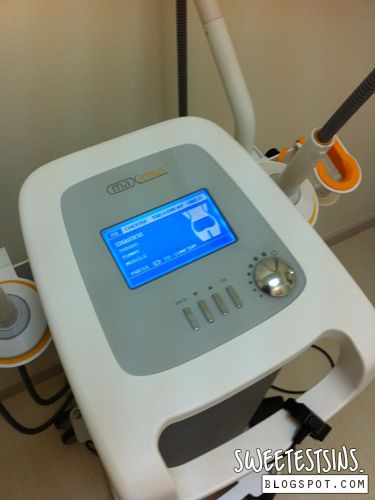 What is it:
TriLipo technology combines 2 effective technologies – TriLipo Radio Frequency (RF) and TriLipo Dynamic Muscle Activation (DMA) to simultaneously create a synergistic effect that delivers non-invasive fat removal and lymphatic drainage, as well as skin tightening, treating anti-aging facial as well as slimming concerns successfully.
The 3 key features of TriLipo to target slimming efficiently are to Release, Remove and Reshape.
1) Release:
Triple action fat reduction takes place as TriLipo targets the dermis, hypodermis and muscle layers concurrently. The combined effect of RF and DMA causes deep and homogenous heating of both the dermal and fat layers. TriLipo RF energy heats the subcutaneous fat tissue layer forcing the release of liquid fat from the cells. This thermal effect accelerates natural fat metabolism.
2) Remove:
Fat removal is accelerated by simultaneously applying internal and external pressure on the fat layer. Internally, DMA causes the muscles to contract, pushing the fat cells up. Externally, fat cells are pushed down by pressure from the applicator. The resulting "squeeze" effect causes the fat to drain via the DMA patented lymphatic drainage mechanism, The combined TriLipo RF and DMA effect accelerates blood circulation, optimizing tissue oxygenation and detoxification.
3) Reshape:
Focused TriLipo RF energy causes a contraction of the collagen fibers leading to an immediate tightening effect. Simultaneously, an acceleration of the metabolism of the fibroblast regenerates collagen yielding long-term skin tightening results.
My thoughts:
During the first session, I was quite nervous even though I had researched online prior to my appointment.
As I used to be severly overweight, I have very bad cellulite and stretch marks on the back of my thigh and I am very conscious about it. Hence, I don't usually wear shorts if you noticed.
My first session started with a consultation with Dr Sylvia. She's really pretty! No airs or anything. After understanding my concerns, she suggested that I try Trilipo for my back thigh for 3 consecutive sessions.
She also did a face analysis for me. They had this super cool machine that would take photos of your face and you could see whether you have pigmentation when you switch to different modes. Dr Sylvia commented that I had been rather religious in my skincare routine as I don't have much pigmentation, only 3-4 small ones around my mouth area. Hence, she advised that I should ensure that I do not miss out the immediate area outside my lips when I apply sunblock.
My therapists, Ling and Fan attended to me on different days. My weight was recorded prior to the treatment and measurements around my thigh were taken down before and after each treatment.
Here's how the treatment room looks like.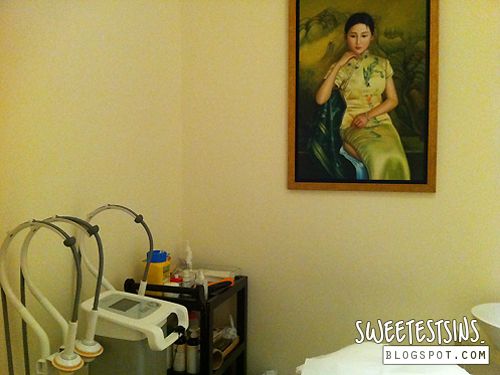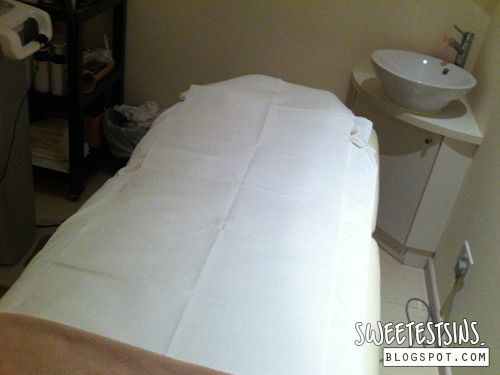 They first started with lower pulse and temperature and then increase them accordingly during subsequent visits. In terms of comfort level, I would rate it 3/5. At the start of the treatment, I can sense the pulsing more but as the temperature goes higher, I don't feel it that much. The pulsing feels like static, similar to that kind of static you feel when you get too near to someone in a shopping mall. Because my treatment is on the thigh area, it can be rather sensitive at times but it is still bearable.
In terms of side effects, I haven't noticed any unusual symptoms after the treatments except for slight redness which would go away after a while.
Prior to the treatment, I did clarify some doubts with Dr Sylvia. Thought that I would share it here in case anyone needs to refer to it.
Q: Does Trilipo treatments aid in weight loss without having to exercise?
A: Trilipo treatments mainly helps in skin tightening. Weight loss can best be achieved with exercise on top of Trilipo treatments.
Q: What causes cellulite?
A: It is caused by the breakdown of tissues which causes uneven and dimpled skin.
Q: How come skinner girls have cellulite too?
A: Cellulite occurs more often in ladies on the thighs, buttocks and abdomen area but some men have it too. Even supermodels have cellulite.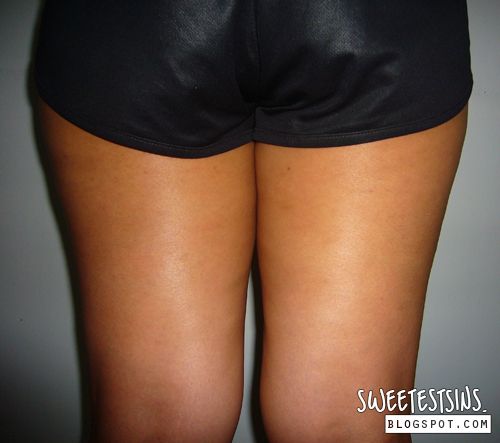 After 3 sessions, I lost 2cm on both my thighs. Although some stretch marks and cellulite are still visible, but it has reduced significantly! Apart from that, the skin on the back of my thigh also look and feel smoother.
Trilipo sessions are priced from $128 for the eye area to $560 per session for the abdomen and side area per session onwards.
Cutis Laser Clinic
9 Scotts Road Pacific Plaza
#03-06
Singapore 228210
Tel: +65 6327 9700
Thank you Gidania for the invitation.