It's Skin Power 10 Formula VE Effector
Friday, December 23, 2011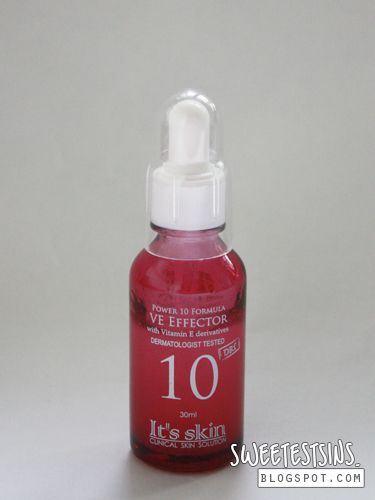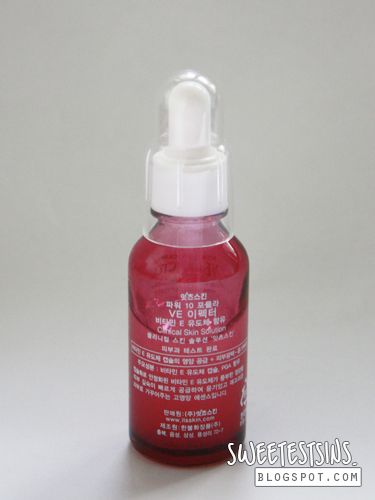 I have long wanted to share about this amazing and affordable product. I first came across It's Skin because 2PM is their ambassador. And when one of my poly FYP mate, Andeline went to Korea, I asked her to help me get this since we don't have It's Skin in Singapore.
What is it:
Essence containing vitamin E (tocopherol) capsules that directly provides nutrients and moisture to the skin to make it look lustrous and smooth.
Rating:
★★★★★
My thoughts:
Pros:
- Reduce redness/irritated skin and swelling
- Make skin smoother
- Even out skin tone
- Lighten post acne marks
- Not oily nor sticky
Cons:
The only con would probably be that it is:
- Not readily available in Singapore, even if it is, its marked up way too much.
I use this twice a day, once in the morning after toner/lotion and prior to sunscreen as well as before bedtime after cleansing and toning. It lasted me for about 2.5 months.
The best thing about It's Skin Power 10 Formula VE Effector is that it doesn't contain any fragrance and that it contains Vitamin E. Vitamin E helps to lighten scars and is very good for the skin.
Repurchase: Yes, definitely. In fact, I might even stock up on this for myself and as gifts for friends.
P.S: I saw an It's Skin outlet over at City Square Johor Bahru (JB) that is still undergoing renovation when I was there 2 weeks ago. Can't wait for it to open so that I can check out their range of products offline.
Hope you like this post. Thanks for reading.
Love,