Laneige: Pore Deep Clearing Foam
Wednesday, November 23, 2011
What it does:
- Eliminates dirt on the skin's surface and within the pores with mild plant based ingredients while leaving a fresh hydrating effect
- Fortifies the skin's defense system to keep skin problems at bay
- Users can experience sebum control, impurities exfoliation and pore purifying effect
- Mild pore purifying cleanser with maximum effect
- The first vital step to kick-start a complete pore care solution
Contains Natural Morrocan clay (Ghassoul) that cleanses deep within the pores. Micro bubbles purifies deep within the pores, and larger bubbles cleanses the surface. Clove extract is also used to control the sebum secretion, leaving skin supple.
MOROCCAN CLAY (GHASSOUL):
Gently exfoliates skin, leaving the pores clean and refined. Clove extract is incorporated to control sebum for clean pores.
PORE PURIFYING COMPLEX:
Eliminates toxins while fortifying the skin's defense system.
Directions:
- Release a small amount on your palm then work up a rich lather
- Massage gently
- Rinse with lukewarm water
My thoughts:
I have received this particular Laneige Pore Deep Clearing Foam sometime early in June this year. However, I am only reviewing it now because I have mixed feelings over it. Don't get me wrong, its not a bad product but somehow it works for me at times and at other times, it doesn't.
During June this year, I was holding a vacation job and I stayed in an air-conditioned place for almost 8 hours everyday. Hence, my skin then was dry, prone to flaking and the powder on my face would crack at times. It was really unsightly. Hence, I put this product on hold for the time being then.
When I went back to school during the semester, the climate in Singapore is very humid and my T-zone tends to get rather oily, about 1 or 2 hours after I leave home. Hence, I thought I would give Laneige Pore Deep Clearing Foam a try.
Unlike the directions given above, I use a
face wash net
to work up a lather. I find that after using Laneige Pore Deep Clearing Foam, it
helps to control the shine on my T-zone
such that it only becomes shiny after about 3-4 hours. As I have combination skin with oily T-zone and my cheeks are prone to dryness at times, I realized that if I were to use Laneige Pore Deep Clearing Foam on my entire face, my cheeks would become dry and it feels a little tight. Hence, I tried
using it only on my T-zone area
and that solved my problem of having dry cheeks! I also realized that by massaging Laneige Pore Deep Clearing Foam not only in circular motions but also horizon and vertical, it helps to keep my T-zone matt for a longer period.
I prefer to use Laneige Pore Deep Clearing Foam at night after makeup remover rather than in the day as it helps to deep cleanse my skin thoroughly. Apart from that, I realized that Laneige Pore Deep Clearing Foam works better in Summer or warmer days compared to Winter or when it gets colder as my skin tends to get a little dry when it gets colder.
I won't be including the usual ratings and whether I would repurchase this product because I really have mixed feelings over it. Whether I like it a not, whether it works a not, it really depends on when I use it.
Who will love it:
- People with oily skin, combination oily
- People whom love the clean feeling that deep cleansing gives
- People living in a country that has a humid climate
Who will not like it:
- People with dry skin, combination dry
- People who experience tightness after cleansing
Laneige Pore Deep Clearing Foam retails at $30 at all Laneige counters.
Disclaimer: Product was sent to me for consideration.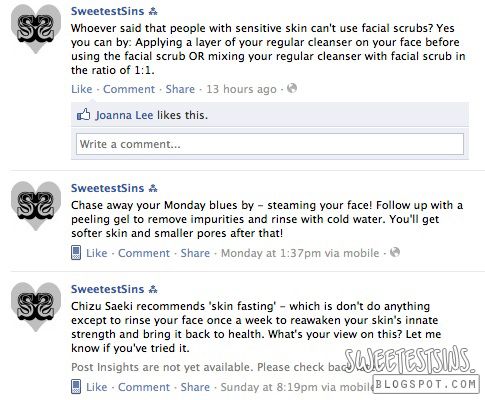 P.S:
If you haven't already
'like' SweetestSins on Facebook
, its time to do so because I will be posting short updates such as tip of the day, or sharing interesting beauty facts over there exclusively. It won't be cross-posted to my blog and you won't want to miss it, trust me!