Gmarket and Fancl Haul
Wednesday, November 30, 2011
Gmarket Haul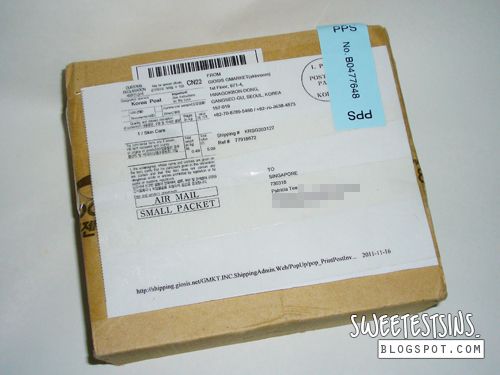 I have bought from Gmarket a couple of times before but this time round was my first attempt at purchasing from a overseas seller based in Korea.
I was tempted to get it because there was this event going on over at Gmarket and Charen Snail Essence Mask Pack 15 Sheets was only going for $6.50! Even with shipping which cost $3.90, the total is only $10.40 which is very very affordable! If you do the maths, one sheet is only about $0.70 after rounding up. Plus, after trying
Elicina Xtreme Facial Mask
, I'm sold by what snail extract/mucus could do for my skin! What's more, it had anti-aging properties which Mommy could use it too!
Charen Snail Essence Mask Pack 15 Sheets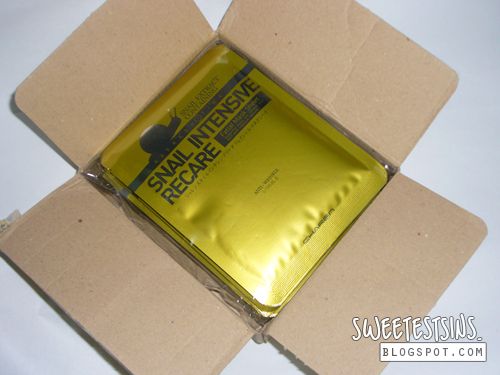 I ordered Charen Snail Essence Mask Pack 15 Sheets on 12 November. It was shipped 2 days later on 14 November and I received it on 23 November. In total, it took 11 days for my order to be processed, packed and delivered to Singapore.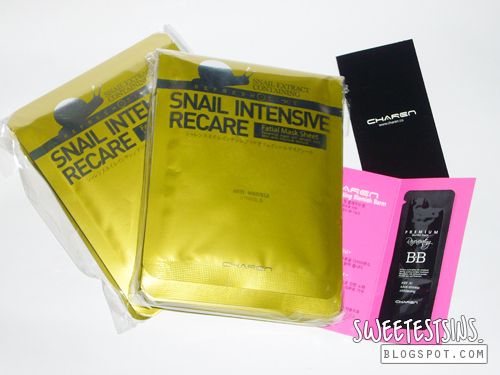 The seller was nice to include two sachets of BB cream samples. I have yet to try the BB cream yet but both my Mom and I had tried Charen Snail Essence Mask Pack. Its not too bad I would say. It contains quite a lot of essence, considering how affordable it is. I will give a more comprehensive review in a separate post once I have tried it for a longer period of time. So stay tuned yea? (:
Next up is my Fancl haul!
Fancl Haul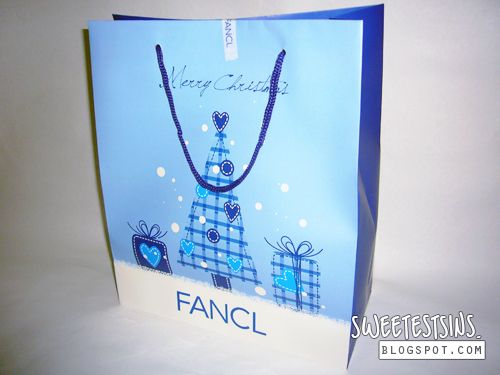 Went to Fancl to pick up the 2 bottles of Fancl Deluxe Tenseup which Fancl is giving away with a complimentary skin check for its members.
The BA did introduce some of Fancl products which would be suitable for me such as Fancl washing powder, Fancl Lotion and Fancl Cleansing Oil which I didn't get because I have bought and used them before previously. And also partly because I had my eyes set on White Christmas set.
When I asked her about the Fancl White Advance Drink EX, she let me sample both Fancl White Advance Drink EX and Deluxe Tense Up.
And I ended up walking away with these...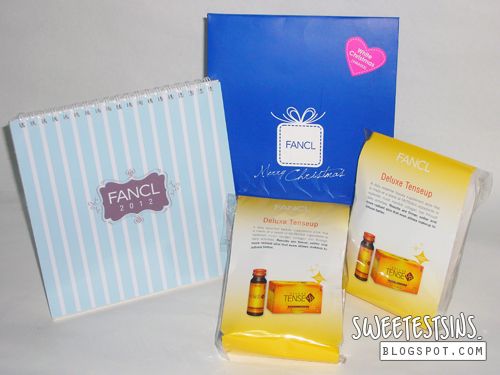 The BA gave me the Fancl 2012 calendar. I have had a few Fancl calendars previously and they are simple yet pretty! The BA was telling me that for every purchase made in November, I was also entitled to another 2 bottles of Fancl Deluxe Tenseup.
Fancl White Christmas Set - $33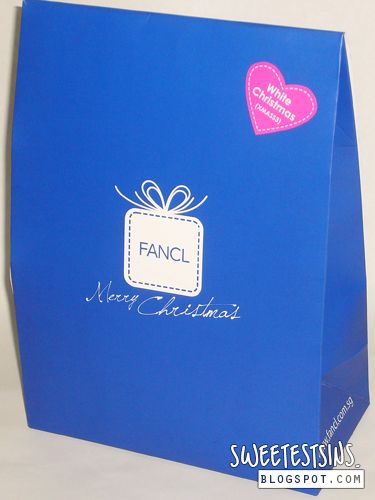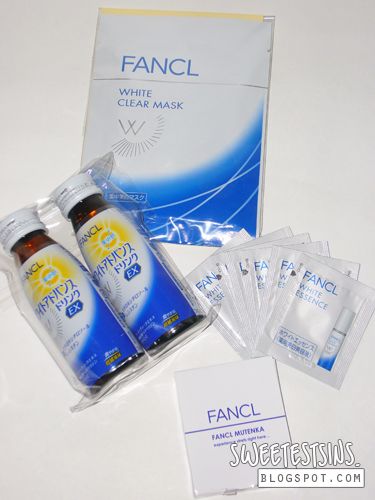 Fancl White Advance Drink EX, White Clear Mask and White Essence
I have finished all the collagen drinks, both Fancl White Advance Drink EX and Deluxe Tenseup. In terms of taste, I would say that I prefer Fancl Deluxe Tenseup rather than Fancl White Advance Drink EX.
After consuming these drinks 6 days in a row, did I observe or see any difference in my skin?
Some of the changes that I observed includes my complexion becoming brighter and smoother and that my arms became slightly fairer too. However, I must say that I am not sure if its due to the collagen drinks because I have been applying whitening body lotion on my body religiously and I am currently trying out this snail whitening face cream. Hence, I'm not sure whether is it the collagen drinks or the whitening products that is working for me.
I really want to get a month supply of Fancl White Advance Drink EX to try out to see if it really works but it really hefty as one box cost $43 and a month's supply would equate to $129. And $129 is quite a lot considering that I don't earn an income yet. But you'll be sure that I will get it once I have a constant inflow because I want to be fairer desperately. I still can't forgive myself for staying out in the sun, worse still, suntan-ing when I was younger. Apparently, that's the reason why my skin tone looks dark and dull now. ): Enough of ranting.
Thanks for reading.
Love,
Patricia
Disclaimer: I purchased everything in this entry with my own money.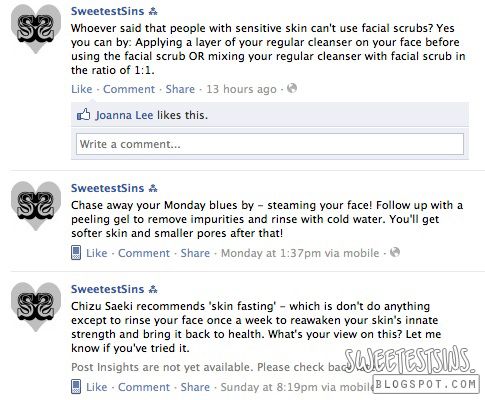 P.S:
If you haven't already
'like' SweetestSins on Facebook
, its time to do so because I will be posting short updates such as tip of the day, or sharing interesting beauty facts over there exclusively. It won't be cross-posted to my blog and you won't want to miss it, trust me!