Style Aromatherapy: Lady, You've Got Style Media Event
Tuesday, August 02, 2011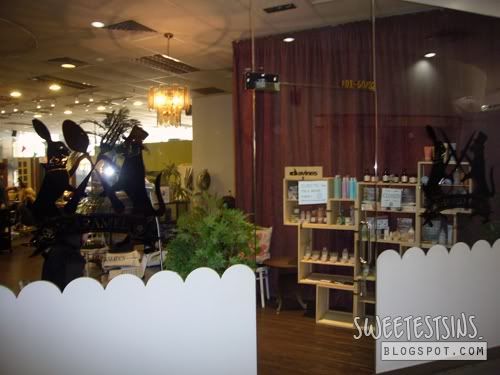 Last Friday, I attended Style Aromatherapy Media Event over at Hairloom & Caramel.
Hairloom & Caramel is a one-stop service that provide hair services as well as a cafe which one could have tea and some snacks before or after hair services.
I really like how they paid attention to little details such as the wall furnishing as well as the type of tableware that they chose.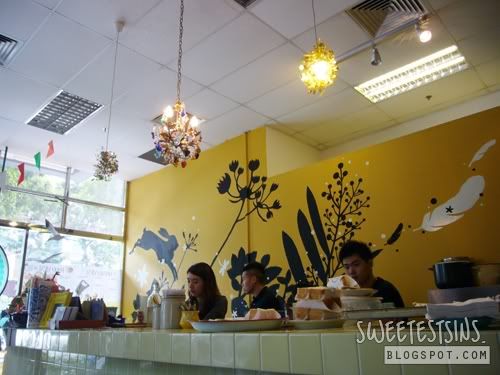 Warning! Mouth-watering treats ahead!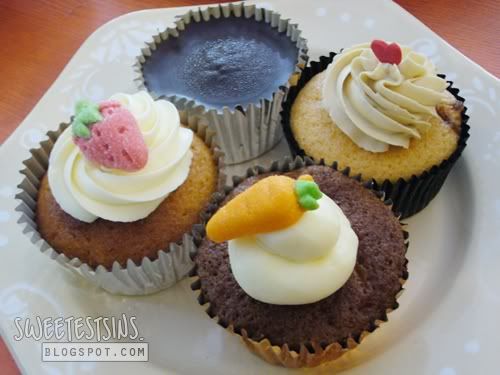 Lovely cupcakes!
Love the carrot cake one! That was cream cheese on top in case you are wondering.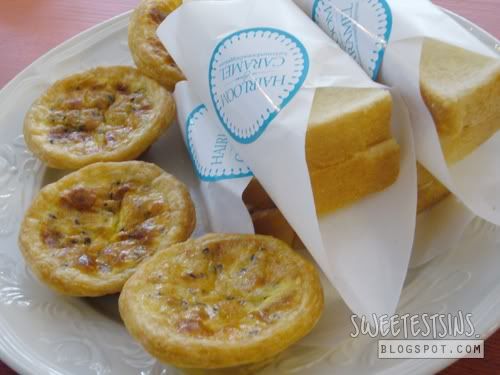 Quiche and sandwiches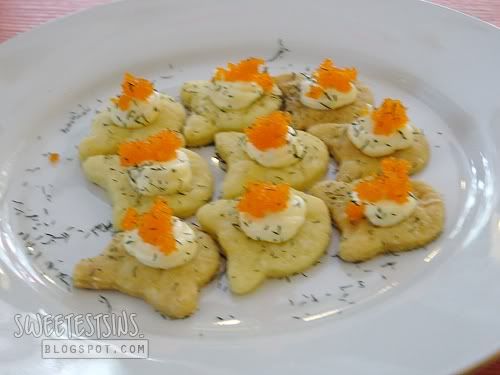 Cheese crackers with cream cheese and salmon roe on top.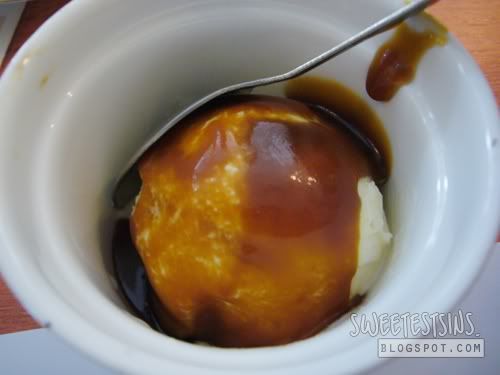 Caramel vanilla ice cream
This has got to be the best after the cupcake. Imagine hot piping caramel sauce on top of vanilla ice cream, sinful? You bet but I think its worth the calories!
I really love the interior decor of Hairloom and Caramel. Its some sort of Victorian, with a retro and vintage twist to it.
I was seated with Michelle, the owner of the advertising firm as well as Maripet from
Ezyhealth
. Michelle is a very lovely lady whom cleared my doubts on the difference between advertising and PR. I really enjoyed talking to her. After filling our stomachs, Maripet and I proceeded for our hair wash.
Before that, I saw these whimsical furnishings and I knew I had to take a few pictures of them to share with you lovelies.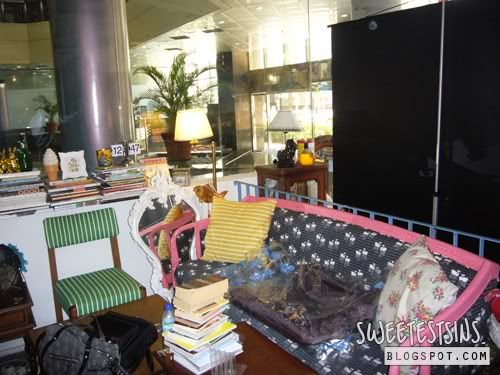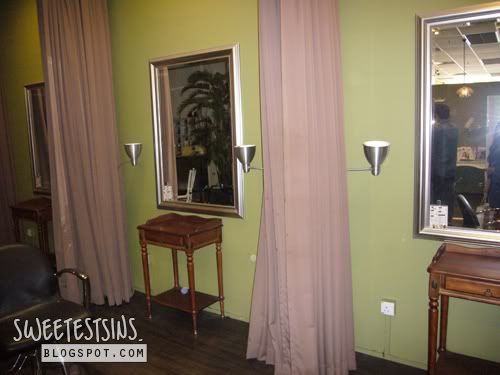 I really admire interior designers and visual merchandisers whom have an eye for detail and the fact that they could place things in such a visually appealing way. To think that I wanted to do interior design in the past! I can never be that good, I swear.
Here's a picture of me before having my hair shampooed. Check out the jacket that I'm wearing. Suzie (twin sister of Michelle, she's an editor) says that its would be nicer if we were to wear it the other way round instead, akin to a cape.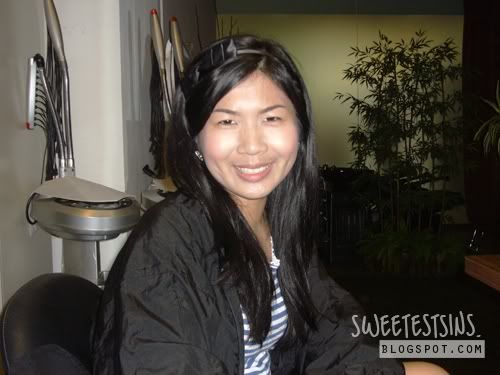 The best part about Style Aromatherapy shampoo and conditioner apart from smelling so good is that it is so relaxing that I almost fell asleep while my hairdresser was shampooing my hair.
Ta-dah! Here is Maripet and I after our hair washed and style with Style Aromatherapy products.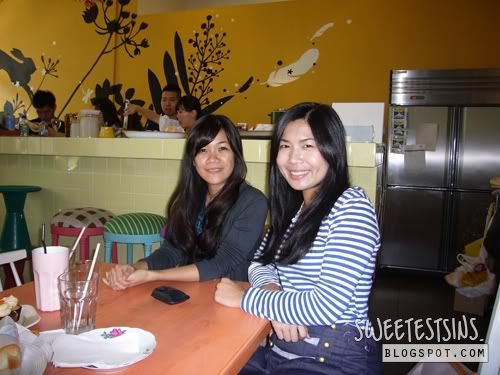 Maripet & Me
I must say that I love the curls that Maripet's hairdresser did for her. They're like so soft! Although I am not very fond of straight hair, I must say that my hairdresser did a great job in blowing my hair straight yet not flat at the crown area for I hate flat hair big time. I love how he managed to give me straight and sleek hair akin to that of Japanese women. Did I mention that my hairdresser resembles Raymond Lam? Haha.
I also took a picture with Esmy whom works for the company that brought in Style Aromatherapy.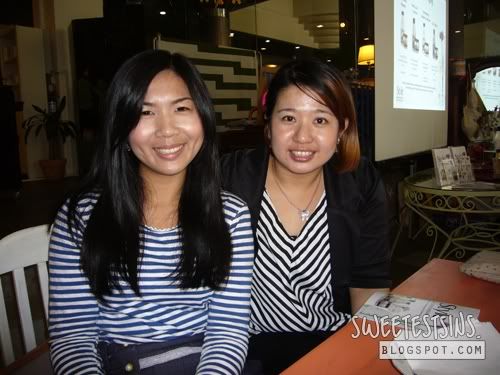 Notice that we are both in stripes? Haha. We hit off quite well. Like me, she doesn't like straight hair. She was telling me that the strawberry sponge balls works wonders especially when used with Style Aromatherapy Leave-in hair moisturizer overnight. Gonna get it soon to try before letting you girls know if it works!
Before leaving, we took a few pictures along with Style Aromatherapy's backdrop.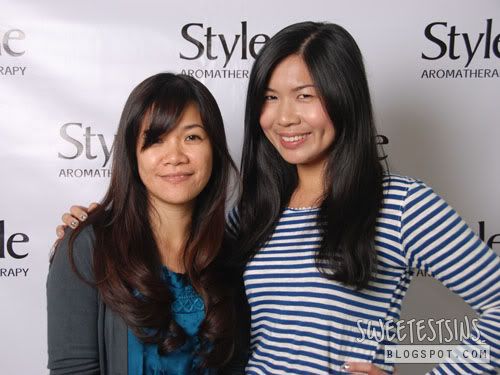 I was afraid that my hair might be messy hence I used my fingers to twirl it inwards, hence resulting in the slight waves. Looks like Style Aromatherapy Leave-in hair moisturizer sure holds the style yea?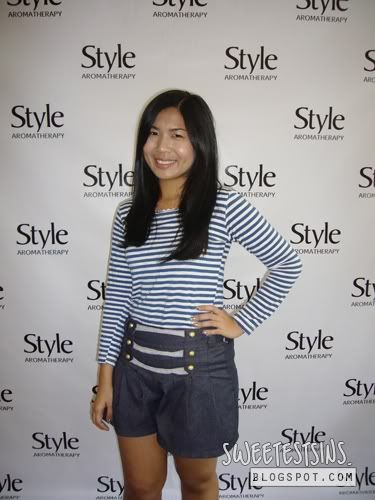 Straight hair again.
Because it isn't every other hair that I have such sleek straight hair (my hair is straight but a little wavy), I thought I would take a couple of pictures as keepsakes.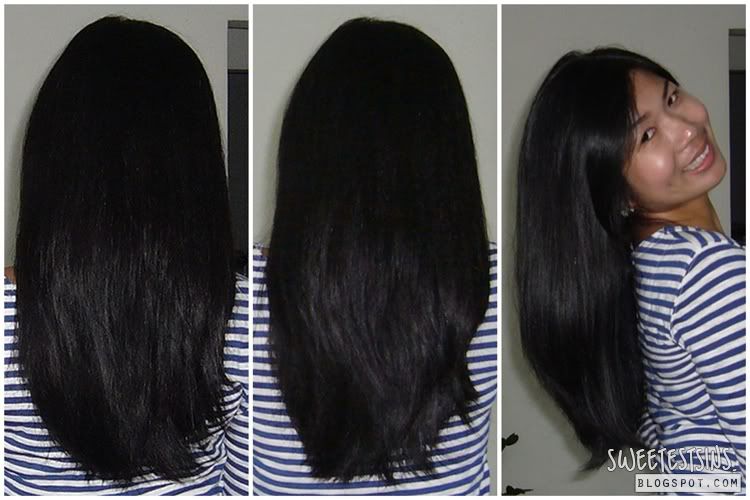 Looks like I ought to trim my hair soon. Its getting out of shape. Can't wait for it to grow longer though. Am still thinking whether I should rebond my hair. I rebonded twice back when I was in Secondary School but I didn't quite like it because it left my crown area so flat. I know that there is soft rebonding these days but still I am afraid that it will make my crown area flat.
Here's our goodie bag which contains Style Aromatherapy Intensive Repair Shampoo, Conditioner, Mask, Hair Serum for Dry/Thick/Badly Damaged Hair and Everlasting Color Protector Leave-in Hair Moisturizer for Highlighted Hair.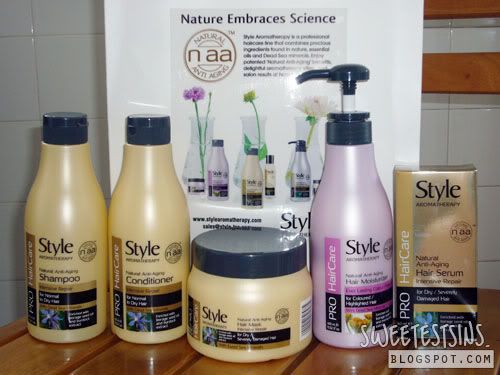 I have yet to try the mask and serum. But I must say that I really love Style Aromatherapy shampoo and conditioner after using it for 3 days in a row. It leaves my hair feeling so soft and silky and I can comb through it easily. I don't normally let down my fringe as it can be quite irritating when I am trying to read or do work, but I can hold my fringe up with Style Aromatherapy leave-in moisturizer.
Here's is a bit of information on Style aromatherapy Leave-in Hair Moisturizer.
Leave-in Hair Moisturizer for Highlighted Hair
This revolutionary cream both nourishes and set style at the same time. It balances and nourishes hair and promotes a light, fresh feeling. Created to intensify softness and flexibility, it makes styling easy while protecting hair from sun and chemical treatments. The unique formulation featuring NAA technology is fortified with Everlasting Oil and Dead Sea Minerals to impart lustre and shine, along with a wonder fragrance.
Directions:
Apply a generous amount on to your palm and apply the cream to damp or dry hair. Start styling by hand or brush. Do not rinse. Suitable for daily use.
The best part about this leave in moisturizer is that it does not contain harmful chemicals found in hair spray or other hair styling products so you could even sleep with it without having to wash it off. Isn't that amazing?
Style Aromatherapy products are exclusively available at Guardian stores.
If you could only get one product, I say.. make it the Leave-in Hair Moisturizer!
Thank you Yuan for the invitation, Michelle and Suzie for the great hospitality. I had so much fun on that day, especially meeting and talking to new people!