Review: Allure Beauty Saloon eyebrow embroidery
Wednesday, August 10, 2011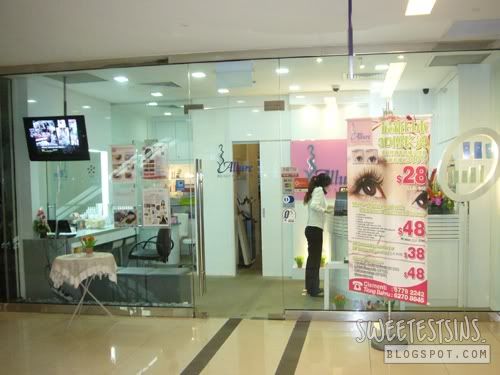 On 24 July, my cousin, S accompanied me to Allure Beauty Saloon for eyebrow embroidery. I got her there to help me reaffirm if the brow shape that the beautician drew for me was okay before she starts the embroidery process.
The week before I went down, I actually spent days and nights googling online, browsing through forums and watching YouTube videos to find out more about eyebrow embroidery. I was kinda skeptical because it semi-permanent. Thoughts like what if my beautician messed it up? That would mean that I have to stick with that kind of brows for at least 1-2 years.
Was I nervous on that day? You bet I was! In fact, I was so so so nervous to be exact.
We reached Allure Beauty Saloon over at City Vibe which was next to Clementi about 10am in the morning. The whole shopping centre was so quiet and most shops weren't open yet.
Coleen was my eyebrow artist for the day. First, she showed me some before and after pictures of previous customers and she asked me what kind of eyebrow shape do I prefer. Honestly, I don't really like stick thin brows, nor do I like those arched brows because I think they look so fierce! Personally, I love Korean girls eyebrows which are full and thick but I don't think that can be done with eyebrow embroidery because I would look like Crayon Shin Chan! Haha. So, I just told Coleen that I want something natural, not too thin and no distinctive arch please! She reassure me that she would design something that suits my face shape and no distinctive arch. I was like, "Phew, thank God!"
Next, she applied numbing cream onto my brows so as to reduce the discomfort later.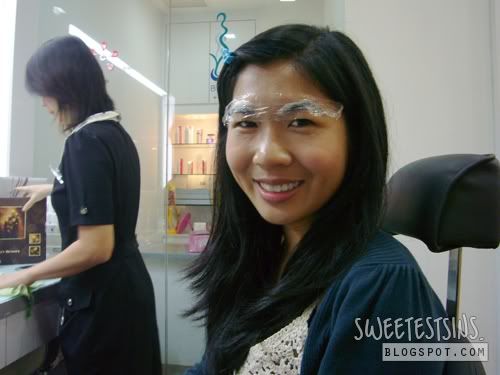 I think I look like an alien with faint brows here! Haha.
I kept asking Coleen if eyebrow embroidery will hurt a not. She kept reassuring me that it doesn't. I read in forums and reviews that eyebrow plucking hurts more. But I didn't quite believe it.
After 20 minutes, Coleen begin to shape and draw my eyebrows.
Here's how my eyebrows look like before and after shaping and drawing.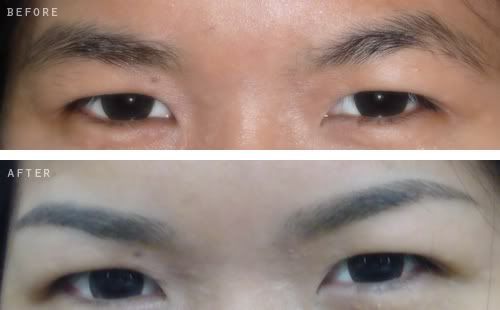 It sure looks much neater after shaping and drawing my brows huh? Coleen said that previously my eyebrows are too low, hence it covers my eyes and makes it look more puffy.
Next, I was brought into the treatment room where the eyebrow embroidery session begins.
That's Coleen doing my left eyebrows (right in the picture).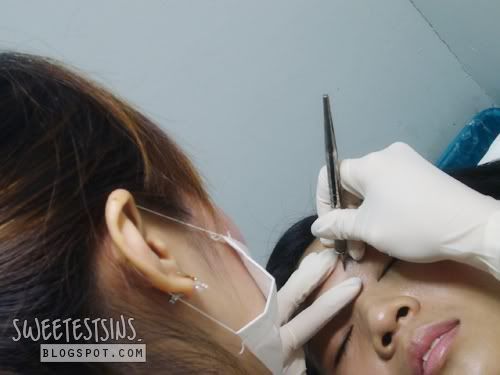 As I heard some sound, akin to that of scratching against the skin, I asked Coleen what was that sound and if she has already began the process. Turns out that she was already half way done with the left side of eyebrows! Can you believe that it doesn't hurt at all? It is true that eyebrow plucking hurts more.
Next, she moved on to my right eyebrow.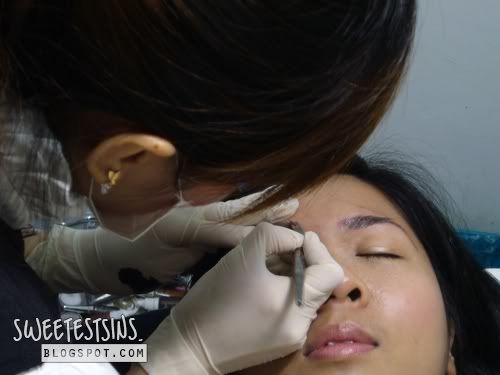 After that, she applied more numbing cream on both sides which sting a little because she had already done the embroidery once. She then repeated the embroidery process on both sides. This time round, it hurt a little but the pain was still bearable. It is still less painful than eyebrow plucking.
To make sure that she did not miss out any part, Coleen made me sit up straight while she touch up a little.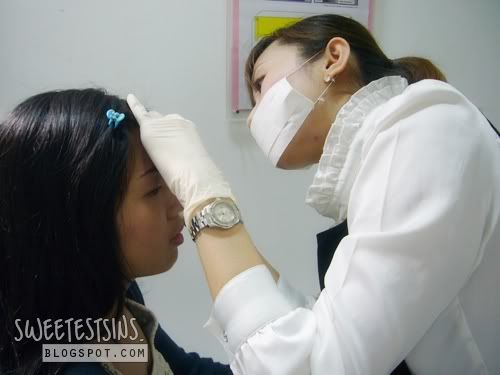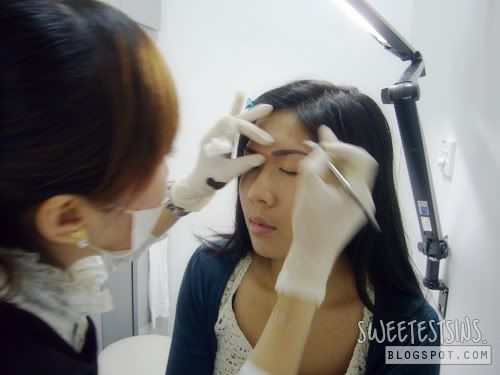 After which, Coleen applied antiseptic cream on my eyebrow area and its done! The whole session took only an hour and half including consultation, shaping, draw and embroidery.
Here's a recap of how my brows look like before and after shaping.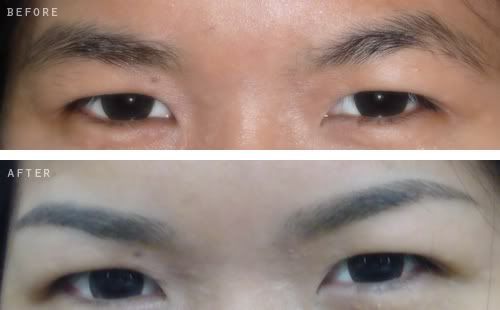 And how my brows look like after eyebrow embroidery.

Before I left, I took a group picture with Mistical and Coleen.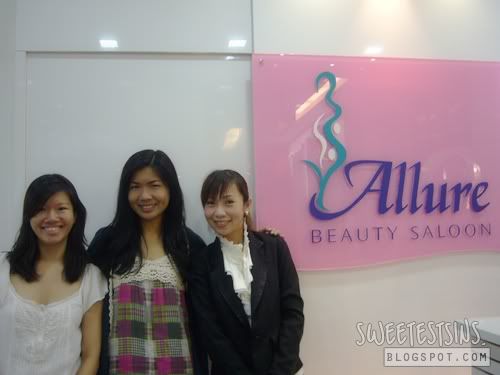 And here's another one with Coleen only.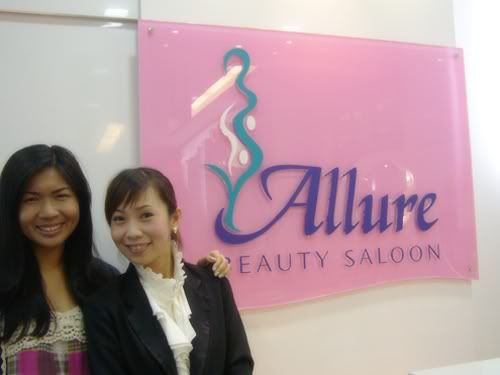 Special thanks to Mistical for the invitation to try out Allure Signature Eyebrow Embroidery and asking all my questions with regard to eyebrow embroidery promptly, Coleen for being so patient with me and constantly reassuring me that it doesn't hurt and my cousin for accompanying for the eyebrow embroidery session.
Honestly, I have never thought of doing eyebrow embroidery because I have seen some of my colleagues or friends whom have done it and their eyebrow turns reddish after a while. Plus, I have quite thick eyebrows so I just need to fill them in a little.
But then again, I am very much of a brows person, meaning I focus on my eyebrows quite a lot in the sense that I would draw my eyebrows most of the time. But now that I have eyebrow embroidery done, I guess I won't be needing my eyebrow pencil for the time being and I can save time drawing my eyebrows, which means I don't need to spend so much time putting makeup!
I am glad that I went for Allure Signature Eyebrow Embroidery. It didn't hurt as much as I have expected and it turned out more natural than I expected. It would be quite dark during the 1st 3 days but by the 4th day, the front of my eyebrows faded and it became more natural. None of my friends, with the exception of those whom I told, knew that I went for eyebrow embroidery. Most of them thought that I drew my brows. That's how natural it is.
Allure Beauty Saloon
Tiong Bahru Plaza
#05-04A
6270 8845
City Vibe
#02-04A
6779 2242
Disclaimer: Sponsored Review - I only give my honest opinion, as always!