Skin Watchers: Papaya Moisture Peeling Gel
Thursday, July 14, 2011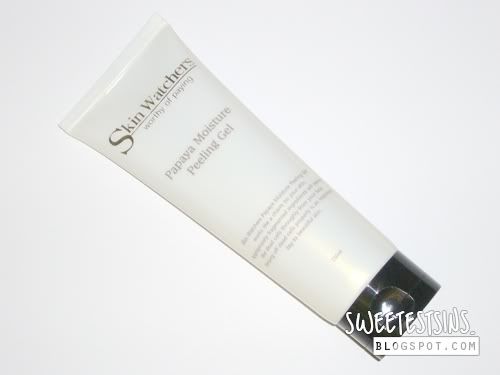 What is it:
Skin Watchers Papaya Moisture Peeling Gel works like a charm on your skin. Appropriately fragmented ingredients will remove the dead cells throughly from your face. Rinsing off dead cells properly is an important key to beautiful skin.
It is suitable for all skin types, even sensitive skin.
Natural, paraben-free, fragrance-free, alochol-free and pigment-free. It contains papaya and oleracea extracts, along with other phyto-ingredients and beauty ingredients, care for the oil and dead skin cells lodged deep into the surface of the skin, also helps to keep your skin moisturized and even without a minor irritation.
Directions:
After removing makeup, wash your face and dry it. Take a 10-cent coin amount of Papaya Peeling Gel and massage it onto your face in a circular motion with your fingertips. Be careful to avoid the area near the eye and lip. Do not use excessive force as it might result in redness.
Can be used to remove dead skin on neck, armpit, elbow, knee and back. It is safe to use on alternate days.
My thoughts:
When I first tried out Skin Watchers Papaya Moisture Peeling Gel, I was reminded of Ginvera's Marvel Gel. It works the same way that it does except that I did not experience any redness on my face after using it like how it did when I used Ginvera's Marvel Gel.
I think that it feels quite gentle on the skin. Fragrance wise, the smell is quite mild. Pretty acceptable I would say.
I like to use this in place of my regular cleanser in the morning every other day prior to makeup application as it makes the surface of my face smoother and more even which ensures that the makeup would glide on easily and reduce the appearance of powder caking during mid-day.
An alternative or better way in my opinion to use Skin Watchers Papaya Moisture Peeling Gel would be to place a warm towel (soak it in warm water and squeeze out the excess) over your face for about a minute before applying the peeling gel and massaging your face in circular motions. After that, rinse your face with cold water before applying toner and pore tightening mask.
The rationale behind using the warm water followed by rinsing with cold water is to open up your pores to deep cleanse the impurities with the peeling gel and then closing the pores again using cold water, toner and pore tightening mask. After doing this, your pores should look smaller and you should see lesser blackheads and whiteheads on your face.
If you do not have a pore tightening mask, just break an egg and apply only the egg white to your face. It tightens the pores as well and its natural! Don't you girls love natural skin care?
Rating: ✭✭✭✭✫
Repurchase: Yes
I hope you girls like this post!
Love,
Patricia
Disclaimer: Product was given to me by
BeautyFinest
for review purposes. All the above stated are my honest opinion.