Air Optix Blogger Event
Friday, July 15, 2011
On 2 July, I attended Air Optix Blogger Event. I had collected my trial pair of Air Optix contact lenses prior to the event and I wore it for that entire day!
I know you must be thinking, "Air Optix? What's that?" Fret not, you're not alone. I haven't heard about Air Optix either prior to this event.
Here's a little background information on Air Optix.
Air Optix
AIR OPTIX® AQUA lenses are made of a revolutionary silicone hydrogel material that allows up to 5 times more oxygen through the lens than traditional hydrogel lenses for healthy-looking and healthy-feeling eyes.
Contact lenses such as AIR OPTIX® AQUA are made of revolutionary lens material silicone hydrogel, that has higher oxygen transmissibility, allowing the eyes to breathe. Contact lens wearers can now wear their lenses for long hours and enjoy long-lasting comfort for healthy-looking and healthy-feeling eyes.
1) Retain Moisture:
- Unique lens material minimises dehydration.
2) Resists Deposits:
- Ultra smooth surface for healthy lens wear.
3) Breathability:
- 5x more oxygen for white healthy-looking eyes.
We took the monorail to Sentosa and our first stop was -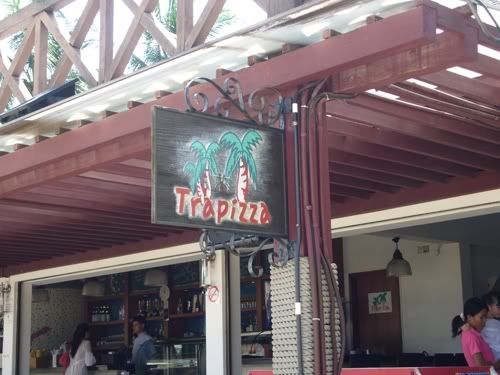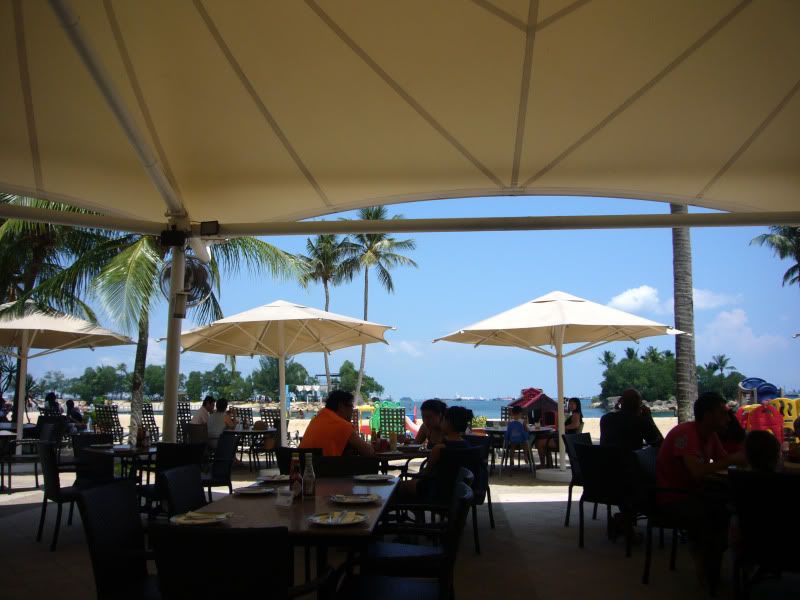 Trapizza, a pizza bar by the sea where we had lunch.
Before lunch, Shelby explained to us how Air Optix contact lenses offer resistance to oily deposits because of its proprietary plasma surface treatment by demonstrating how sunblock can leave prints on the cover of the mirror.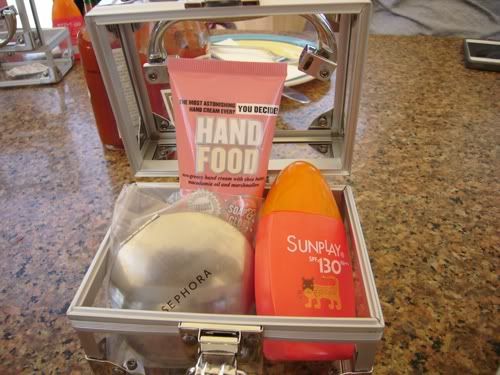 Similarly, beauty products such as cleansers, eye cream and waterproof cosmetics that contains abundant oil-based agents can blur our vision when it comes into contact with our contact lenses. Air Optix contact lenses surface has a higher resistance to oily deposits because of its propritary plasma surface treatment as compared to other brands.
While waiting for the food to be served, Sameer slathered on his sunscreen.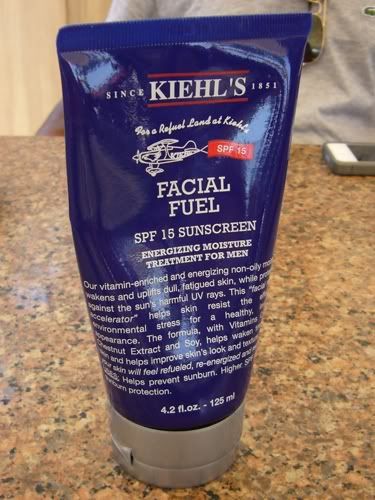 As I have always been curious about men skincare and their facial regimen, so I started asking him questions pertaining to men grooming.
Don't you all think that marketing skincare for men takes on a new level? Even the name of the product, Facial Fuel sounds so macho!
Here's our food!
Of all, I love the salmon pizza the most. And that was the first time that I had Aglio Olio that is topped with shredded cheese.
After lunch, we headed over to The Flying Trapeze.
You have to climb up this one-way ladder which is really high without any safety harness.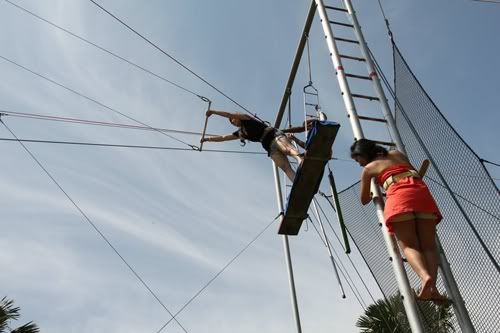 Once you reach the same height as the red wooden plank, you will have to cross over to the plank, without any safety harness again. Even though there's a safety net below, I was so afraid that I might fall hence I took extremely precise steps.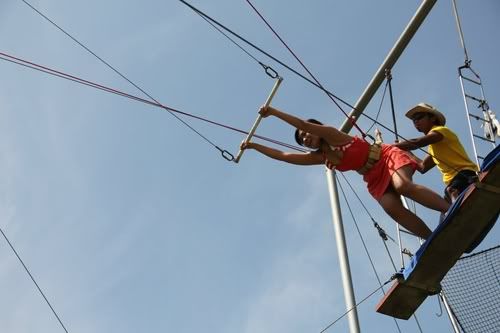 At this point of time, the trainer would fasten the safety harness on for you. You will have to reach out your left hand and place it on the bar first while he holds you from the back.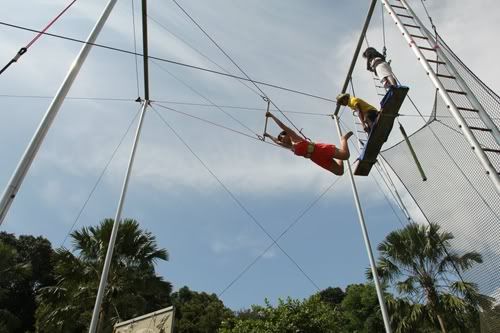 After which, reach your right hand out and place it on the bar and off you go!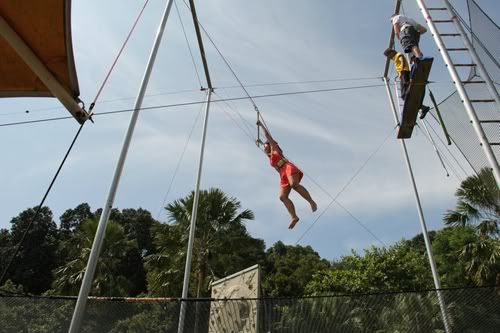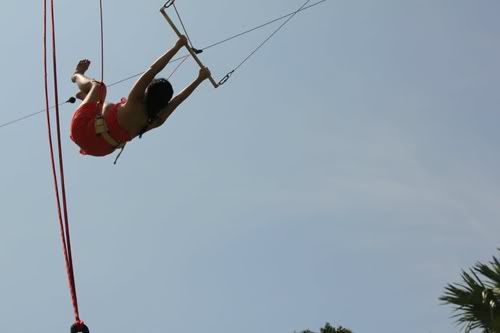 We had 3 tries in total. I was a little afraid during the first try but the trainer was so nice. He kept telling me that I could do it and told me not to be afraid.
My favourite part of The Flying Trapeze is the last part where we have to let go of the bar and we will fall down to the net. Its so fun! And sliding down from the pole like a monkey after that!
Our next stop was - Wave House!
I have heard so much about Wave House. A lot of my friends have been telling me how nice it is to chill over there at night for you could have dinner, followed by drinks.
It was my first time over at Wave House and I must say that its a nice place to hangout with friends!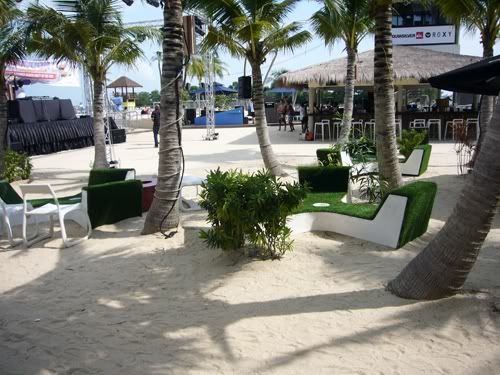 We had time to spare so we went around taking some pictures.
That's me, doing some silly pose. :X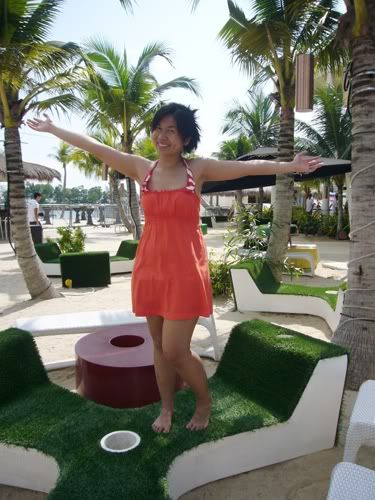 Before we went on the flow barrel, we had a drink over at Wavehouse Beach Bar.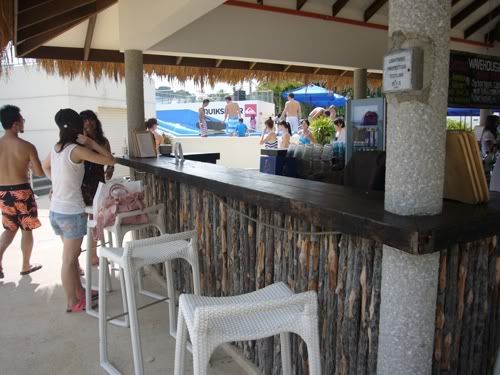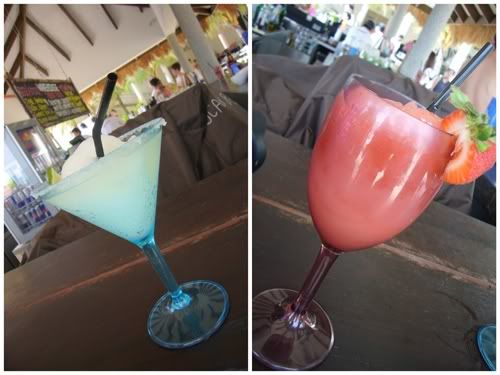 Our drinks
As the flow rider was fully booked, we started off with the flow barrel itself.
Here is how it looks like.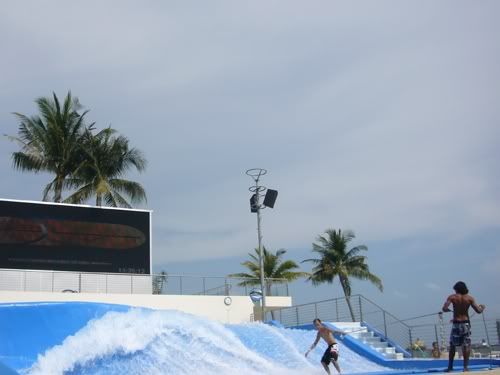 After looking at other people surfing, its finally our turn to surf!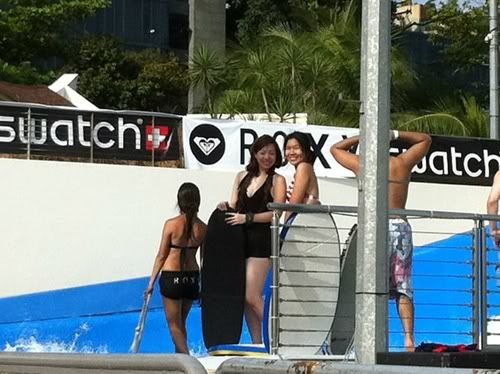 That's Jasmine and I waiting for our turn!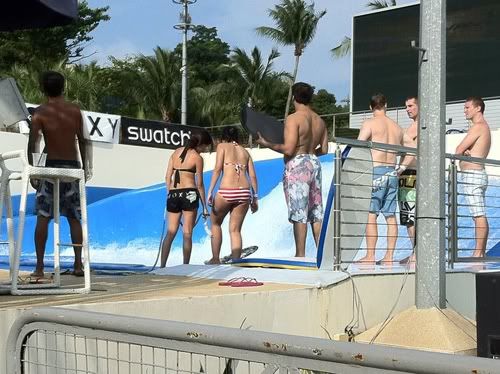 And me getting ready to surf.
It might look easy, but trust me it ain't. The first few times when we tried to surf, we were swept away by the waves. The waves were very strong. I couldn't see where I was at because the water kept getting into my face, eyes and nose until the waves swept me to the end of the barrel.
I was glad that we didn't give up that easily though. We had another few tries and we could surf a little, approximately a metre or more before we get swept away again. But well, at least we could surf a little which was better than before when we couldn't surf at all.
After that, we went for a shower before we bid Wave House goodbye.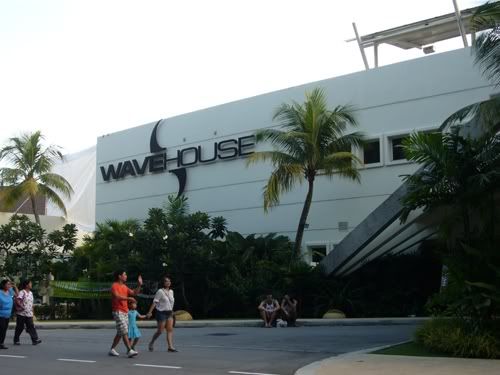 While waiting for the monorail, I couldn't help but to take a few pictures of the beautiful sunset. How often do we see a sunset amidst our hectic lifestyle anyway?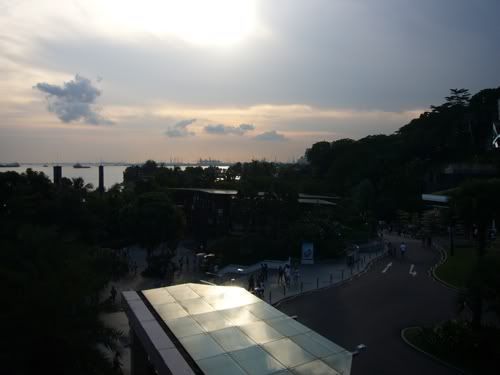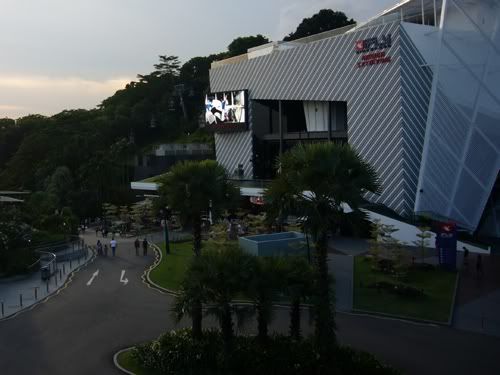 Personally, I feel that Air Optix contact lenses are slightly thicker as compared to the normal ones. I was surprised that I did not experience any blurry vision even though I wore it for more than 10 hours and during that 10 hours, I perspired so much and the water from the flow barrel went into my eye. It did hurt a little when the water went into my eye but it went away shortly. I remember that I used to jog with my contact lenses (Brand X) because I thought that it would be more convenient to rather than my spectacles. And guess what? When my perspiration happen to drip into my eye, it was so painful or even excruciating and my whole eye would turn red and it doesn't go away that quickly.
I had so much fun and I truly enjoyed myself that day, thanks to the comfort of Air Optix.
Thank you Shelby for the invitation.