Beauyfinest: Gembeauty Amethyst Massage Cleanser, Skin Factory Masks and Skin Factory Dashcode F.M
Wednesday, June 01, 2011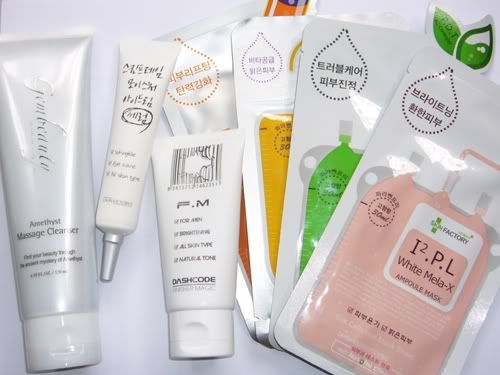 A while ago, I received a package from Beautyfinest consisting of a few products from Gembeauty and Skin Factory. They are Gembeauty Amethyst Massage Cleanser, Skin Factory Skinframe Moisture Eye Dream Serum, Skin Factory Dashcode F.M and Skin Factory masks respectively.

The two key products that I'm gonna share with you girls today are Gembeauty Amethyst Massage Cleanser and Skin Factory Dashcode F.M.

Ever wonder how you could DIY a facial at the convenience of your home? Check out the video below to discover facial massaging techniques. You could also see how awkward looking I am without any makeup.

Below are some of the products mentioned in the video above.
Gembeauty Amethyst Massage Cleanser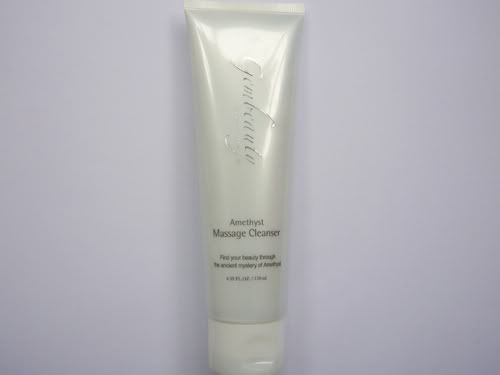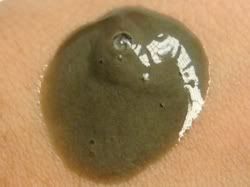 What is it:
Ultra gentle cleanser that cleanse, refine, balance your skin and moisture in the process of cleaning. It helps to eliminate waste deep inside pores which leaves your skin feeling clean, refreshed and soft. It contains 99.9% high quality natural ingredients.
Directions:
Wet the face with warm water, apply Gembeauty Amethyst Massage Cleanser on face and neck area with a gentle massaging action for about 2-3 minutes. Then rinse thoroughly with warm water.
My thoughts:
The texture of this cleanser is rather watery when you first squeeze it out from the tube. However, it thickens as you work your way to massage your face.
I like the fact that it makes my face appears brighter and clearer after using it. However, if you have combination skin like me, it is best to use it only on every alternate day or twice a week. This is because I went overboard by using it everyday when I first received it and I experienced dryness and slight redness/breakouts on my face.
Turns out that its best used every other day as I did not experience any discomfort ever since then!
Skinfactory Clinical Mask Sheet
(I2.P.L White Mela-X Ampoule Mask and P.D.T AC Ampoule Mask)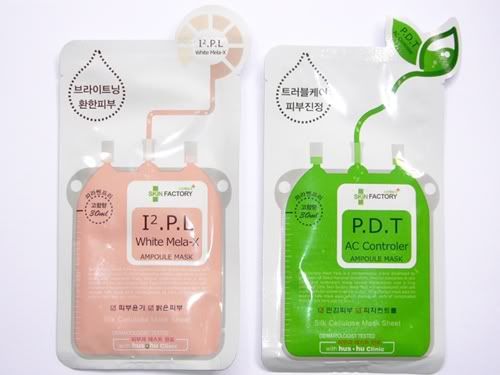 What is it:
My thoughts:
Of the 4 masks provided, my favorites include I2.P.L White Mela-X Ampoule Mask and P.D.T AC Ampoule Mask.
These facial masks could be used after cleansing and massaging your face with Gembeauty Amethyst Massage Cleanser for a more self pampering treat (I skipped this step in my video because I ran out of time as I was rushing for an event). If you were to head out, using this facial masks would enable your makeup to glide on better as your face would be smoother to work on.
Overall, these facial masks from Skin Factory contains the most essence as compared to any other facial masks that I have tried from other brands/companies. They contain 30ml each!
While placing the mask on my face, I realized that the serum felt very smooth and silky. The only thing that bugs me is that because the mask contains a lot of essence, hence the flap above the lip area keeps falling down and I have to readjust every few minutes of so.
I2.P.L White Mela-X Ampoule Mask
I like I2.P.L White Mela-X Ampoule Mask because it does brightens up my skin. While I first tried out this mask, I love everything about it apart from its scent while was a little too strong initially for my liking. I love how it brightens up my skintone and the effect stays till the next day.
As usual, some serum will drip out no matter how careful I am at ripping the facial mask pack open.
I used to think that as I'm rather tanned, no whitening or brightening product would help in making me fairer. But as I grow older, I realised that it is important to achieve a bright complexion no matter how dark or fair one is, because it doesn't mean that a fair person would have a bright complexion nor that a tanned person cannot achieve a bright complexion.
P.D.T AC Ampoule Mask
I also like P.D.T AC Ampoule Mask because it helps to subside the blemishes on my face. when I tear the mask package open, quite a fair bit of serum (abt the size of a 50 cent coin) dripped out hence one should be really careful when tearing the pack open.
As compared to the I2.P.L White Mela-X Ampoule Mask, this facial mask looks more yellowish. It has a slight floral scent which isn't overbearing. It feels rather cooling and contains a lot of essence like other facial masks from Skin Factory. I realised that as the essence starts to dry up, the mask feels tighter on the face.
My afterthoughts of this mask is that while it does subside the size of the existing pimples on my face, but it does nothing to the marks or scars. As the left side of my face is free from pimples and marks, it does leave a glow on that particular side of my face.
Skin Factory Dashcode F.M (BB Cream in Natural)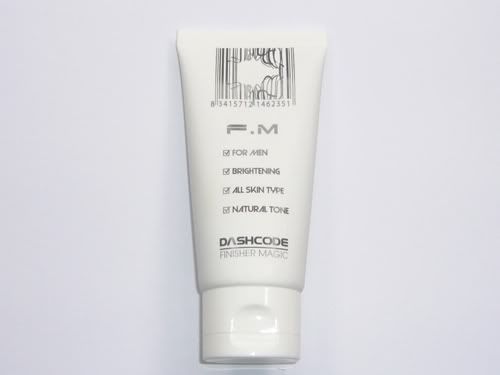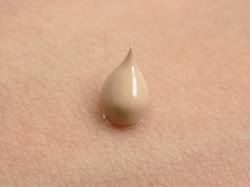 What is it:
This eco-friendly BB cream is fragrance-free, pigment-free, preservatives-free, alcohol-free and mineral-oil free.
Using a unique combination of plant ingredients, it relieves skin problems from harsh weather conditions, like temperatures, dry air etc. It improves skin elasticity and youthful appearance.
Use in this order - Cleanser, Toner, BB Cream
My thoughts:
This has got to be the darkest shade BB cream in my collection and I love it because it matches my skintone well! Most BB creams tend to be a little too light for me and I had to mix sunblock and BB cream in a ratio of 1:1 so as to get a shade that is nearer to my skintone.
Dashcode F.M is actually meant for men as Dashcode is Skin Factory's Mens line and that explains why its darker compared to other BB creams that are available in the market. Most guys in Korea and even some guys in Singapore do apply BB cream!
When applied, it produces a cool menthol feeling. Unlike conventional BB creams that provides a matt finish, this BB cream gives a glowy finish which I like because it brings me a step closer to achieving dewy skin!
I hope you girls like this post! Thanks for reading!
Disclaimer: Products were provided by
Beautyfinest
for review purposes. I am not compensated in any form for this post nor the video.
P.S: If you haven't already noticed, I have added a 'comment' link at the end of every post so you girls can leave comments at each specific post instead of the tagboard which can be pretty messy at times. Plus, I need not worry about missing out any questions while replying! Such a win-win situation, ain't it? (: